Nontraditional Gets Workout
EMPLOYMENT: L.A. County fertile field for self-employed.
Friday, September 2, 2016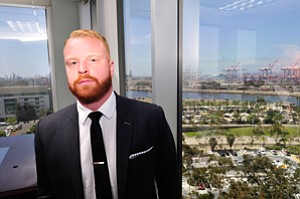 Key industries
One reason the county has become a leader in this contingent/self-employed workforce is the dominance of two industries that rely heavily on this model: the entertainment sector and goods movement.
The entertainment industry gradually adopted this model as the old studio system broke down in the 1960s and 1970s, with actors, writers, and directors essentially becoming independent contractors. It spread to production and postproduction houses as well as other "below the line" workers.
A 2015 report on the creative economy from the Otis College of Art and Design in Westchester found there were 166,000 "nonemployee establishments" in L.A.'s creative economy, with the vast majority of those in the film and TV sector.
"We're seeing this number of contingent workers increase, particularly at smaller companies because it's less overhead," Kathleen Milnes, chief executive of the Entertainment Economy Institute and a professor of digital media at Otis. "It's an efficient and cost-effective way of running a business that has huge swings in work."
In the goods movement sector, the independent contractor model is especially widespread among truckers operating at the ports of Los Angeles and Long Beach. The model got a jumpstart at the ports after the trucking industry was deregulated in the 1980s. Weston LaBar, president of the Harbor Trucking Association in Long Beach, said 90 percent of the 12,000 truck drivers working at the ports today are independent contractors. He cited the same peak-and-valley factor for work as the reason the trucking companies have adopted this model.
"For a company, this allows them to flex up very quickly when a lot of cargo comes in, while avoiding drivers just sitting around when cargo is light," he said.
He said most truck drivers prefer the independent contractor model because it offers higher take-home pay; some even use it as a way to acquire more trucks and start their own trucking companies.
It is a view that is hotly contested by union leaders, who say truck drivers make less money as independent contractors and that the trucking companies are skirting federal and state laws by keeping them as contractors instead of putting the drivers on their payrolls. The courts have sided with drivers seeking full-time status in a series of recent decisions, and some trucking companies have filed for bankruptcy protection as a result.
Wage increases
Another factor could reshape this contingent workforce, especially among lower-wage workers: the state and local increases in the minimum wage. The conventional view is that as the minimum wage increases, restaurants and other hard-hit companies might be more tempted to convert some or most of their workers to independent contractors to lower their costs, even if such a move would violate state and federal laws.
But the Economic Roundtable's Flaming said the trend might go the other way, because along with the minimum-wage increases, the city and county of Los Angeles are setting up enforcement offices to make sure employers comply with the pay raises.
"Right now, federal and state agencies are so overwhelmed with complaints over misclassification that they are very slow to act," he said. "I believe that as these local wage enforcement offices gear up, they will move more aggressively in this area and you will start to see employers who had been classifying their workers as independent contractors put them back on their payrolls."
For reprint and licensing requests for this article, CLICK HERE.
Prev Next