Magazine Gets Pot Ready for Hollywood Close-Up
MEDIA: High Times to launch outpost with eye on legalization.
Friday, September 2, 2016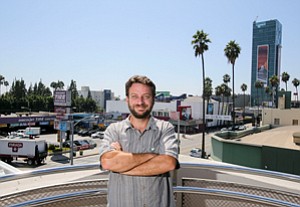 Cannabis culture publication High Times is poised to make its Hollywood debut next month as the 42-year- old company heads west to set up offices in Los Angeles.
Its "marijuana 2.0 creative hub" is scheduled to open Oct. 1 at the Desmond Building on Wilshire Boulevard on the Miracle Mile. A staff of eight to 10 will join Green St., a marketing agency catering to marijuana businesses, and other bud-related firms. The move comes on the heels of the announcement last month that the publisher had signed a representation deal with United Talent Agency for representation in all media.
David Bienenstock, head of content at High Times, will be leading the L.A. outpost and said he expected the proximity to the entertainment community would breed collaboration and create a bastion of "creative marijuana business."
The new office is reflective of the moment in California as the state inches toward legalization, he said. Voters will decide in November whether to legalize and tax the recreational use of marijuana under Proposition 64, which in recent polling was favored by nearly two-thirds of respondents.
"California has always been the center of the culture for cannabis, but as California makes this historic change, we see it growing to be the center of the industry," Bienenstock said.
That industry, which is already profitable, is expected to become a behemoth as more states, including possibly California, vote to legalize the drug for recreational use. While the medical cannabis market in the state is valued at more than $1 billion annually, the national recreational market could grow to more than $40 billion, said Matt Stang, the 36-year-old chief revenue officer and director of advertising and sponsorships at High Times, with other estimates reaching $100 billion due to a variety of factors.
But while experts quibble about the size of the market, many agree that California will be where the industry is most potent due mainly to the tens of millions of potential customers in the state.
"Southern California is going to be the largest legal cannabis market in the world in about two months," said Stang.
It would be a welcome change for many, including Stang, who in 2010 was arrested in an Immigration and Customs Enforcement sweep the government said broke up a ring that had dominated the marijuana market in New York for 20 years. He subsequently accepted a plea bargain, paid a fine, and received probation but served no prison time.
For reprint and licensing requests for this article, CLICK HERE.
Prev Next