Augmented Reality Helmet Heads Into Industrial
TECHNOLOGY: Daqri sees product guiding workers through variety of jobs.
Friday, September 2, 2016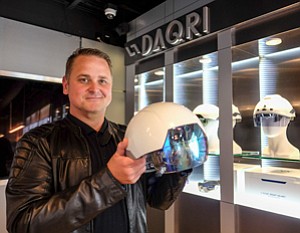 Initially focused on the entertainment industry, Daqri launched its first product in 2011, an augmented reality publishing platform that superimposed an image or video over a smartphone camera's video feed after scanning a QR code.
The company declined to disclose how many headsets it has sold, but it doesn't generate much revenue from Smart Helmets, which are in use by a small number of customers participating in its pilot programs.
Instead, the company has sustained itself on venture capital and by making windshield heads-up displays for use in cars, hardware that is installed in 200,000 automobiles produced by Jaguar Land Rover Ltd.
Daqri is competing in a crowded field of augmented reality device developers, many of which have deep pockets. Alphabet Inc. is making a play for the augmented reality market with its Google Glass hardware; Microsoft Corp. with its HoloLens headset; Apple Inc. with its acquisition of augmented reality startup Metaio; and heavily funded Magic Leap, which is developing its own mixed-reality headset. Dozens of other small startups are also pushing into the augmented reality space.
To help keep pace, Daqri has acquired four businesses whose technologies have been integrated into the headset. Those acquisitions could help the company become the de facto standard, USC's Richmond said, or they could help it draw the attention of "one of the 800 pound gorillas. Google could buy them or Facebook could buy them."
Real applications
One of Daqri's customers, KSP Steel of Kazakhstan, uses the Smart Helmet to visualize metrics coming from steel pipe manufacturing equipment, foregoing the need for workers on the shop floor to gather information by walking to the control room.
"If people have the right information, they will make the right decision," said Mullins. "Not having to run across the room to get a data point saves you time."
Steven Feiner, a professor of computer science at Columbia University, agreed that augmented reality has been able to improve worker efficiency.
"High-quality augmented reality task assistance can result in people being able to perform tasks more quickly and having fewer errors than using conventional documentation," he said. "You are looking directly at the task domain itself while doing the task, instead of looking at instructions on paper or even on a laptop."
For reprint and licensing requests for this article, CLICK HERE.
Prev Next