Car Exec Still Plugs Electric
Friday, October 28, 2016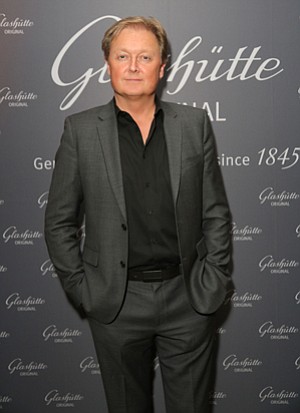 Henrik Fisker is not the only entrepreneur trying to make an electric car, but he might be the only one trying to do it without a battery.
The founder of now - defunct Fisker Automotive is aiming for a comeback thanks to a novel piece of technology invented at UCLA that could upturn the electric car market – if it works. Known as a "superbattery," the device is essentially a hybrid supercapacitor and battery.
While the technology promises to charge an automobile faster and last longer than a conventional lithium ion battery, all while contained in smaller hardware, the legendary car designer is re-entering a hypercompetitive electric-car industry against established rivals such as Tesla Motors Inc., General Motors Co., and Nissan Motor Co. Ltd. three years after his first company went under.
At a minimum, electric-car startups have to raise hundreds of millions of dollars to survive the long slog to profitability, said David Whiston, an analyst with Morningstar Inc. Tesla, founded by Elon Musk, said last week that it had turned its first quarterly profit since 2013.
Fisker said he has received financial backing for his new venture, Century City's Fisker Inc., but declined to disclose who his investors are and how much money he's received.
"You better hope there are private investors lining up to give you money," said Whiston. "It's tricky to stay solvent while you are building the product, expanding the manufacturing capacity, doing the marketing, distribution, and service for the vehicle. There's just a lot of overhead over time. And you need a lot of volume to scale that."
Several electric-car manufacturers in Southern California, Fisker Automotive among them, have struggled to bring cars to market and profits to shareholders.
Coda Automotive raised more than $200 million to make and sell a compact electric sedan, but ultimately sold fewer than 100 vehicles. It declared bankruptcy in 2013. Even headline-grabbing Faraday Future of Gardena, backed by Chinese billionaire Yueting Jia, has reportedly missed a $21 million payment that was due in September to Aecom Technology Corp., which is building the carmaker's $1 billion factory in Las Vegas. Faraday is also reportedly behind in its repayment of a $75 million performance bond given to the company by Nevada.
Fisker, however, remains undeterred. His ultimate goal is to mass produce a luxury electric car that's cheaper than any on the market, such as the upcoming Tesla Model 3 Sedan, which is aiming for a $35,000 price point. But Fisker said the first aim of his company is to release a luxury vehicle showcasing the superbattery technology with a range of more than 400 miles priced in the neighborhood of Tesla's $66,000 Model S. The first car, he added, will likely be produced at VLF Automotive of Auburn Hills, Mich., a high-performance sports car maker co-founded by Fisker.
"The vehicle will be quite dramatic and futuristic. It might be too futuristic or dramatic for some," said Denmark-born Fisker, 53. The first vehicle will have butterfly doors and a front end similar to that of a Jaguar F-Type, while its lack of an internal combustion engine will provide passengers with more room, he added.
"Despite the fact that it looks like an extremely sporty, low-slung sports sedan, it has an amazing amount of interior space. It has more leg room than some of the German big luxury sedans."
Known for designing eye-catching sports cars such as the BMW Z8 and Aston Martin V8 Advantage, Fisker said he plans to lean on that experience heavily in his new venture as he tries to build a distinctive brand.
"A lot of consumers truly feel that if they want an innovative fully electric vehicle," he said, "they want it from a new company that only makes electric vehicles and that has an interesting story around them."
Bumpy road
Fisker's reputation is less impressive when it comes to manufacturing and business operations.
The first electric-car company bearing his name, Anaheim's Fisker Automotive, declared bankruptcy in 2013 after gobbling up more than $1.4 billion in investments, including $192 million in green energy loans from the U.S. Department of Energy under the same program that funded Tesla and Solyndra, among others. Fisker Automotive never repaid $168 million of those loans, according to reports. The company was sold out of bankruptcy to Chinese auto parts maker Wanxiang Group Corp. for $149 million in 2014 and renamed Karma Automotive.
Fisker said he learned a lot from his first electric-car company, including the importance of maintaining control and development of the company's battery storage technology. Fisker Automotive bought its batteries from A123 Systems of Livonia, Mich., which recalled its products twice and ultimately went bankrupt, crippling the production of the Karma electric vehicle.
To stave off potential supply problems, Fisker has created a 50-50 joint venture, called Fisker Nanotech, with its superbattery supplier, Nanotech Energy Inc. of West Los Angeles, which has licensed the technology from UCLA.
While batteries store energy by creating electricity through chemical reactions, supercapacitors store energy through static electricity. While not a new technology, Nanotech Energy claims it has found a way to store more electricity in supercapacitors, with performance boosted even more through the addition of battery components.
Power up
Nanotech Energy Chief Executive Jack Kavanaugh said he sees Fisker Inc. as the perfect showcase for the company's new technology.
"We decided that the auto industry is by far the best venue that we could work with," he said, noting that lithium ion batteries eventually wear out and have to be replaced in modern electric cars. "When (automotive manufacturers) have to replace the battery they are actually losing money. If we could take the cycle life and increase it significantly, that benefits the manufacturer and the buyer."
Nanotech has begun construction on a factory at an undisclosed location in Northern California that will begin operations early next year, Kavanaugh said. He declined to disclose the company's financial backers or how much investment it has received.
New technology aside, the road to financial stability for any electric-car manufacturer remains perilous and requires a lot of capital, said Morningstar's Whiston.
"The best proxy for all these startups is to look at Tesla's history," he said. "Look how much cash they've burned. Look at how many times they've gone back to the market."
Tesla launched its first electric car, the Roadster, in 2008, but isn't expected to turn an annual profit until 2020. According to Securities and Exchange Commission filings, Tesla tallied an accumulative deficit of $236 million between its 2003 launch and its IPO filing in September 2009.
"It's hard to stay profitable over time. I suspect a lot of these companies will go under when there's a recession," said Whiston. "In good times, there's always capital around for these pet projects, but it dries up in bad times."
For reprint and licensing requests for this article, CLICK HERE.