Slice of Pie
DINING: Pizza chain Fresh Brothers cuts in investor to feed growth.
Friday, October 21, 2016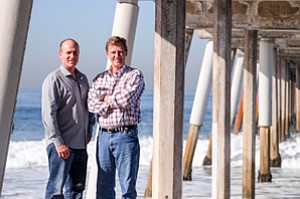 It took a lot of pizza dates for Fresh Brothers to settle on a partner.
In a deal guided by investment bank Innovation Capital, the co-founders of the 15-store Southern California chain met with 25 potential investors and entertained several offers over nine months.
In the end they went with someone close to their South Bay origins: Nolan Capital Inc., the Hermosa Beach family office of Peter Nolan, a former managing partner at Leonard Green & Partners, one of the largest backers of burger chain Shake Shack Inc.
"We really felt that Peter Nolan and Nolan Capital were best suited to Fresh Brothers because it's a family office, it's not a full-on private equity office, which allows for a different type of benchmarking for growth," said Adam Goldberg, 44, Fresh Brothers' chief executive. "We said we're going to get the experience of a partner in the big world who can bring it to a small family chain."
Although Nolan Capital, which took a controlling stake under the deal announced in September, is based only a few miles from Fresh Brothers' first restaurant in Manhattan Beach, Nolan, 58, didn't know Goldberg and his wife, Debbie, 46, who together co-founded and run Fresh Brothers.
But he and his former Leonard Green partners, some of whom also invested in Fresh Brothers, had tried the pizza.
"It was a natural fit for them because many of them live in the South Bay and were customers at the company," said Matt Sodl, president, managing director, and co-founder of Innovation. "They knew the company, the product, the quality of the operation, and their growth."
Piece of pie
The Fresh Brothers investment marks the first restaurant stake for Nolan Capital, which has investments in real estate and a few other California companies, including Diamond Wipes International Inc., a maker of restaurant wet wipes.
The restaurant chain, which has 550 employees, didn't disclose the size of the deal, but Darren Tristano, president of food industry research firm Technomic Inc., estimated the company to be worth about $22 million, which is how much the company expects to generate in sales this year.
The Goldbergs, who started the restaurant in 2008 after careers in the television industry, maintain a significant stake in the company. Adam Goldberg will continue as chief executive, managing day-to-day operations, and Debbie Goldberg will continue as chief marketing officer.
Michael Greenberg, co-founder and president of shoemaker Skechers USA Inc. who took a minority stake in Fresh Brothers in 2012, is keeping his shares as well.
The Nolan Capital investment allowed the company to eliminate the debt it took on to open stores, in addition to providing it with the expertise Peter Nolan accumulated at Leonard Green, which has worked with Shake Shack and Union Square Hospitality Group, Adam Goldberg said.
"I've proven I can open a pizza store and grow it to this size," he said. "As we start building over 50 units, it's a different game. I want to associate myself and this company with those who have built hundreds of businesses and done IPOs."
Besides sensing a good fit, Goldberg and Nolan also agreed on the importance of real estate for Fresh Brothers' growth, Goldberg said. The chain has expanded out of Los Angeles County into Orange County, and this month it opened its first store in San Diego County.
Nolan said he was attracted to Fresh Brothers' four-wall economics – the performance of individual units – and track record. The company averages $1.65 million in annual gross sales for each store that has been open at least one year.
"Fresh Brothers has literally the best unit economics I've seen in the restaurant industry," he said. "In terms of return on investment capital for new units, they're several standard deviations above the industry."
Healthy competition
Despite a proliferation of pizza chains in the area, including Blaze Pizza, 800 Degrees Neopolitan Pizzeria, and Pieology Pizzeria, Nolan is confident that Fresh Brothers, which touts the quality of its ingredients along with the salads and wings it serves, would "deliver to the market what it's looking for."
"If you want cheap pizza, call Domino's," said Nolan. "If people are more health-conscious, looking for food that's gluten-free, vegan, or without additives, that customer is going to Fresh Brothers."
The pizza, which has a thicker crust and comes in bigger sizes than those typically found at custom-built pizza places, reheats well, he said, noting, "You can't do that with a quick-cook concept."
Unlike custom-built pizzerias, which cater to a sit-down lunchtime crowd, Fresh Brothers focuses on delivery and take-out, although there is some dine-in seating. Like Domino's Pizza and Papa John's Pizza, it has its own delivery drivers, although it also works with third-party delivery companies for farther locations.
Technomic's Tristano said Fresh Brothers capitalizes on changing tastes in a way that could allow it to expand beyond California. Millennials see healthy as more based on the quality of ingredients than the number of calories or carbohydrates.
"Younger consumers want antibiotic and hormone free, which they perceive as healthier, and they're willing to pay more for it," he said.
At the same time, the pizza category in general has been doing well after a slowdown a couple of years ago. According to Technomic, sales grew 6 percent at most national pizza chains last year and 37 percent at fast-casual, custom-built stores. With the rise of chains such as 800 Degrees, consumers are eating pizza more often, stealing market share from other fast-casual categories, Tristano said.
The recent bankruptcy filings of three restaurant companies, Cosi Inc., Rita Restaurant Corp., and Garden Fresh Corp., and closure of some chains' locations could actually play in Fresh Brothers' favor, he said.
"I think what you see there is some brands have become less relevant while aggressively expanding," Tristano said. "The good news is there's more real estate for restaurants like Fresh Brothers."
Adam Goldberg wants to open 50 stores in the next five years and is considering franchising. Although Nolan agrees that Fresh Brothers could go national, he said they'd focus on California in the immediate future.
"I see a lot of white space for our product," he said. "Landlords and customers are begging us to open stores. It's much easier to run a business properly when you stay regional."
For reprint and licensing requests for this article, CLICK HERE.