Powering Up
Swell Energy plugs batteries along with financing packages to homeowners
Friday, October 21, 2016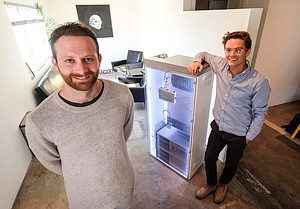 When two longtime friends and attorneys in the renewable energy field first met to discuss a possible energy storage venture two years ago, they had no expectation that they would be spearheading the largest foray into residential battery storage in the United States to date.
Andrew Meyer and Matt Rising, both 31, co-founded Swell Energy, a Palms operator of an online platform that matches homeowners with battery storage devices from several companies, arranges to have the batteries installed, and works out financing packages.
"It's the final mile for energy storage, connecting the homeowner with the battery technology," Meyer said.
At barely a year old and having arranged for the installation of just 20 batteries so far, Swell has been selected by Southern California Edison to lead a pilot project to place batteries into an estimated 3,000 homes in southern Orange County by June 2019. It's the largest single project anywhere in the country aimed at getting batteries into homes, 10 times the size of a similar program launched this summer in the New York area.
The project is part of Edison's effort to reduce the draw on the grid by homes in the area most impacted by the closure of the San Onofre nuclear plant four years ago. If this virtual mini-power plant operating off the grid proves successful, the savings for Edison's grid would be 5 megawatts, a small but crucial portion of the 2,200 megawatts San Onofre produced before it went off line in 2012.
It's a huge project, one that could propel Swell into the front ranks of the fledgling home energy storage market. But it also carries huge risks, chief among them: If Swell cannot meet the 2019 deadline, it faces unspecified financial penalties. And with battery technology still evolving, questions about performance and actual power bill savings still linger.
Meyer believes the company is up to the challenge. He said Swell is using some of the $1 million in seed money it raised from angel investors over the past year to reach out to homeowners in the area, explaining the benefits of battery storage. The company has already received a few reservations.
"We are on track to exceed the 3,000-home mark in the project area, given our partners in the area and the current trajectory," he said.
Battery cost dropping
Meyer and Rising met in high school in Los Angeles. They kept in touch as they went to law firms on separate coasts: Meyer was an attorney at Latham & Watkins in Los Angeles specializing in renewable energy projects, Rising was at a New York law firm also practicing in the renewable energy arena.
Prev Next
For reprint and licensing requests for this article, CLICK HERE.