Powering Up
Swell Energy plugs batteries along with financing packages to homeowners
Friday, October 21, 2016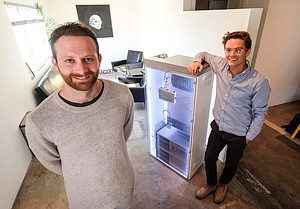 When two longtime friends and attorneys in the renewable energy field first met to discuss a possible energy storage venture two years ago, they had no expectation that they would be spearheading the largest foray into residential battery storage in the United States to date.
Andrew Meyer and Matt Rising, both 31, co-founded Swell Energy, a Palms operator of an online platform that matches homeowners with battery storage devices from several companies, arranges to have the batteries installed, and works out financing packages.
"It's the final mile for energy storage, connecting the homeowner with the battery technology," Meyer said.
At barely a year old and having arranged for the installation of just 20 batteries so far, Swell has been selected by Southern California Edison to lead a pilot project to place batteries into an estimated 3,000 homes in southern Orange County by June 2019. It's the largest single project anywhere in the country aimed at getting batteries into homes, 10 times the size of a similar program launched this summer in the New York area.
The project is part of Edison's effort to reduce the draw on the grid by homes in the area most impacted by the closure of the San Onofre nuclear plant four years ago. If this virtual mini-power plant operating off the grid proves successful, the savings for Edison's grid would be 5 megawatts, a small but crucial portion of the 2,200 megawatts San Onofre produced before it went off line in 2012.
It's a huge project, one that could propel Swell into the front ranks of the fledgling home energy storage market. But it also carries huge risks, chief among them: If Swell cannot meet the 2019 deadline, it faces unspecified financial penalties. And with battery technology still evolving, questions about performance and actual power bill savings still linger.
Meyer believes the company is up to the challenge. He said Swell is using some of the $1 million in seed money it raised from angel investors over the past year to reach out to homeowners in the area, explaining the benefits of battery storage. The company has already received a few reservations.
"We are on track to exceed the 3,000-home mark in the project area, given our partners in the area and the current trajectory," he said.
Battery cost dropping
Meyer and Rising met in high school in Los Angeles. They kept in touch as they went to law firms on separate coasts: Meyer was an attorney at Latham & Watkins in Los Angeles specializing in renewable energy projects, Rising was at a New York law firm also practicing in the renewable energy arena.
Two years ago, they talked at length and both saw a business opportunity in the emerging energy storage marketplace. They decided to focus on delivering the energy storage capacity and formed Swell.
The benefits of home batteries, they decided, are obvious, especially for homes outfitted with solar panels. The energy generated by the panels when the sun shines can be stored for use in the evening, sharply reducing reliance on the grid. Even if the homes don't have solar panels, batteries can be used to store energy purchased for low prices during off-peak hours and then turned on during peak hours – a practice called time-of-use shifting.
Five years ago, running a home on battery power meant placing tons of lead-acid batteries in the basement or garage – at a cost approaching six figures. There were very few takers.
However, just as with solar panels seven or eight years ago, technology and production advancements have sent the cost plunging. Now, much more reliable lithium-ion batteries that can fit into a console smaller than a refrigerator cost as little as $10,000, and the cost of batteries and installation can run less than $15,000. Larger batteries can cost upwards of $20,000.
Swell offers battery systems by such players as Sonnen, LG, Panasonic, and, just recently, Tesla Motors.
Swell's revenue stream is from monthly service subscriptions to the online matching platform.
The company is working on an in-house system to finance the purchase and installation of battery systems, then it can start receiving payments made by customers resulting from those financing packages. The financing packages would allow customers to apply savings from their utility bills toward paying off the systems over time. After about 10 years or so, the systems could be completely paid off and the homeowner then would then be free to reap the power bill savings.
At least, that's how it's supposed to work in theory. In practice, no one really knows, since home battery systems have not been around that long.
"Right now, this home battery market is strictly for the early adopters," said Brett Simon, an energy storage analyst with Green Tech Media in Boston. "The batteries are just becoming affordable for homeowners, but right now, only at the high end. It's still not affordable for the typical homeowner."
That's why most of the focus in the battery storage market has been on the commercial and industrial side, where economies of scale and substantial savings on six-figure annual power bills come into play. Of the 226 megawatts of grid power saved through battery systems installed nationwide last year, the vast majority have been from commercial and industrial use, Simon said.
Also, the combined cost of solar panel systems and home batteries is way out of reach for most homeowners – at least without subsidies. There is a state subsidy program for homeowners who purchase energy storage devices and a federal program that pays smaller subsidies.
Edison will also be paying subsidies into the pilot program – that is if California's Public Utilities Commission approves it. The commission likely won't be deciding this issue until 2018, according to Caroline McAndrews, director of the preferred resources pilot program for Edison.
Only customers who install a battery system through the pilot program would be eligible for Edison subsidies. Also under the contract, Edison will make monthly payments to Swell, which will use the money to cover the cost of installing and operating systems.
Permit hurdles
Getting the batteries into 3,000 Orange County homes won't be easy. The biggest hurdle is likely to be obtaining permits from the various cities covered by the project, including Irvine, Lake Forest, and Mission Viejo. The technology is still so new that most cities don't have the specific permit procedures set up yet.
Indeed, while Swell's Meyer said about 300 homeowners have signed up with the company for home battery installation over the past nine months, only 20 systems have actually been installed. The primary obstacle has been the slow pace of permitting by local governments.
Green Tech's Simon said there is a risk of customer disappointment if batteries don't yield expected power bill savings. With the performance of battery systems continually improving and the price steadily dropping, however, that prospect is becoming less likely over time.
If Swell successfully executes the pilot program, Meyer said the company will be able to pursue similar contracts with Edison and other power utilities, which could prove more lucrative than trying to sign up customers one at a time.
Swell could also run up against stiff competition. Over the past year or two, SunPower Corp., Sunrun, and SolarCity Corp. have all launched battery programs aimed at the residential market, Simon said.
Director of Marketing Tyler Gaul said he's confident that Swell's technology platform and focus on lining up customers with the right battery will allow the company to go head to head with these solar giants.
"We're trying to simplify it, make it super affordable and provide as much immediate benefit to homeowners and utility companies as possible," he said.
For reprint and licensing requests for this article, CLICK HERE.