Comic Con Looks to Ride Capes of Stan Lee, Local Vendors
A Look Ahead: What's on the agenda for Los Angeles business in the coming week
Friday, October 21, 2016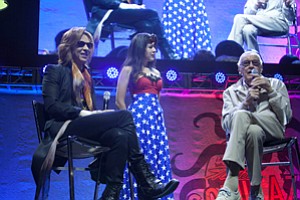 When an estimated 90,000 attendees descend on the Los Angeles Convention Center for Stan Lee's Los Angeles Comic Con on Oct. 28, they won't find a host of movie stars ready to unveil clips from the latest superhero blockbusters.
Instead, the producers of the three-day event are hoping to give a boost to the local comic-book industry – the mom-and-pop store owners and fanboy collectors who keep the industry ticking.
"It's about giving a platform for local businesses who serve the geek and nerd community," said Keith Tralins, chief executive of Westwood's Comikaze Entertainment Inc., which produces the event that until this year was known as Stan Lee's Comikaze Expo.
While other comic-book festivals have become global media events designed to gin up box-office numbers for Hollywood studios, Stan Lee's Los Angeles Comic Con has opted to remain locally focused.
"We don't invest a lot of money in bringing in huge-name actors," said Tralins, whose firm launched the event in 2011. "We don't want all the air to be sucked out of the room by some megastars. We want the money to be spent on the vendors."
Last year, the conference drew in 76,000 attendees, who collectively spent more than $6 million on merchandise from vendors on the convention center floor, he added.
The conference competes with other local comic-book festivals such as Mad Event Management's Long Beach Comic Con as well as WonderCon in Anaheim and San Diego's Comic-Con International, both of which are operated by San Diego Comic Convention. This year's Comic-Con International drew 135,000 attendees to the San Diego Convention Center during its July 21-24 run.
More than 800 vendors will be present at Comikaze's event this year, said Tralins.
One of those, legendary L.A. comic-book store Golden Apple, is aiming to use the show to generate revenue and gain brand exposure through its booth, said Ryan Liebowitz, co-owner of Golden Apple's two L.A. outposts.
"We have to differentiate ourselves," he said, noting that the number of comic-book stores in Los Angeles has grown in recent years.
Perhaps the biggest celebrity scheduled to appear at the event is Lee himself, the former president and chairman of Marvel Comics. He now serves as chairman and chief creative officer of Beverly Hills' Pow! Entertainment Inc., which owns an undisclosed stake in Comikaze. The idea to change the name of the event came from Lee, who felt the event needed a stronger connection to Los Angeles.
"Stan will be on hand the whole weekend signing autographs, taking pictures, and meeting guests," said Tralins.
Lee's ability to draw large crowds is especially appreciated by local vendors, said Liebowitz.
"Stan's an icon," he said. "His (convention) gets some really good guests and that brings lots of people. I'd be crazy not to try to join the festivities."
One-day tickets to the show start at $25; weekend passes cost $70.
For reprint and licensing requests for this article, CLICK HERE.