Veteran Investors Step Up to Plate With E-Sports
INTERNET: Peter Guber-led acquisition of Team Liquid could prove game-changer.
Friday, October 14, 2016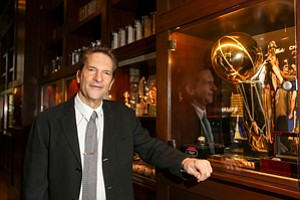 By HENRY MEIER Staff Reporter
E-sports took a big step toward adulthood late last month when Mandalay Entertainment Group Chief Executive Peter Guber announced he and a group of high-profile investors had purchased a controlling stake in Team Liquid, a collective of players that compete in a variety of video games.
Guber, who also has ownership stakes in the Golden State Warriors and Los Angeles Dodgers, said he looked into purchasing a stake in an e-sports entity for more than a year before pulling the trigger.
"I realized that this was a sport that was enormously popular with a large fan base," Guber said, "but that it was also under the radar for a lot of people in the traditional sports business."
While the profit potential was part of the investment calculous – the e-sports market is projected to grow to more than $1 billion by 2020 – another driving factor for Guber was that not many owners in the professional sports community had bought in to the industry yet.
So he set about putting together an all-star investment team to shake things up.
His group includes a swath of high-profile investors, including Washington Wizards owner Ted Leonsis, AOL founder Steve Case, Earvin "Magic" Johnson, and an array of executives from the Dodgers, Mandalay, and other sports and entertainment businesses.
The Team Liquid ownership group, comprising 35 individuals and entities, dubbed itself aXiomatic, and appointed Bruce Stein, a Mandalay veteran, as chief executive. Terms of the deal were not disclosed, but aXiomatic said it took a controlling interest in the team and outsiders have pegged the valuation of similar teams around $10 million.
The stake in Team Liquid was sold to Guber and his aXiomatic partners by Steve Arhancet and Victor Goossens, who will stay on as co-chief executives. The team generates an undisclosed amount of revenue from sponsors such as HTC, Quest Nutrition, and computer hardware maker Alienware. E-sports teams also generate revenue from streaming broadcasts, tournament prize money, and merchandise.
Guber said the Team Liquid purchase was strategic and part of a larger plan to get into different e-sports verticals.
"We felt they were an acquisition that would be the foundational core of our investment in e-sports," Guber said. "The opportunities are rich, however, and we expect there to be other business ventures we'll explore going forward."
Regional strength
While South Korea remains the epicenter for competitive e-sports, Los Angeles is quickly becoming the business hub for the industry.
In addition to the many L.A.-based members of aXiomatic, Team Liquid maintains outposts in Culver City and the Netherlands.
Many of the local video-game industry heavyweights are also firmly entrenched in the e-sports industry. They include West L.A.'s Riot Games, which publishes the No. 1 e-sports game in the world, "League of Legends," and Activision Blizzard Inc. of Santa Monica, the "Call of Duty" publisher that earlier this year bought e-sports association Major League Gaming, which organizes live e-sports competitions and broadcasts them online.
Team Liquid members play 10 different video-game titles competitively, including "League of Legends" and "Counter Strike: Global Offensive."
There is big money at stake. For example, the League of Legends World Championship, which will hold its main event at the Staples Center on Oct. 29, will dole out more than $4 million in prize money during the monthlong, multicity event.
Growing up
Los Angeles is also home to the newly formed Professional eSports Association, which aims to change how e-sports leagues operate, according to Commissioner Jason Katz.
"The historical business architecture of e-sports leagues and tournaments has been controlled by third-party organizers, which allows them to sign media deals, make ticket sales, and sign sponsors," Katz said. "They then pass along a small portion of that money to teams who then give an even smaller portion to the players."
Katz envisions the PEA, which has seven prominent North American teams signed up for its inaugural season, including Team Liquid, as a more equitable league based on the traditional sports association model where teams and players share all revenue streams.
"We don't just want players to split profits – which we're doing – we want them to sit at the table and help create the rules and decide the operational structure of the league," Katz said.
He said having financially stable team owners with business acumen has helped the model gain wider adoption in the e-sports community.
"The new owners moving in have deep pockets; they have great experience in negotiating some of the obstacles that frequently pop up on the business operations side; and they're ready, willing, and eager to plan for the long term," Katz said.
However, not everyone is convinced e-sports will be quite the cash cow many project.
Duncan Stewart, head of technology, media, and telecommunications research for Deloitte in Canada, said the firm's research shows that while the e-sports audience is huge – hundreds of millions of people tune in to watch major competitions – making money off that audience is tough.
"The dollars associated with this audience is much smaller than expected – about one-tenth per person of what you would see from a traditional sports audience," Stewart said. "The ability to monetize the e-sports audience is much more difficult."
Katz, however, argued that newer games, monetized around subscription models and in-game purchases, are designed to hook people on one game for as long as possible. That type of brand dynamic could be attractive to team sponsors and allow fans to develop attachments in the same way they do with traditional sports teams.
"E-sport is not just about reacting to popular games," Katz said. "There's now an incentive for these games to last into middle and old age."
Stein, aXiomatic's chief executive, acknowledged that the Team Liquid purchase still represents a long-term play for the owners, despite the ever-increasing popularity of e-sports.
"We don't know where the revenue channels will ultimately develop," he said. "It's as exciting field as I have seen since probably the original dot-com boom."
For reprint and licensing requests for this article, CLICK HERE.