SolarReserve to Build $5B Thermal Solar Project in Nevada
Wednesday, October 12, 2016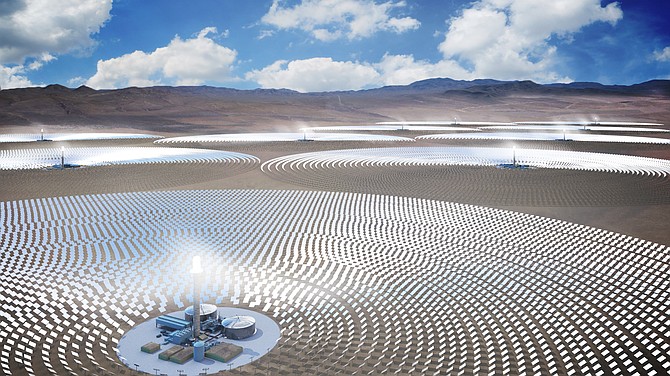 SolarReserve announced on Tuesday that it would build ten solar thermal plants on a Nye County site about 225 miles northwest of Las Vegas for $5 billion.
The solar power plants would address electricity needs of the California energy market and would generate about 7 million megawatt hours per year. Santa Monica-based SolarReserve is claiming that the plants would be lower cost than the equivalent natural gas power plants.
To put that into context, SolarReserve's first solar power project, a 110-megawatt plant outside Tonopah, Nev., powers 75,000 homes in that state as part of a 25-year deal to sell energy to utility NV Energy. The so-called Crescent Dunes project cost $900 million to build, and was financed partly by a Department of Energy loan.
The company will be able to achieve cost savings on this new project due to technology and supply chain improvements as well as economies of scale, said Kevin Smith, SolarReserve's chief executive. The 10-tower project will be the largest of its kind in the world, he said.
The firm's power plants use an array of mirrors to focus light from the sun into a central tower filled with heat-conducting molten salt. That heated molten salt is stored in tanks and used to steam-generate electricity when the power grid demands it.
This project will mostly be financed by commercial debt and equity, said Smith. And though the project doesn't have a dedicated buyer of its electricity, California's green energy needs and state mandates should suffice, he said.
"California has some pretty aggressive targets for renewable energy and they are going to need storage to do that," said Smith, noting problems with intermittent wind and photovoltaic solar energy.
Technology reporter Garrett Reim can be reached at greim@labusinessjournal.com. Follow him on Twitter @garrettreim for the latest in L.A. tech news.
For reprint and licensing requests for this article, CLICK HERE.