Commercial Kitchens Turn Into Hot Properties
FOOD: Facility operators look to feast on expansion as businesses get cooking.
Friday, November 25, 2016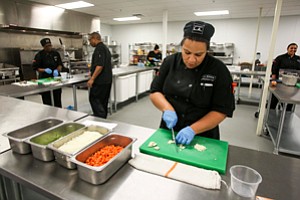 Los Angeles has emerged as a hotbed of culinary activity, but the growing number of quirky eateries, food trucks, and confectionaries has outpaced the number of kitchens available for rent.
The demand has become so high that several local players in the food industry have decided to either expand their operations or launch commercial kitchens.
East L.A. commercial space Fishburn Kitchens is planning to open a second location in Hollywood next year with the goal of accommodating 20 customers. Meanwhile, L.A. Prep in Lincoln Heights said it's also looking to expand and could open two more facilities in the L.A. area.
Jerry Prendergast, founder of Culver City restaurant consultancy Prendergast & Associates, said he's received so many inquiries about kitchen space that he's planning to open a commercial kitchen with an investor.
"I have people call me all the time," Prendergast said. "There's a huge shortage of these kitchens. I have a client now who is looking for a very specific kind of production kitchen and we're having a very hard time finding one."
Multitenant commercial kitchens are often used by companies such as food trucks, caterers, and wholesale producers as a space to prep, cook, and store food. While this can certainly represent a major expenditure for what are often small, mom-and-pop operations, these commercial kitchens give culinary businesses the opportunity to minimize the regulatory headaches of acquiring necessary health and building permits. In addition, building out a kitchen from scratch could cost business owners as much as $300,000.
Working out of a shared kitchen helped Chicago-style deep-dish pizzeria Dough Box Pizza & Bread grow its business and minimize overhead costs. The company, launched last year, works out of a 225-square foot space inside Fishburn, for which it pays about $1,500 a month.
Alexandra Gonzalez, co-founder of Dough Box, said the delivery-only operation initially looked at retail spaces even though it only needed a kitchen. But those options proved either too large or expensive, with monthly rents running around $5,000.
"It wasn't really necessary for us to have a retail space and pay retail space money," Gonzalez said. "When (Fishburn) came up, it was great. It takes care of all the big permits of the actual building (and) when we walked in the kitchen was ready to go."
Heating up
Helping eateries streamline operations and scale is what pushed real estate developers Brian Albert and Mott Smith to open 56,000-square-foot multitenant kitchen L.A. Prep last year. Tenants receive an expedited permitting process as part of the venture's partnership with the Los Angeles County Public Health Department.
Oakland chain Blue Bottle Coffee set up shop inside L.A. Prep after dropping plans to build out its own commissary kitchen and El Segundo plant-based meat company Beyond Meat also rents a space there.
Albert said all but one of L.A. Prep's 54-unit facility are fully leased and the company receives 10 to 12 tenant inquiries a week. Its wait list usually has 20 to 25 companies. The strong demand has prompted the business to start planning a new building, maybe even two.
"It's proven to be a wider market than we had realized," he said. "We talked to a lot of people who told us about this problem, but we honestly had no idea who would actually show up and start renting space with us. The response has been tremendous."
Aaron Aftergood, manager at Fishburn, said the year-old site's 18 units are fully leased and prospective tenants are put on a wait list.
"We really wanted to carve up a warehouse and make it a super functional space," Aftergood said. "We're still getting calls that we have to either refer elsewhere or put on our list."
Andrea Bell, founder of L.A. shared kitchen incubator Chef's Kitchen near Culver City, warned that while building out a commercial kitchen might be good business, it still presents a lot of risk.
"It's not like renting out a piece of commercial space and walking away and just collecting rent," Bell said. "There's enormous amount of maintenance involved … and there's a lot of supervision."
Bell, who opened her five-unit kitchen 30 years ago, said commercial kitchens are also not immune to the high turnover rate faced by the restaurant industry. But she acknowledged the landscape has changed dramatically as the movement toward locally sourced cuisine continues, with demand expected to surge in the near future despite tougher public health regulations.
"There's a greater interest in good food and interest in food that's well prepared," she said. "I think there remains a large interest in people who want to start food businesses."
For reprint and licensing requests for this article, CLICK HERE.