Commercial Kitchens Turn Into Hot Properties
FOOD: Facility operators look to feast on expansion as businesses get cooking.
Friday, November 25, 2016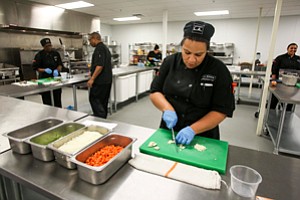 Los Angeles has emerged as a hotbed of culinary activity, but the growing number of quirky eateries, food trucks, and confectionaries has outpaced the number of kitchens available for rent.
The demand has become so high that several local players in the food industry have decided to either expand their operations or launch commercial kitchens.
East L.A. commercial space Fishburn Kitchens is planning to open a second location in Hollywood next year with the goal of accommodating 20 customers. Meanwhile, L.A. Prep in Lincoln Heights said it's also looking to expand and could open two more facilities in the L.A. area.
Jerry Prendergast, founder of Culver City restaurant consultancy Prendergast & Associates, said he's received so many inquiries about kitchen space that he's planning to open a commercial kitchen with an investor.
"I have people call me all the time," Prendergast said. "There's a huge shortage of these kitchens. I have a client now who is looking for a very specific kind of production kitchen and we're having a very hard time finding one."
Multitenant commercial kitchens are often used by companies such as food trucks, caterers, and wholesale producers as a space to prep, cook, and store food. While this can certainly represent a major expenditure for what are often small, mom-and-pop operations, these commercial kitchens give culinary businesses the opportunity to minimize the regulatory headaches of acquiring necessary health and building permits. In addition, building out a kitchen from scratch could cost business owners as much as $300,000.
Working out of a shared kitchen helped Chicago-style deep-dish pizzeria Dough Box Pizza & Bread grow its business and minimize overhead costs. The company, launched last year, works out of a 225-square foot space inside Fishburn, for which it pays about $1,500 a month.
Alexandra Gonzalez, co-founder of Dough Box, said the delivery-only operation initially looked at retail spaces even though it only needed a kitchen. But those options proved either too large or expensive, with monthly rents running around $5,000.
"It wasn't really necessary for us to have a retail space and pay retail space money," Gonzalez said. "When (Fishburn) came up, it was great. It takes care of all the big permits of the actual building (and) when we walked in the kitchen was ready to go."
Heating up
Helping eateries streamline operations and scale is what pushed real estate developers Brian Albert and Mott Smith to open 56,000-square-foot multitenant kitchen L.A. Prep last year. Tenants receive an expedited permitting process as part of the venture's partnership with the Los Angeles County Public Health Department.
For reprint and licensing requests for this article, CLICK HERE.
Prev Next