Chinese Food Pioneers Fill Plate
DINING: Cherngs feed growth plan with diverse investments.
Friday, November 25, 2016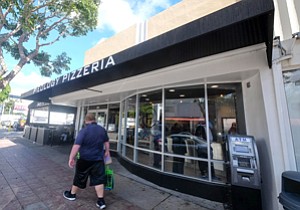 The co-founders of Chinese fast-food restaurant empire Panda Express have been broadening their palate and portfolio with investments in chains that serve everything from Japanese cheesecake to pizza, part of an ongoing effort to find growth opportunities as their core offering comes closer to saturating the market.
In recent months, Andrew and Peggy Cherng moved forward on opening a ramen noodle chain in Santa Monica, increased their stake in salad restaurants, and hired investment experts to help them expand and diversify their holdings.
Small to midsize chains with room to grow have been particularly hot lately, said Jonathan Maze, senior financial editor at trade publication Nation's Restaurant News, but the breadth of the deals struck by Panda over the past couple of years is somewhat unusual.
"They're being particularly aggressive, doing some fairly interesting things," said Maze.
Since the 1983 launch of Panda Express in Glendale, the company has grown to more than 1,900 locations, with about 30,000 employees and $2.5 billion in revenue last year. This is the first time, however, the Cherngs have stepped into new territory on this scale.
Working through both Panda Express parent company Panda Restaurant Group and the Cherng Family Trust Office, the couple is seeking not only to increase revenue, but also to foster the next wave of restaurateurs, said David Landsberg, chief financial officer for Panda.
"The Cherngs feel very fortunate to be able to achieve the growth they've accomplished," said Landsberg. "They like to be able to use what they learned to help other founders and businesses achieve success."
Other restaurant giants have also invested in smaller upstarts. McDonald's Corp. took a majority stake in a young Chipotle, which it has since sold, and Buffalo Wild Wings Inc., acquired a minority share in PizzaRev in 2013.
Keeping it going
Much as in the fashion industry, the restaurant business has trends, so diversifying one's holdings is smart business, said Maze.
This past year, there has been a spate of store closings and bankruptcies declared by restaurant companies, including Hometown Buffet.
Panda Express is popular with millennials and Generation Z, but its cooked vegetables don't entirely fit with those consumers' emphasis on fresh, said Bonnie Riggs, a restaurant industry analyst at NPD Group. Just Salad, on the other hand, does.
Acquiring new businesses can be particularly good for mature businesses, said Ray Hemmig, chief executive and chairman of Retail & Restaurant Growth Capital, an industry investment firm in Dallas.
"If the base business is near the end of its growth curve, it may be looking for other businesses to extend the growth curve," Hemmig said.
Buying another complementary business is probably cheaper than building one from scratch, because the bigger company might be able to get synergies between the two, he said. The bigger entity can also use its expertise to help the smaller one succeed more quickly.
Panda had 10 percent growth in revenue last year and plans to open at least 100 restaurants annually for the next several years, said Landsberg.
Just as Panda Express plans to keep expanding, Maze said the Cherngs' recent hiring of investment experts Warren Woo, founding partner and managing general partner at Breakaway Capital in Century City, and Carey Do Kim, formerly in capital finance for Wells Fargo & Co., signals they're just getting started with their investments.
Back to beginning
Andrew Cherng, who's originally from China, opened Panda Inn, Panda Express' sit-down precursor, in 1973 with his father. Peggy, who came from Myanmar, was working as an electrical engineer when she joined her husband's restaurant business in the early 1980s after her father-in-law passed away.
The couple opened the first Panda Express after the owner of the Glendale Galleria suggested they open a quick-service version of their restaurant in the mall.
The brand has grown steadily since its 1983 start, opening its 1,000th location and reaching $1 billion in revenue in 2007.
Today, almost all of its restaurants, with the exception of those where a partner is required, such as an airport, are corporate-owned. Panda Restaurant Group, which still includes Panda Inn and also small Japanese restaurant chain Hibachi-San, is entirely owned by the Cherng family, one reason why the Cherngs, who recently made Las Vegas their primary residence, have a net worth estimated at $3 billion.
In 2005, the couple opened the Cherng Family Trust Office, which shares Panda Restaurant's Rosemead headquarters, to handle the family's investments and charitable donations. The office has 30 employees.
New endeavors
In 2014, Panda branched out to invest in Just Salad, a New York salad chain, one of the first of a growing number of outside investments.
Last week, Panda announced it had increased its minority stake in the company, which has almost 30 locations and about 800 employees in New York and a few other U.S. locations.
Co-founder and Chief Executive Nick Kenner said the Cherngs got involved in his chain after he reached out to them. He had read how Panda owned most of its locations and wanted something similar for his company.
"Even though the cuisine is quite different, the business — the people, operations, product — is the same," said Kenner. "I think they saw the passion we had to do healthy food fast and affordable and to operate at a really high level. They have the same passion for a different cuisine."
Through Panda's semi-annual instructional seminars for its employees and partners, Kenner and his employees have gotten guidance on a macro level, including best hiring practices, and on a micro level, including getting a better price from Panda's menu vendor.
Carl Chang, an Orange County real estate investor who started customizable pizza concept Pieology, told the Los Angeles Times in January that he, too, had benefitted from more than just a cash infusion when the Cherngs took a minority stake in his company.
The Cherngs are taking a different tack with Ippudo, a Japanese ramen restaurant, however.
Through I&P Runway, a joint company formed with Ippudo's owner, Chikaranomoto Holdings Co., Panda Restaurant plans to open three West Coast locations next year, including one in Santa Monica. Although Ippudo, which was founded in 1985, can be found throughout Asia, these would be the first in the United States since Chikaranomoto opened two in New York in 2008 and 2013.
Also through I&P, Panda opened its first branch of Panda Express in Japan this month. Panda Express opened its first international location in Mexico City in 2011, and is now in a handful of other countries.
Another Japanese concept Panda Restaurant has brought to America is Uncle Tetsu, a Japanese cheesecake chain that opened its second U.S. location in Arcadia in September.
Panda had also planned to open a branch of YakiYan, a Taiwan-based Japanese barbeque restaurant, in Hacienda Heights this summer, but it never opened. Panda is continuing to work with the chain, according to Landsberg.
For reprint and licensing requests for this article, CLICK HERE.