Doing Business in L.A. Grew Tougher This Year
COMMERCE: Survey sees costs jumping even higher in 2016 with new taxes.
Monday, November 21, 2016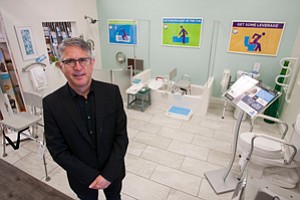 It might not be what local business owners want to hear, but the cost of doing business in Los Angeles has gone up yet again and will likely jump even more next year, according to a survey to be released this week.
The annual Kosmont-Rose Institute Cost of Doing Business Survey has classified 46 of the 74 Los Angeles County cities surveyed as either "high cost" or "very high cost" in terms of tax and fee rates for businesses in 2016. That's up from 45 last year and 44 the year before that, representing a steadily increasing trend.
Even worse, eight area cities – including Los Angeles, Beverly Hills, Santa Monica, and Culver City – rank among the 20 most expensive cities in which to do business in the Western United States. That's also up one from last year.
These increases are trifling compared with what could be coming next year, thanks to recent election results.
"With dozens of L.A. County cities climbing on the new tax bandwagon in recent elections, businesses face ongoing increases in their cost of doing business," said Larry Kosmont, an L.A. economic development consultant who started the Cost of Doing Business Survey 20 years ago.
Voters countywide this month approved a half-cent sales tax increase for transportation projects, while dozens of cities have approved either more sales taxes or new marijuana taxes.
That's not to mention school bonds and parcel taxes, which are also paid by businesses. All these tax and assessment increases will be taking effect next year – some as early as January, but most midyear.
Expansion guide
The survey, which is produced by Kosmont's firm, Kosmont Cos., in partnership with the Rose Institute of State and Local Government at Claremont McKenna College, looks at the cost of operating a business – focusing especially on taxes and fees – in 305 cities throughout nine Western states.
Businesses considering expanding or relocating often use the survey to compare operating costs in different cities. It also has become an essential marketing tool for lower-cost cities to recruit businesses from higher-cost cities in California.
Los Angeles has traditionally been a high-cost region, especially when it comes to taxes on retail sales, hotel beds, and business licenses. But the trend has been exacerbated in recent years as cities facing the double whammy of the recession and the loss of redevelopment dollars have scrambled to find revenue sources. On top of all this are mandated annual local and statewide minimum-wage increases that will take the wage up to $15 an hour for all businesses in the state by 2022; some cities, including Los Angeles, are running a year ahead of that schedule.
This year, though, the story has been the willingness of voters to approve tax hikes, principally on sales of retail products and marijuana, the use of which has now been legalized in California.
On the sales tax front, 70 percent of county voters supported Measure M, the half-cent sales tax hike to fund billions of dollars in transit construction. Sales tax increases of either a half-cent or a full cent also passed in Downey, Long Beach, Lynnwood, Santa Monica, and other cities.
In addition, on just this month's ballot alone, more than 30 bond and parcel tax assessments passed, with the overwhelming majority going to school districts. Those assessments are paid by both commercial and residential property owners.
Finally, taxes on marijuana sales passed in Carson and Long Beach.
The tax increases will be most keenly felt in cities that have significantly higher tax rates than nearby cities.
Wayne Slavitt, chief executive of Mobul, a Long Beach retailer specializing in home health and mobility equipment such as scooters and wheelchairs, said he expects his sales to take a beating. In Long Beach, voters have sent the sales tax rate next year soaring to 10.25 percent, one of the highest levels in all of Southern California.
Slavitt said many customers might flee a couple of miles into Orange County, where the sales tax will be as low as 7.75 percent.
"If our customers are asking us, Why should I buy this from you when I can go to Seal Beach and pay so much less in sales tax? then we're going to have to lower our prices to compete," he said. "And that in turn will mean less profit for us."
For reprint and licensing requests for this article, CLICK HERE.