Congress Weighs Axing EB-5 Visa Program That Funds Developments
A Look Ahead: What's on the agenda for Los Angeles business in the coming week
Friday, November 18, 2016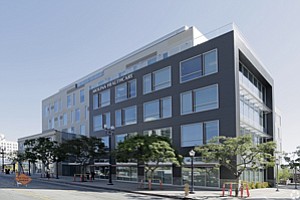 A hotly debated federal program that provides visas to foreign investors in exchange for funding projects in economically depressed areas might once again be on the chopping block.
The EB-5 program, widely praised for generating jobs and bringing billions of dollars into the U.S. economy, has also been roundly criticized as a vehicle for fraud. Set to expire at the end of September, Congress gave EB-5 a temporary extension to have more time to address some of the issues with the program and vote on a new bill, which is set for a vote on Dec. 9.
The existing program gives investors access to special green card processing if they invest $500,000 to $1 million in a U.S. commercial project that creates at least 10 full-time jobs. Projects financed by EB-5 money have accounted for more than $15 billion in economic activity nationwide since 2008, including $1.17 billion in California between the 2010 and 2013 fiscal years, according to nonprofit trade group Invest in the USA.
About 10,000 EB-5 visas are allotted each year, with the bulk of them going to Chinese immigrants. In Los Angeles County, EB-5 investments have helped fund the JW Marriott hotel downtown, the new Molina Healthcare facilities in Long Beach, and two hotels in development in El Monte and Monterey Park, among other others.
The program has helped create thousands of jobs, but a series of high-profile fraud cases led lawmakers to consider a slew of changes. Among them are tightened source-of-funds criteria, oversight regulations, and definitions of the Targeted Employment Areas – locations where minimum investment amounts drop from $1 million to $500,000. Congress is also considering raising this minimum investment to $800,000, said Mitchell Wexler, managing partner of the Los Angeles and Orange county offices of immigration firm Fragomen Del Rey Bernsen & Loewy.
"One of the provisions of one of the bills that's pending actually has retroactive application, which is hugely controversial," he said.
Although most don't think this provision will stick, Wexler said, it could mean that an investor who already wrote a $500,000 check would have to pony up an additional $300,000 to stay in the program.
Many local Congress members are divided on their opinions regarding EB-5 and its proposed continuation.
While Rep. Judy Chu, D-Monterey Park, has voiced support of a five-year extension, pointing to EB-5-funded development projects within her own district, Sen. Dianne Feinstein, D-California, has remained steadfast in her disapproval of the program.
"The right to immigrate should not be for sale," she said at a Senate Judiciary Committee hearing earlier this year.
Rep. Adam Schiff, D-Burbank, referred to a statement he made in September in which he said that although EB-5 brought substantial investment to the L.A. area, it has significant problems that include potential security risks and fraudulent use.
Launched in 1990, the EB-5 program was largely unused until the financial crisis hit and developers turned to it as a source of affordable capital for real estate projects, Wexler said. Demand hit a crescendo in the last two years, as EB-5 applications hit their annual cap before the Sept. 30 end of the federal fiscal year.
"As with anything new, there are kinks that need to be worked out," according to Wexler, who said he has represented clients in a few dozen EB-5 commercial deals over the last few years.
While most experts doubt EB-5 will be disassembled completely, Gregory Karns, a partner at Century City law firm Cox Castle & Nicholson, said if the United States halts the program, immigrants might just find other countries to spend their money in. Multiple countries, including the United Kingdom and the Netherlands, offer some form of immigrant investor visa.
"The flow will go elsewhere," said Karns.
For reprint and licensing requests for this article, CLICK HERE.