UPDATE: American Apparel Files for Protection, Warns of Further Layoffs
Monday, November 14, 2016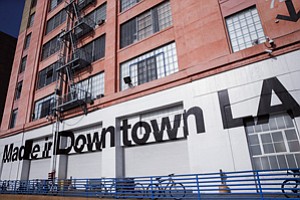 A company source who asked not to be identified because they were not authorized to speak publicly said the notifications were sent to the state as a precautionary measure before the Gildan deal was in place.
"The Warn notices we're a proactive, preemptive measure," the source said. "Originally, one the deals we were entertaining did not include L.A. manufacturing."
The Weinsten declaration filed in Delaware court details the company's spectacular decline since it fired American Apparel founder Dov Charney in December 2014. Even after last October's initial bankruptcy filing, which helped reduce the company's $300 million in debt and streamline operations, the company continued to hemorrhage money. Year-over-year sales are down more than 32 percent thus far, according to the declaration, and the company's earnings before interest, taxes, depreciation, and amortization declined by a whopping $40 million from 2015.
The company only stayed afloat in 2016 for as long as it did by leaning heavily on lenders that supplied it with additional capital – some $122 million, according to filings.
American Apparel lists New York-based Monarch Capital Group as its largest shareholder, with more than 41 percent of the company controlled through various Monarch funds. Goldman Sachs is listed as the next-biggest equity stakeholder with more than 20 percent.
The biggest unsecured creditor listed in American Apparel's bankruptcy filing is UK-based Standard General, which is owed more than $15 million by the company. FTI's $2 million is the second-biggest unsecured sum.
The bankruptcy filing comes 13 months after the company last sought protection in the wake of several years of declining sales and the Charney management shake-up. The company was able to put a plan together an exit plan in February, but it appears the initial restructuring wasn't enough to overcome the steep decline in sales.
Deals & Dealmakers reporter Henry Meier can be reached at hmeier@labusinessjournal.com. Follow him on Twitter @henry_meier.
Prev Next
For reprint and licensing requests for this article, CLICK HERE.