UPDATE: American Apparel Files for Protection, Warns of Further Layoffs
Monday, November 14, 2016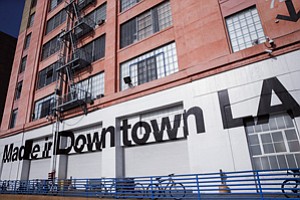 Less than a year after emerging from bankruptcy under new leadership, American Apparel has again filed for Chapter 11 protection, and this time the specter of large-scale layoffs is looming.
The filing came just after midnight Eastern Standard Time Monday morning. American Apparel faced a $2 million payment due Tuesday to FTI Consulting Inc. that likely spurred the filing, according to several sources who asked not to be named because they weren't authorized to speak publicly. The company had been exploring a sale to several branding firms in recent weeks, but couldn't find a buyer.
Related Link: American Apparel Again Files for Bankruptcy Protection
In its filing in Delaware bankruptcy court the downtown clothing manufacturer and retailer said it had $230 million in debt. A declaration filed by the company's restructuring chief, Mark Weinsten, said American Apparel was seeking to auction off its assets by the end of the year.
The company does have a $66 million stalking horse bid in place from Canadian clothing manufacturer Gildan Activewear. Gildan's bid is for American Apparel's intellectual property and a least some portion of its wholesale business. Gildan also "negotiated for the opportunity" to maintain some or all of American Apparel's manufacturing, distribution, and warehouse operations in Los Angeles.
Bradley Scher, American Apparel's chairman, told employees in a letter obtained by the Business Journal that Gildan's potential acquisition of parts of the company was a way to keep the brand alive.
"We are confident that this decision is the best strategic move forward, in order to preserve the legacy of the American Apparel brand," Scher's letter reads.
A company representative declined to comment.
The company, which laid off approximately 500 employees from its estimated Southern California workforce of 4,600 earlier this year, according to an April Los Angeles Times story, could lay off more than 3,400 more workers in Los Angeles in the next 60 days, according to three Worker Adjustment and Retraining Notifications (Warn notices) filed with the state's Employments Development Department last week.
Related Link: American Apparel Chief Executive to Step Down
The notices show the bulk – 2,166 – would be laid off from American Apparel's downtown factory. As many as 959 employees from the company's South Gate plant and another 332 from Garden Grove could get the ax as well.
In a measure of how quickly the business has shrunk, the company's last public filing before it when into bankruptcy last October and was taken private showed America Apparel had about 8,000 employees worldwide.
Prev Next
For reprint and licensing requests for this article, CLICK HERE.