Can Paper Bag Billionaire?
MEDIA: Tronc Investor Patrick Soon-Shiong May Be Best Positioned to Pick Up L.A. Times
Friday, November 11, 2016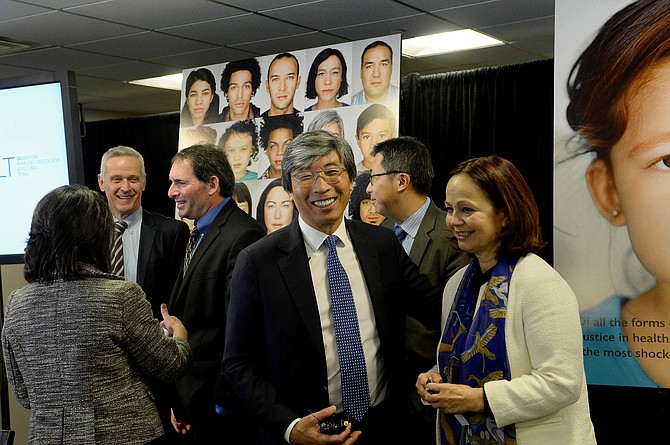 However, most owners realize that staying out of the newsroom is essential to the business, said Tierney.
"The key to the product is that there's the integrity around it," he said.
National treasure
The L.A. Times has maintained that integrity despite enduring ownership turnover since Sam Zell's ill-fated takeover in 2007.
"It's one of our national treasures," Soon-Shiong told the Business Journal in June, when he bought a 12.9 percent stake in the paper's parent company for $70.5 million. "What's exciting now is the real opportunity for the L.A. Times to transition to digital."
Digital innovation is essential to success, said Jim Friedlich, chief executive of the Institute for Journalism in New Media in Philadelphia, which owns the Inquirer.
"The newspaper business is very quickly coming to resemble the rest of the digital media marketplace, a business in which AI, machine learning, virtual reality, audio and video content are core to engaging consumers," he said via email.
Another potential money-making strategy could be for the Times to appeal to readers nationwide by boosting entertainment coverage.
"You need to build a huge national digital audience and then try to convert some small percentage of those into paying subscribers," said Kennedy, the media analyst.
Related Link: Suitor Making News With Bid for Paper's Parent
Soon-Shiong appears to be the only potential buyer in the wings. He bought into tronc in June as an ally to Chairman Michael Ferro, who was then fighting a takeover attempt by Gannett Co., owner of USA Today and a host of smaller regional dailies.
Ferro had taken control of what was then called Tribune Publishing just a few months before, announcing plans to use big data and artificial intelligence to bolster the paper's balance sheet. He initially resisted Gannett's April offer of $12.25 a share, but when it hit a reported $18.75 a share, putting tronc's value at $683 million, he appeared to relent. The deal collapsed last month once the banks backing the deal balked after Gannett reported poor third-quarter earnings.
Now, tronc might be under shareholder pressure to act, said media analyst Ken Doctor. If Soon-Shiong sweeps in, his first step should be to offer reassurance.
"What he needs to say on day one is, 'My God, what this paper has been through! I'm an Angeleno, I'm not going anywhere, and we're going to work through this together,' " Doctor said.
Prev Next
For reprint and licensing requests for this article, CLICK HERE.