Can Paper Bag Billionaire?
MEDIA: Tronc Investor Patrick Soon-Shiong May Be Best Positioned to Pick Up L.A. Times
Friday, November 11, 2016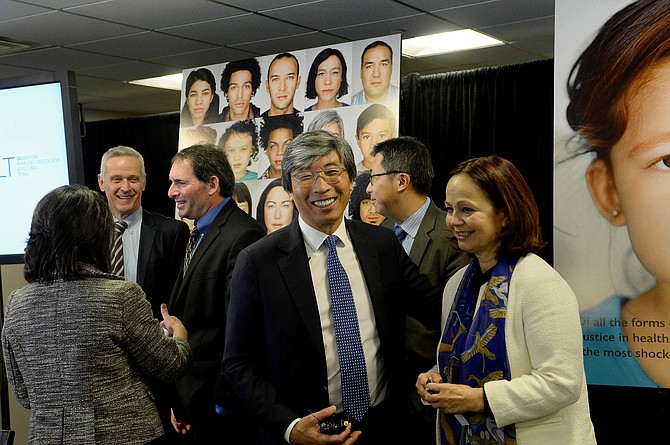 With the Gannett Co. bid for Los Angeles Times parent tronc Inc. having fallen by the wayside, local eyes have turned to biotech billionaire Patrick Soon-Shiong, tronc's second-largest shareholder, as a potential savior for the institution.
With more than $70 million already invested in tronc and a longstanding interest in the Times, Soon-Shiong appears best positioned to return the paper to local ownership for the first time in 16 years while offering a financial cushion amid ongoing turmoil in the newspaper industry.
Related Link: Soon-Shiong Takes Stake in L.A. Times Owner
If Soon-Shiong can extract the Times from tronc – and there is no certainty that he can – he would join a growing number of billionaire investors who have taken newspapers under their wings, perhaps more out of civic duty than economic interest. Among the papers that have joined the portfolios of individual investors in recent years are The Washington Post, The Boston Globe, The Philadelphia Inquirer, Las Vegas Review-Journal, and Omaha-World Herald.
"A guy who has deep pockets is a positive and a guy who's got vision is a positive," said Lloyd Greif, president of downtown investment bank Greif & Co. "I think he hits all those things."
However, some media observers are unconvinced that Soon-Shiong can pull off a successful business strategy, despite his financial and technological resources.
"The L.A. Times is crying out for seasoned operators," said Nishen Radia, co-founder of West L.A. investment bank FocalPoint Partners. "He's a visionary, but is he the right person to own the Times?"
Related Link: Gannett's Tronc Interest Hits Major Snag
In addition to his financial stake in tronc, Soon-Shiong, ranked No. 1 on the Business Journal's list of Wealthiest Angelenos in May with a net worth of $15.4 billion, has registered more than 100 artificial intelligence and machine vision patents under the company's name.
"His investment has always been with a view to coming away with the crown jewel," Greif said. "The jewel is the L.A. Times."
Soon-Shiong did not respond to requests for comment.
New newsies
Private ownership is starting to look like a panacea for newspapers, particularly those that have been held by public companies that are withering under unrelenting pressure to turn regular quarterly profits.
"Being privately held is so much better than having to look at stock price every day," said Gabriel Kahn, co-director of USC's media, economics, and entrepreneurship program.
Related Link: Gannett Deal to Buy tronc May Be Imminent
Prev Next
For reprint and licensing requests for this article, CLICK HERE.