SPECIAL REPORT: Out of the Box
Friday, November 4, 2016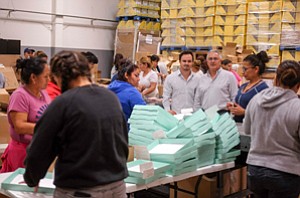 Eric Berkley remembers sitting at home with his father, Jeff, cold calling companies for six months trying to land new business.
The pair launched their eponymous Carson manufacturing firm, Berkley, four years ago, but they lacked warehouse space, and, perhaps most importantly, clients.
Berkley
Carson
BUSINESS: Design, manufacturing
FOUNDED: 2012
TWO-YEAR REVENUE GROWTH: 9,441 percent
2015 REVENUE: $11.4 million
Starting the business from scratch was a brutal process, Eric Berkley recalled.
"Someone would say, 'Awesome, send me a marketing deck,'" he said. "And I hung up the phone and said, 'Dad, we don't have a marketing deck.' So, I spent the rest of the day creating a marketing deck. It was learn as you go."
The firm's resourcefulness, coupled with its merchandising knowledge, has paid off handsomely as it snagged the top spot on the Business Journal's list of Fastest Growing Private Companies this year. Berkley's revenue has increased by more than 9,000 percent from 2012 levels, hitting $11.5 million in sales last year.
Eric Berkley, 27, said listening to customer needs has been crucial to the firm's success.
The company specializes in designing and manufacturing retail displays and packaging for clients in a wide range of industries, from cosmetic firms to winemakers. Berkley has established itself as the go-to company for brands such as Nikon Corp. and Honest Co. to create standardized packaging for mass retailers including Wal-Mart Stores Inc. as well as club stores such as Wal-Mart subsidiary Sam's Club and Costco Wholesale Corp.
"It sounds cheesy, but we even have signs in our office that say, 'We start by listening,'" he said. "It's on our business cards. It's everywhere."
That tactic paid off last year when a customer asked if Berkley could help get their products on Walmart's shelves, delivering a new line of business.
"It was kind of natural," Berkley said. "We're dealing with the same people, so why not?"
The father-and-son team launched Berkley from a home office in 2012. Since then, it has grown to 38 employees with additional offices in Napa and Bentonville, Ark., Wal-Mart's corporate home.
Jeff Berkley, age 63, launched his first packaging design company, Conceptual Design Industries, in 1983. He later expanded into manufacturing with the formation of Berkley Packaging in 1995. In 2000, he received an "offer he couldn't refuse" and sold the business for an undisclosed sum – a deal that allowed him to retire at 47.
Or so he thought.
Prev Next
For reprint and licensing requests for this article, CLICK HERE.