SPECIAL REPORT: Out of the Box
Friday, November 4, 2016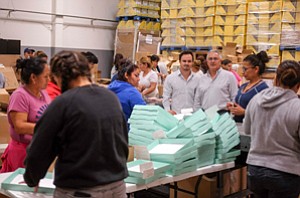 Eric Berkley remembers sitting at home with his father, Jeff, cold calling companies for six months trying to land new business.
The pair launched their eponymous Carson manufacturing firm, Berkley, four years ago, but they lacked warehouse space, and, perhaps most importantly, clients.
Berkley
Carson
BUSINESS: Design, manufacturing
FOUNDED: 2012
TWO-YEAR REVENUE GROWTH: 9,441 percent
2015 REVENUE: $11.4 million
Starting the business from scratch was a brutal process, Eric Berkley recalled.
"Someone would say, 'Awesome, send me a marketing deck,'" he said. "And I hung up the phone and said, 'Dad, we don't have a marketing deck.' So, I spent the rest of the day creating a marketing deck. It was learn as you go."
The firm's resourcefulness, coupled with its merchandising knowledge, has paid off handsomely as it snagged the top spot on the Business Journal's list of Fastest Growing Private Companies this year. Berkley's revenue has increased by more than 9,000 percent from 2012 levels, hitting $11.5 million in sales last year.
Eric Berkley, 27, said listening to customer needs has been crucial to the firm's success.
The company specializes in designing and manufacturing retail displays and packaging for clients in a wide range of industries, from cosmetic firms to winemakers. Berkley has established itself as the go-to company for brands such as Nikon Corp. and Honest Co. to create standardized packaging for mass retailers including Wal-Mart Stores Inc. as well as club stores such as Wal-Mart subsidiary Sam's Club and Costco Wholesale Corp.
"It sounds cheesy, but we even have signs in our office that say, 'We start by listening,'" he said. "It's on our business cards. It's everywhere."
That tactic paid off last year when a customer asked if Berkley could help get their products on Walmart's shelves, delivering a new line of business.
"It was kind of natural," Berkley said. "We're dealing with the same people, so why not?"
The father-and-son team launched Berkley from a home office in 2012. Since then, it has grown to 38 employees with additional offices in Napa and Bentonville, Ark., Wal-Mart's corporate home.
Jeff Berkley, age 63, launched his first packaging design company, Conceptual Design Industries, in 1983. He later expanded into manufacturing with the formation of Berkley Packaging in 1995. In 2000, he received an "offer he couldn't refuse" and sold the business for an undisclosed sum – a deal that allowed him to retire at 47.
Or so he thought.
He got restless and decided to bootstrap a new company with son Eric, who was about to graduate from the University of Denver with a degree in finance. The pair declined to disclose how much money they put in to get the company off the ground.
While the Berkleys put in their fair share of cold calls, some of the elder Berkley's former clients signed up after hearing he was back in the business.
"My previous business, it just took me longer to grow because we had some financial constraints," he said. "This time around, there really aren't any. We're able to grow as fast and as big as we want."

Eric's twin brother, Sean, joined the company three years ago, and Jeff said he's enjoyed building a family business.
"What more could I ask for than having lunch and spending time with my sons?" he said.
Most of the company's clients ship their products to the company's Carson warehouse, where Berkley packages them and sends them off, handling all facets of the process, from creating the artwork to shipping clients' products to respective retail partners.
Custom Design
For example, if a client needs to have two sunscreens in one package for Costco, Berkley's staff will custom design the proper display and make sure it's shipped according to the retailer's specifications.
"That's probably the biggest growth of our business – a customer saying all I want to do is make sunscreen. I don't want to deal with the retail packaging," said Eric. The value the company brings, he added, is that "we know that you need to put 220 units on a pallet going to Costco."
Berkley's newest service connecting brands with retailers might prove even more lucrative for the company, and like the sign in their office instructed, it came about after listening to clients.
The company started outgrowing its Carson facility last year and was in the market for additional warehouse space in Los Angeles. Instead, several business partners suggested the firm open a facility in Bentonville, home to Wal-Mart.
"It was kind of like a light bulb went off in my mind," Eric said.
His father took a bit more convincing.
"My dad said, 'Hey, I live in Beverly Hills. I'm not leaving Beverly Hills, so that's on you.'" Eric said, laughing. "He stuck to that because he's been out there twice."
More brands started seeking the company's consulting services once its Bentonville office opened last year, he said.
"If a small to midsize company wants to sell their product at Wal-Mart but doesn't have the know-how (or) speak their language, we help them and take a sales commission," he said, explaining that Berkley takes a cut of each bulk order placed by the retailer.
He added that while package design and manufacturing still makes up most of the company's revenue, he anticipates the consulting side to gain enough traction to make up half its total sales within three years.
But that's not how anyone planned it.
"Two years ago, if you told me about the consulting piece of our business, I would've said you're a crazy person," Eric said.
For reprint and licensing requests for this article, CLICK HERE.