City Long Framed as Artist Enclave
REAL ESTATE: Inglewood's low costs big draw for studios.
Friday, May 27, 2016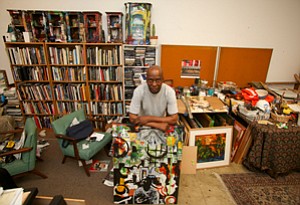 Bruce Blair looked all around Los Angeles for a spot to open a fiber arts gallery. Culver City was too expensive. Downtown Los Angeles was too dicey. Inglewood was just right – affordable and surrounded by artist studios.
"This place is ideal for what we want to do," said Blair, who opened the Branch Gallery in a storefront adjacent to an industrial park in February. "I rediscovered how big Inglewood is as an arts mecca."
Artists have flocked to Inglewood for decades, drawn by low rents at warehouse and commercial spaces and its proximity to the Westside. That scene has grown recently as rents in other artists' enclaves have become prohibitively high. Industrial rents in Inglewood hover around $1 a square foot a month, compared with twice that or more in Culver City and downtown Los Angeles.
But changes are afoot that might put upward pressure on rents: A light-rail line passing through Inglewood on its way to Los Angeles International Airport is under construction, the Los Angeles Rams' football stadium is set to open in 2019, and Hollywood Park is being redeveloped as a 238-acre housing and retail community.
That has some longtime arts residents worried.
"We don't know what kind of impact there'll be on the arts community," said mixed-media artist Michael Massenburg, who has lived and worked in Inglewood since the early 1990s. "You have to have a balance of what works for the creative community, what works for commerce, and what works for the community at large."
For now, said Dario Svidler, a broker at Partners Trust in Beverly Hills who owns several Inglewood properties, the city remains competitive on price.
"The biggest thing going for the city of Inglewood is that it's still the cheapest rent for all of L.A.," he said. "It's insane how low the rents are. Artists can come here and find warehouse space from 50 cents to 75 cents a square foot. I've seen even lower."
Many landlords have owned their properties for decades and are carrying little debt, so they can afford to hold prices down to avoid scaring off tenants. Also, industrial spaces in Inglewood are much smaller than in other lower-price areas of South Los Angeles. That means artists are not competing with manufacturers or distributors for space.
Mayor James Butts called the presence of so many artists a valuable part of the city, adding that the building boom about to hit Inglewood would not change that.
Prev Next
For reprint and licensing requests for this article, CLICK HERE.