Testing Water
Bikini maker Cocodune joins other e-tailers in letting customers try on items at home
Friday, March 25, 2016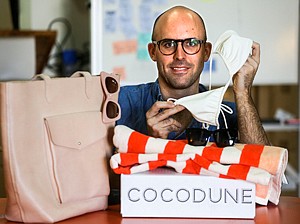 Swimsuit shopping for women often means trying on overpriced and, most likely, unflattering bikinis in a poorly lit fitting room.
But downtown L.A. e-commerce brand Cocodune, which launched last week, wants to overhaul that experience by letting customers try on its handmade Italian swimsuits at home before they buy. Through Cocodune's home try-on program, customers choose four styles to check out over five days then return one or all of the pieces. Shipping is free and customers are only charged for what they keep.
Cocodune is betting that its affordable swimsuits and in-home shopping experience will generate enough sales to cover the potentially high operating costs.
Matthias Metternich, the company's founder and chief executive, said he was inspired to start the company after a shopping trip with a female friend.
"As a guy looking at it from the outside, I thought you just put on a pair of trousers and pull a string and that's the end of it," Metternich said. "Buying a beautiful swimsuit that fits you well is an extremely painful experience (for women) and it's shocking to me."
From New York swim label Solid & Striped to San Francisco men's brand Chubbies, swimwear is going online following a business model popularized by online retailers Warby Parker, Casper, and Everlane – easily accessible, high-quality products at a more affordable price than brick-and-mortar competitors. And Los Angeles is joining the fold with players such as Cocodune and downtown's Bikyni.
Jude Al-Khalil, founder and chief executive of Bikyni, said it's about more than just offering quality and price.
"For us, it was also coming up with the shopping experience," Al-Khalil said. "It's not just the product. It's also the experience we wanted to modernize."
That meant everything from free shipping and returns to letting customers mix and match bikini styles.
Dan Wallace-Brewster, vice president of corporate marketing for Rancho Dominguez e-commerce services company Onestop Internet, said brands that have ditched a focus on wholesale have realized that operating online can mean better customer service.
"Prior to this, designers served what wholesale buyers wanted, not necessarily what the end consumer wanted," he said.
Taking plunge
Metternich, who's also a venture partner at Beverly Hills investment firm Winnick & Co., said it took about nine months to develop Cocodune. Things moved quickly because of an experienced team that includes design director Ashli Parker Lee, former head of global swimwear at downtown L.A.'s Forever 21, and operations director Skyler Hewitt, who previously led production at Culver City men's luxury label Elder Statesman.
Prev Next
For reprint and licensing requests for this article, CLICK HERE.