Natural Gas Release May Spur Criminal Charges
ENERGY: Action by Termo coincided with SoCal Gas' problems in Aliso Canyon.
Friday, March 25, 2016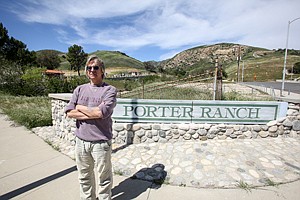 Troubled Long Beach oil and gas company Termo Co. might face criminal charges for releasing natural gas into the atmosphere near Porter Ranch.
The firm has already been fined $75,000 by state regulators for the violation, which occurred at a field it operates in the Aliso Canyon natural gas storage facility.
Termo applied to the Los Angeles County Department of Regional Planning to add 12 oil wells at the facility in 2014, and the violations could jeopardize that process.
"This is going to have a devastating effect on their proposed project," said Los Angeles City Councilman Mitchell Englander, who submitted a motion last week calling for a criminal investigation of Termo. "If this is as bad as it looks, I would like to see them prosecuted to the full extent of the law."
The Termo leak is distinct from Southern California Gas Co.'s larger gas leak at Aliso Canyon that saw more than 4,500 Porter Ranch-area residents forced out of their homes.
Residents say Termo, which put its expansion plan on hold in the wake of the SoCal Gas leak, should not be given any chance to drill new oil and gas wells near their neighborhood.
"When the company comes back, we're going to fight against the project," said Matt Pakucko, president of activist group Save Porter Ranch. "We're going to squash it."
Devastating effects
Englander said the drilling project is not compatible with a populated community such as Porter Ranch.
"We've seen devastating effects from SoCal Gas and the length they're willing to go to turn a profit and expose the community. Now it's Termo," he said. "The county could deny the extension project, and it should deny it."
He was speaking after calling for a criminal investigation over a January venting incident in which he said the company showed a total lack of regard for health and safety rules.
State inspectors spotted evidence of a possible gas leak with an infrared camera and on closer examination found hidden behind a tree the top of a 300-foot-long underground pipe sticking out of the ground and venting gas into the atmosphere.
Those inspectors said in a subsequent report they believed Termo intentionally released natural gas into the air because it couldn't transmit it to SoCal Gas, which had halted operations due to its own leak.
Normally, Termo collects natural gas as a byproduct of oil production, compresses it and sells it to SoCal Gas, which injects it into an underground storage facility.
Prev Next
For reprint and licensing requests for this article, CLICK HERE.