SPECIAL REPORT: Making Money, Leaving Mark
Turner Impact Capital among firms finding positive returns, client response by investing in ventures that support social, environmental causes.
Monday, March 21, 2016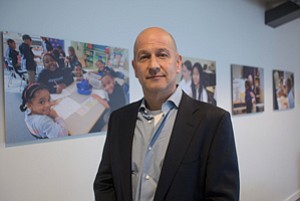 In the last few months, Santa Monica real estate investment firm Turner Impact Capital celebrated the launch of a Las Vegas charter school campus it helped build and snapped up two new apartment properties where it will offer affordable workforce housing.
While those projects might sound like the work of a nonprofit, they're part of a growing market for impact investments, ones designed to generate positive social and environment effects along with financial returns.
Turner was founded in 2014 by former Canyon Capital Realty Advisors co-founder Bobby Turner, who realized about 15 years ago that there was an opportunity to generate a return by investing in the gap he saw between social needs and the amount of money being invested to try and solve them.
The firm now has almost $750 million in assets and is not alone in chasing impact investments.
The movement has been gaining popularity in Los Angeles − billionaire Jeffrey Skoll and Toms Shoes founder Blake Mycoskie have made impact investments − and it's gaining favor among groups as disparate as millennials and institutional investors.
"To me, these daunting challenges also represented generational investment opportunities," Turner said. "When you have 1.2 million kids on a waitlist for a charter school, at $20,000 a school seat, that's a $20 billion infrastructure opportunity."
And the reach of impact investments is certainly not limited to the United States.
A skyrocketing global population, need for increased food production, widespread poverty, drought and lack of affordable health care and housing are all challenges in need of capital, said Fran Seegull, an adjunct professor at USC's Marshall School of Business and chief investment officer of ImpactAssets, a Bethesda, Md., nonprofit impact investment firm.
"Increasingly, there's an acknowledgement that grant capacity and government aid alone are not enough to move the dial on issues," she said.
The sector is growing in popularity in Los Angeles, said Seegull, thanks to a growing willingness on the part of wealth advisers and investors to consider these investments that focus on a double- or triple-bottom line.
"What you're seeing (in Los Angeles) is tremendous growth, even compared to five years ago," she said, pointing to new practices at large wealth adviser platforms such as Goldman Sachs, Morgan Stanley and Merrill Lynch. And local wealth advisers have been starting specialty practices after being told by their L.A. clients that they want impact investments.
Then there are people such as Turner, the former chief executive of Century City real estate investment firm Canyon Capital Realty Advisors. Since starting his own firm two years ago, his three funds have become some of the biggest in the country focused on this space, not to mention a huge part of L.A.'s small but growing impact investing scene.
For reprint and licensing requests for this article, CLICK HERE.
Prev Next