Investors Come Knocking for Stake in Doorbell
TECHNOLOGY: Bot Home welcomes $61.2 million with C round for smart ringer.
Monday, March 21, 2016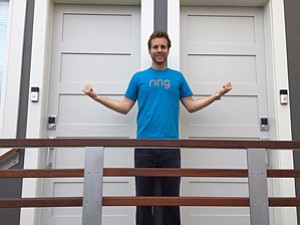 Santa Monica's Bot Home Automation Inc., maker of so-called smart doorbell Ring, last week raised a $61.2 million Series C round from Kleiner Perkins Caufield & Byers and Richard Branson.
The company said the investment will be used to fund an expansion into Europe, Australia, New Zealand, South America and South Africa along with additional research and development efforts.
Ring's doorbell video camera, speakers and microphone can be accessed using a mobile app. The smart doorbell also has motion-detection sensors that prompt the video camera to automatically record nearby activity. In addition, customers are alerted to the activity via the app. Ring's products cost $200 or $250, with the more expensive model featuring a slimmer design and higher-resolution video, among other bells and whistles.
Jamie Siminoff, the company's chief executive and chief inventor, declined to disclose Bot Home's valuation in this latest round, but confirmed a reported valuation of about $200 million as close. The company is planning an initial public offering by the end of next year, he added.
"The money that we are raising today is for the things we will do in 2017, 2018 and 2019," he said. "It allows us to get some R&D stuff going (and) deeper algorithms around video processing."
New computer vision technology could allow users to search video footage using text keywords. For example, a customer could type in "red car" to look for clips where a specific vehicle is present, he said.
Bot Home, which also manufactures a security camera, is developing technology to coordinate security among individual Ring owners, creating a security blanket of sorts across a neighborhood. The company's computer vision research efforts are also partly aimed at studying the behavior of burglars as they approach residents.
Ring first came into public prominence when Siminoff, its founder, pitched an early version of the smart doorbell on ABC reality TV contest "Shark Tank." He declined an investment offer from one of the TV show's investors, Kevin O'Leary, who offered the company a $700,000 loan on tough terms. He also demanded a 7 percent royalty on all future sales, plus 5 percent of the company's equity. Sales of the doorbell received a huge boost after the episode aired.
The doorbell's video recording feature won over Virgin Group's Richard Branson after a Ring customer staying at his Necker Island home showed him footage of a user interacting with a delivery person. Branson is now a customer and significant shareholder.
Bot Home has about 300 employees and runs its operations almost entirely off its own revenue, said Siminoff. The company has raised $100 million since it was founded in 2011.
Bot Home Automation isn't likely to raise any more money from venture capital firms before its planned IPO, said Siminoff, though the company might look to institutional investors for more cash. Startups often raise funds from large financial institutions prior to a public stock offering in the hope that a buy-in from such firms would be viewed as a vote of confidence among Wall Street investors.
For reprint and licensing requests for this article, CLICK HERE.