Bottling Up Funds
ALCOHOL: Fireman's Brew hopes to tap growing enthusiasm for craft brews.
Monday, March 7, 2016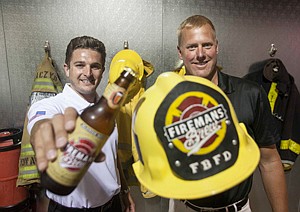 As the craft beer industry has gained popularity, local investors are looking at all those pints and hoping they bubble into profits.
Buoyed by a craft brewing industry that's maturing, L.A. businesses have begun soliciting and taking funding from strategic buyers and wealthy investors.
Canoga Park craft brewery Fireman's Brew Inc. last month engaged El Segundo investment bank Monarch Bay Securities to help raise $5 million for a research and development brewery in Los Angeles, a public tasting room and marketing as it expands throughout the country.
That follows last fall's sale of Atwater Village craft brewery Golden Road to the U.S. arm of Belgian beverage behemoth Anheuser-Busch InBev and the 2012 purchase of downtown L.A.'s Angel City Brewery by Alchemy & Science, a subsidiary of Samuel Adams brewer Boston Beer Co.
Los Angeles County craft brewers were expected to generate almost $92 million in sales last year, according to a 2015 report by the National University System Institute for Policy Research. And of the 54 craft breweries and brewpubs the survey counted in the county, more than half had received their licenses in the last few years. In other words, the landscape is rapidly growing.
Nationally, craft beer retail sales grew by about 18 percent to an estimated 22 million barrels worth $19.6 billion in 2014 in an overall beer industry that only eked out 0.5 percent growth, according to the Brewers Association, a Boulder, Colo., trade group.
"Business is exploding," said Larry Palmer, a Morgan Stanley financial adviser and managing director in downtown Los Angeles, noting that his client base of high-net-worth Angelenos has been watching the sector with interest. "Wherever there's economic activity, there's usually profit."
He added that the craft beer boom is partly owed to the product's higher price point and greater profit margin. Another piece might be millennials.
"A lot of what's driving that demand is the younger generation. It's an affordable luxury," said David Johnson, chief financial officer of Fireman's Brew, who launched the company with Robert Nowaczyk and others in 2007. "If you're a tequila drinker, the difference between a good and bad one is $40 to $50 a bottle. The difference between craft beer and other beer is a couple of dollars a six-pack. Anyone can afford good beer."
Frothy market
Fireman's Brew, conceived by Nowaczyk and another Los Angeles County firefighter, had previously sourced investments on its own.
The company has been working with a contract brewery in Northern California to manufacture its three beers (a lager, German double bock and red amber ale), which Fireman's sells to supermarkets, restaurants, bars and chain liquor stores in 15 states.
Johnson said the brewery recently chose the institutional fundraising route because its business is mature enough to warrant an investment bank's attention and craft brewing is no longer considered just for hobbyists.
"We're on tap at Dodger Stadium for the fourth year in a row and 12 taps at the Staples Center," he said. "Big arenas and venues were previously dominated by Bud, Miller, Coors. … Costco is carrying craft beer. Ten years ago, who would've thought that?"
Johnson added that rising valuations have also made the sector appealing to investors. He explained that whereas craft breweries were being sold for more than $100 a barrel five years ago, recent acquisitions have skyrocketed to more than $1,000 a barrel.
"This is a great place to make money right now," he said.
Tapping Cash
Fireman's will target high-net-worth individuals and smaller institutional investors for its capital raise both locally and across the country, said Monarch Bay Chief Executive Keith Moore. This marks the first time his firm will work with a brewery, though it has partnered with beverage companies and previously considered a couple of beer clients, Moore said. And for an investment bank whose "sweet spot" is providing growth capital, "microbrew is a natural" fit, he added.
"We looked at (Fireman's) three years ago, but they didn't have the breadth of management," Moore said. "They do now. And couple the industry with the product and the management and throw in the capital; you have a recipe for success."
Palmer, the Morgan Stanley adviser, has seen the demand from investors on his end as he's been fielding calls from his clients asking about craft brewing.
"It's not untypical to have someone call and say, What do you know about this industry? Where and how do I invest in it?" Palmer said. "It's nascent. There are not a lot of public ways to get into it."
He said that thus far, the two ways his clients have gained access to such investment is through crowdfunding or by directly putting money into someone's brewery, maybe that of an acquaintance or a friend.
And he sees more consolidation coming to these small-batch brewers as mom-and-pop operations continue to get rolled up and other companies go public.
"The craft brewery industry will get institutionalized on a minilevel," Palmer said.
For reprint and licensing requests for this article, CLICK HERE.