Lucas Museum Could Come to Los Angeles
Friday, June 24, 2016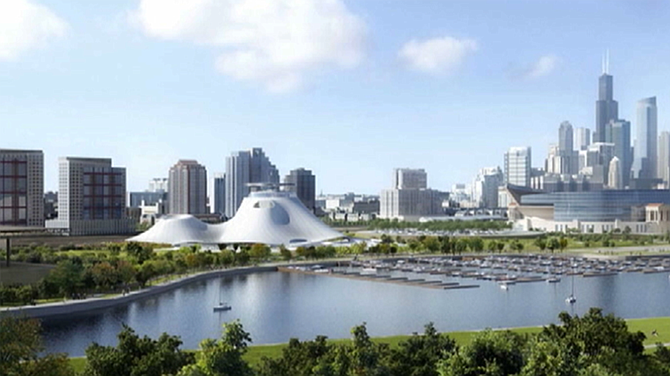 Iconic filmmaker George Lucas has given up on Chicago – at least as a home for his new Lucas Museum of Narrative Art.
The facility will instead be built in California, according to the executive leadership of the museum, who made the announcement on Friday.
L.A. Mayor Eric Garcetti expressed interest in bringing the new museum into the city's fold of arts institutions.
"The Lucas Museum of Narrative Art would be perfect for Los Angeles," said Garcetti in a statement. "Tens of millions of people visit our city every year — and L.A. has unquestioned stature as a world arts capital, thanks to institutions like the Broad, the Getty, MOCA, and LACMA."
A long time ago, in a Windy City far, far away, the "Star Wars" creator made plans to build the museum in a parking lot near Soldier Field after receiving approval from city and state officials. But a local advocacy group called Friends of the Parks subsequently announced plans to block development in that location and any other lakefront site or park in the city.
Lucas, whose Lucasfilm Ltd. was purchased by Walt Disney Co. in 2012 for $4 billion, serves as chairman of the museum and has said he will pay the $1.5 billion it would cost to build it out of his own pocket. The institution is expected to feature programs centered on art forms that most people engage with in their daily lives, including film, illustration, comic art, digital media, and many other forms.
The filmmaker and his wife, Chicago-native Mellody Hobson, reside in Marin County but are active philanthropists in Chicago and Los Angeles. Lucas and Hobson recently donated $10 million to support diversity at his alma mater, USC's School of Cinematic Arts, to which he also gave a $175 million gift in 2006.
A timeline for the museum's construction has not been announced.
Media and entertainment reporter Kristin Marguerite Doidge can be reached at kdoidge@labusinessjournal.com. Follow her on Twitter @kmarguerite_usc for the latest in L.A. media news.
For reprint and licensing requests for this article, CLICK HERE.