Japan, China Pace Field of Foreign Firms in L.A.
COMMERCE: Swiss-owned companies rank third among employers.
Friday, June 24, 2016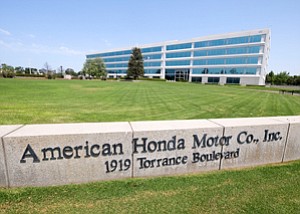 Japanese companies employ the most people in Los Angeles County among all foreign-owned firms, while Chinese entities have poured the most money into the region. But what's more surprising is that companies from tiny Switzerland have the third-highest total of employees in the county, outpacing France, Germany, Australia, and almost every other country in the world.
These are just some of the findings from a report on direct foreign investment in the Southern California region released this month by the Los Angeles County Economic Development Corp. and its affiliated World Trade Center Los Angeles.
The report aims to provide a snapshot of foreign investment, both through jobs created by foreign-owned companies and through their investments in facilities, property, and development projects. The last such report came out seven years ago, during the depths of the Great Recession.
With its extensive network of U.S. headquarters and regional operations here, Japan has long dominated both types of investment in the region. Toyota Motor Corp. and Honda Motor Co. Ltd. have long ties to Torrance, for example, and Sony Pictures Entertainment Inc. is a huge presence in Culver City.
And while China has overtaken Japan as the largest overseas investor in the county, it still lags as an employer. Chinese car maker BYD Co. Ltd., for instance, located its North American headquarters in downtown a few years ago but accounts for a fraction of the local jobs created by Toyota and Honda.
"Japan and Japanese companies have been here for decades," said Stephen Cheung, president of World Trade Center Los Angeles, "but the Chinese haven't yet been here as long in a big way."
The biggest surprise to Cheung was Switzerland's prominence on the jobs list. Despite a population smaller than Los Angeles County (8 million vs. 10 million) and its European neighbors, Swiss companies employ more than 16,000 people in Los Angeles, a feat they achieved through the acquisition of local businesses.
For example, Zurich Insurance Group bought the Farmers Insurance Group in 1998, and Sonova Holdings bought Alfred Mann's Advanced Bionics of Valencia in 2009. Swiss financial institutions – including Credit Suisse Group of Zurich and UBS Corp. of Basel – also have operations here. And then there's Swiss food and beverage giant Nestle S.A., which has its U.S. headquarters in Glendale.
European influence
Jean Francoise Lichtenstern, the Swiss consul-general in Los Angeles, said he's seen a change at Swiss-owned companies in Los Angeles over the years: They now have a higher proportion of employees hired from the local area.
"More and more, there are local people who are heading Swiss operations and they in turn are hiring local people," he said.
It would be welcome news if that trend spreads to other foreign corporate outposts in Los Angeles, Cheung said.
"One of the popular perception raps against foreign companies buying up local companies is that they displace local jobs," he said. "So the more these foreign companies hire locally, the more that dispels that notion."
Employing 26,000 people here, the United Kingdom tops other European countries on the jobs rankings. Among the British-owned companies here: BP (which bought Atlantic Richfield Co. in 1998) and BAE Systems, both of London.
German companies own Trader Joe's markets, T-Mobile and its extensive L.A. retail operations, and semiconductor maker International Rectifier. The number of jobs at German companies might soon grow as Aldi markets are spreading around the region.
As for France, Technicolor S.A. has major operations in Los Angeles, as does food services company Sodexo. French companies also own two aerospace operations: Hutchinson Aerospace and Industry in Burbank and Hi-Shear in Torrance.
All told, nearly two-thirds of all jobs at foreign-owned enterprises in the county are at companies whose headquarters are in these five countries, according to the report.
On the investment side, China led the way last year with more than $3.2 billion invested in various projects, buildings, and companies in the county, followed closely by Japan, with $2.9 billion. Far behind were France, Australia, and Italy.
But Cheung and report co-author Christine Cooper, the LAEDC's chief economist, cautioned against reading too much into these figures. They said the figures themselves were compiled by the Financial Times, which looked primarily at news reports and press releases about major projects led by foreign investors. The figures didn't include some major outlays, including Hanjin Group subsidiary Korean Air Lines' $1.2 billion Wilshire Grand project.
For reprint and licensing requests for this article, CLICK HERE.