Expanded View
Major players now see big money in once small niche of virtual reality
Friday, June 24, 2016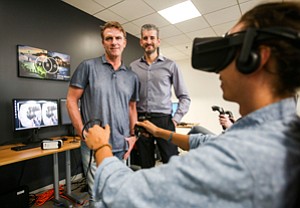 Virtual reality as an entertainment vehicle, long ignored as a fantasy and gimmick, has begun to come into sharp focus as local entrepreneurs, media executives, and investors throw themselves at the immersive medium.
The action has ratcheted up two years after Facebook Inc.'s headline-grabbing $2 billion purchase of Irvine headset maker Oculus VR. Now, leveraging L.A.'s place at the center of the entertainment content universe, firms have begun to embrace the new platform.
"We are in the very infancy of all this," said Robert Stromberg, co-founder and chief creative officer of Mid-Wilshire's Virtual Reality Co., which recently created a VR experience for last year's hit movie "The Martian" and plans to produce its own feature films down the line. The firm, which boasts Steven Spielberg as an advisory board member, launched in 2014 and received a $23 million round of funding earlier this month from investors such as Hengxin Mobile Business Co. of Beijing and San Francisco's Rothenberg Ventures. It was co-founded by Chris Edwards, who serves as chief production officer.
"What we all know is that this will financially pay off in the future," said Stromberg, who won Academy Awards for his art direction of 3-D blockbusters "Avatar" and "Alice in Wonderland."
That belief in future profitability is on full display as global investment in virtual reality has skyrocketed, according to New York research firm CB Insights, growing from $95 million in 2014 to $465 million last year – an increase of 391 percent.
Industry players see many ways to eventually make money, including virtual reality films and video games, sponsor-supported documentaries, product placement deals, and theme park attractions.
This gold rush has led the world's biggest media players, including Walt Disney Co. and Twentieth Century Fox Film Corp., to rub elbows with small upstarts as business opportunities and partnerships are explored.
Some companies, such as Spaces Inc. of Santa Monica, are targeting consumers in large venues rather than those viewing content on their couch. Spaces launched in May after receiving $3 million in funding from Comcast Ventures and Canyon Creek Capital, among others. It also formed a joint venture earlier this month with Chinese theme park operator Songcheng Performance Development Co. to develop virtual reality attractions within amusement parks across that country.
"When consumers go to theme parks they are going to be entertained and are likely to shell out money," said Shiraz Akmal, chief executive of Spaces, who co-founded the company with Brad Herman. The pair previously worked on virtual reality projects for DreamWorks Animation SKG Inc. "Ultimately, it's positioning VR attractions where people are willing to pay for it," Akmal added.
Prev Next
For reprint and licensing requests for this article, CLICK HERE.