End of Times?
REAL ESTATE: Plan calls for demolition of newer portion of site.
Friday, June 24, 2016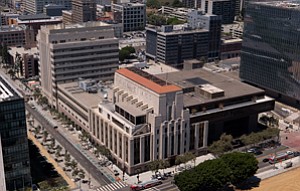 Onni Group, the Vancouver developer that has put the storied Los Angeles Times building under contract, plans to demolish portions of the square-block, 750,000-square-foot complex to make way for a residential and retail development.
A source familiar with the transaction said Onni agreed to pay about $120 million to Tribune Media Co., the Chicago company that took the broadcast and real estate assets of the former Tribune Co., in the deal that was struck this month. The Times, owned by tronc Inc., is a tenant in the building.
Onni intends to build apartments in place of a 1970s-era chunk of the building at Broadway and First Street, according to sources familiar with its plan. The stone-clad segments from 1935 and 1948, along Spring Street, would undergo renovations to house offices and retailers.
Representatives of Onni and Tribune declined to comment.
The broker marketing the building for Tribune, Stephen Somer of Eastdil Secured, did not return phone calls requesting comment.
The deal marks the second time the Times building has gone to contract. A previous deal, for about $140 million, was struck in December but came undone about three months later, according to the source, who spoke on condition of anonymity. Onni, the source said, intends to put up about $50 million in equity and is seeking financing for the balance.
Cobbled together over generations, the massive Times complex comprises a moderne-style structure along Spring built in 1935; an adjoining tower constructed in 1948; a brown, boxy building on the western side of the property completed in 1973; and an adjoining parking lot.
Hopes are high that if the Onni deal closes and it proceeds with the redevelopment, the project would energize a full block in downtown's Civic Center next to a future light-rail station, at the tip of the reviving Historic Core.
"They're going to reactivate it," said Mark Tarczynski, an executive vice president at Colliers International in downtown who was not involved in the transaction. "It's going to become a property that is restored to its former glory."
Past times
Most of downtown's striking historic buildings have already been picked up for redevelopment as apartments, hotels, or offices. But none can claim the historical significance of Times Mirror Square, as the property at 202 W. First St. is officially dubbed.
The Times commissioned the building after union activists bombed its headquarters in 1910, and the site's expansion over the decades, under ownership of the Chandler family, reflected the paper's influence and prestige.
"Operating out of this building, the Times became a central force in shaping California for so many decades," said Ken Bernstein, manager at the city's Office of Historic Resources. The limestone structure emblazoned with "The Times" in huge capital letters facing City Hall epitomizes that stature.
"It was built in that time when Los Angeles was feeling confident," said Wade Killefer of Santa Monica's Killefer Flammang Architects, who has worked on a number of adaptive reuse projects downtown. "It's a big, strong, confident, going-forward kind of a building."
The Chandlers sold their newspaper holdings to Tribune Co. in 2000 but held on to the real estate assets until 2007, when Tribune acquired the family's stakes in a number of properties. Those real estate holdings were taken by Tribune Media when the previous entity was split in two in 2014. The new offshoot, whose primary holdings are in the more lucrative broadcasting business, began marketing the properties shortly after.
Marketing materials created in 2014 tout the site's potential for a mixed-use development, calling the location a "hole in the donut" of downtown. It is flanked by the Police Administration Building, City Hall, and a new federal courthouse.
Murray McQueen, president of Tribune Real Estate, said in a press release last year that the site could "deliver a compelling urban project that includes the restoration of important buildings and the construction of complementary new buildings around a new (Metro) rail station directly connected to four of the region's major rail lines."
The station is under construction on the south side of Second Street, between the Times building complex and a parking structure Tribune Media owns.
The company plans to keep that structure as a future development site, according to a source familiar with its thinking.
Downtown mission
Onni has been active in Los Angeles since its entrance to the market in 2011, building or buying a dozen properties downtown.
"They're voracious and believe in L.A.," said Killefer, who has worked with Onni on downtown projects but is not involved with the Times site. Onni has pursued ground-up construction, such as the furnished apartments at Level DTLA, as well as adaptive reuse, like the office-to-apartment conversions at Union Lofts, a beaux arts site built in 1928. In April, the company bought the Western Pacific Building, built in 1929, for $46 million, but has not yet announced development plans. Onni also owns traditional office towers downtown as well as a Manhattan Beach office complex and a Hollywood property it plans to develop into apartments.
The big challenge in acquiring the Times property will be bringing it up to code, said architect Karin Liljegren of downtown-based Omgivning, who is renovating downtown's Broadway Trade Center, built in 1908.
"The codes have gotten more and more strict, and all the agencies have gotten less and less lenient with old buildings," she said. "At the same time, you have the historic folks that have very specific guidelines on what you can or can't do, and sometimes the two don't line up."
In addition to the prospect of a seismic retrofit if the older buildings undergo a renovation, their façades are said to be in need of extensive repairs, potentially adding to Onni's costs.
Changing times
The Times' 1935 and 1948 structures are considered historical resources under the California Environmental Quality Act, meaning any demolition would require an environmental impact report, drawing scrutiny from city officials. The newer additions would also be reviewed for historical significance before winning tear-down approval.
"It's a difficult asset," said Colliers' Tarczynski, pointing out that the windows are small compared with today's trend of floor-to-ceiling frames. "It's got the historical building that you can't really do much to, and it has all the other buildings that are add-ons, so Onni's got to have enough creative vision to revitalize the building."
While the out-of-towners are making inroads in Los Angeles, it was a local developer that recently turned an eye toward another Tribune property, the Tribune Tower in Chicago. Mid-Wilshire-based CIM Group is close to buying the building for at least $240 million, the Chicago Tribune reported.
CIM declined to comment.
The loss of a significant portion of the office space under the Onni plan should have little impact on Times operations. Though it once occupied the entire complex, the Times has undergone brutal rounds of staff cuts since Tribune was taken over by real estate developer Sam Zell in 2007.
It maintains a presence on just eight floors of the 10-story tower, with editorial staff fanning across two full floors of the building that stretches from First to Second streets; vacating the premises entirely is an option now.
"We have a long-term lease in place with options to renew well into the future," Times spokeswoman Hillary Manning said via email. "We are also very interested in exploring a new arrangement that would ensure an even better, more collaborative workspace."
The oldest component of the complex was designed by Gordon Kaufmann, architect of the Hoover Dam. His Globe Lobby symbolized power and influence with its enormous rotating globe and mural by Hugo Ballin depicting newspaper publishing. The tall ground floor on Spring, which was once home to the Times' presses, is now taken up by a cafeteria.
Architect Rowland Crawford followed up in 1948 with an adjoining tower. He highlighted the Chandlers' mission by commissioning sculptor Harry Donato to carve female figures into the stone façade, representing Culture, Justice, Faith, Progress, and Equality. In the 1940s, Dorothy Chandler, wife of publisher Norman Chandler, outfitted a penthouse apartment, and, legend has it, lined the walls with an art collection that included work by Picasso. William Peirera designed the third component, on the western portion of the property, in a style intended to embody the Times' push for modernization with a brown, boxy design.
While Times staffers might mourn the loss of a storied building, Los Angeles Conservancy President Linda Dishman is advocating for a makeover.
"While there is a sentimental feeling that having the original use is always the best, that's just not always possible," she said. 
For reprint and licensing requests for this article, CLICK HERE.