Whole New Ball Game
Auto racing vet Gillian Zucker now works to help NBA's Clippers turn corner
Monday, June 20, 2016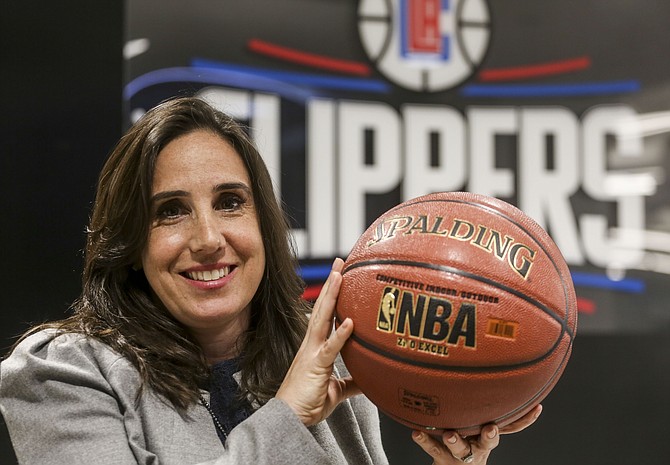 While fans were glued to the National Basketball Association Finals to see if the Golden State Warriors could win back-to-back championships, Pacific Division rivals Los Angeles Clippers were focused on taking the team to the next level. Gillian Zucker, one of only a few female executives in pro sports, is determined to see the team thrive. Zucker, who previously managed the Auto Club Speedway in Fontana, now oversees business operations for the team and has helped usher in a new era under the direction of owner and former Microsoft Chief Executive Steve Ballmer, who purchased the team for $2 billion in 2014. Under Zucker's leadership, the Clippers have seen a 20 percent increase in corporate sponsorships and the fifth-highest valuation in the NBA with $176 million in revenue this year, according to Forbes.
You've said this is your dream job – how has it lived up to that?
It's amazing. Steve has this amazing energy that's so contagious. And it's pervasive everywhere you look. That makes coming to work every day a whole lot of fun.
How involved is he day to day?
He's available whenever we need him for support, but he's not a day-to-day manager. He gives everybody the space to be great. We have a one-on-one once a week, so we spend an hour together either by phone or in person. And he has certain projects that he's very interested in, and those projects he tends to spend more time on.
What are the projects he's most interested in?
He's very excited about the idea of reinventing the digital broadcast experience for sports fans. We've been working on that ever since I started, but more aggressively over the last year. What it might look like, how people might respond to it, the kinds of features that could be offered. I remember one of the things he said to me once was, "Imagine that you are sitting anywhere – at your desk, on the couch in your living room in front of the TV or at a café with your phone in your hand – and that you could cheer for the Clippers and it would matter."
Does the league involve itself in these projects?
There's a group from the league that helps advise on these kinds of things, but also helps guide through and take a great idea and make it work. They'll brainstorm with us to make it something that's feasible. The NBA has quite a unique structure in that way, and I think that's what has helped it grow year after year.
How do you divide responsibilities with Doc Rivers, the team's coach and president of basketball operations?
Doc Rivers is in charge of anything team related, so anything from what plays are being called, to which players we're recruiting, who goes in the lineup, and the number of minutes they play. I am strictly the business side of the organization, so things like finances, human resources, ticket sales, sponsorships, digital, and communications – those things fall under me.
How do you balance his personnel responsibilities with your finance responsibilities?
It's very simple. Our No. 1 goal in the organization is to win championships and everything else is secondary to that. We all have the same goal. Our guiding force is Steve. He wants to win … and he wants to do it year after year.
What's harder – running a speedway or running a pro basketball team?
They are different, not really harder or easier. Operationally, there are dramatic differences since the arena is not owned by the Clippers, whereas the Speedway was owned by International Speedway Corp. On the flip side, the rigors of a 40-plus (home) game season also present unique challenges that you don't face when staging annual events.
Any surprises in the transition?
Before I was in this role, I had no idea that there was such a thing as a cannon that can shoot T-shirts. Sometimes I feel like I'm a set-builder because we're trying to build a set that the fans will respond to and that the players can play in.
Tell me about the choice of the new Chuck the Condor mascot and the reaction to it.
As a franchise, we love to embrace ideas that challenge the status quo. By introducing a mascot, we knew there would be detractors, but our mission was to provide a new point of engagement for fans, something that could not be ignored.
For reprint and licensing requests for this article, CLICK HERE.