Restaurant Chain Pushes on Prices
DINING: Lemonade sees bigger bills helping to feed expansion.
Monday, June 20, 2016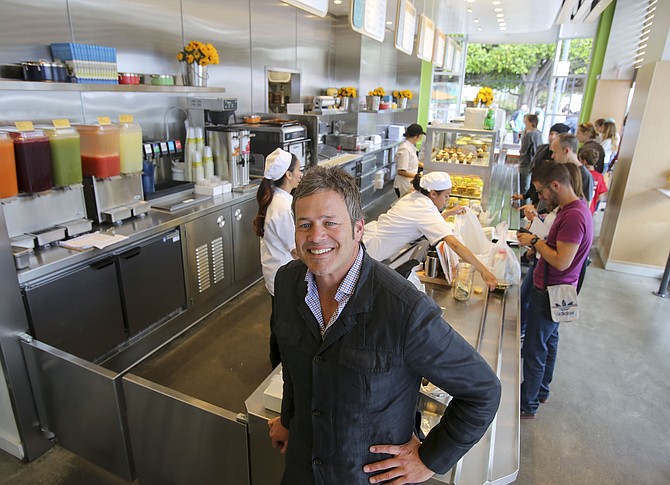 Things are getting sweeter for West Hollywood fast-casual chain Lemonade Restaurant Group.
The cafeteria-style restaurant known for its carrot ginger and blueberry mint lemonade received a significant infusion of capital last week from newly established Beverly Hills investment firm Butterfly Enterprises.
The size and terms of the investment, which will help fund its expansion in Northern California and other growth areas, were not disclosed.
Ian Olsen, president of Lemonade, described the deal as sizable, but said Butterfly did not take a majority stake.
"If we wanted to continue to grow the brand and the business in a meaningful way, we were going to need more capital," he said. "We shared a lot of similarities in where we saw the potential for the brand going and that's why we're really excited about (Butterfly) helping facilitate future growth."
Lemonade plans on opening six locations in the Bay Area this year and expects to use the funds to squeeze out more stores, possibly in other states.
The health-conscious chain, which offers seasonal menu items at slightly higher prices compared with others such as Five Guys Burgers and Fries and Blaze Pizza, is capitalizing on a quickly growing niche within the fast-casual segment: fast-casual premium.
London research firm Mintel Group recently reported fast-casual premium restaurants – characterized by higher prices and bigger menus – are primed for growth as consumers seek healthier options.
The boom of fast-casual concepts across all price points shows little sign of slowing down.
U.S. fast-casual sales totaled $44 billion last year, according to Chicago market research firm Technomic Inc. And a March study by the firm found that the fast-casual segment grew the quickest of all restaurant categories in terms of year-to-year growth last year. Its 11 percent rate doubled that of other dining categories represented by the top 500 chains.
That dynamic is playing out locally, too. Mediterranean eatery Cava Grill of Washington, D.C., a newcomer to the L.A. market, is focusing on unit expansion here, as is established local chain Umami Burger.
But Technomic President Darren Tristano cautioned that concepts skewing toward higher price points should proceed with caution as competition heats up.
"The demand for good quality food that costs more is very high," Tristano said, "but the expansion of restaurants that serve it is faster."
Sowing seeds
Chef Alan Jackson, who had previously run the kitchen at Farm Beverly Hills, launched West Hollywood's Lemonade with his wife, Heidi, in 2008.
Olsen, who had been vice president of sales and development for Remote Technologies, a Portland, Ore., franchise restaurant management company, joined the husband-and-wife team a year later and was tasked with streamlining operations and priming the company for further expansion.
When Olsen came aboard in 2009, Lemonade had only three locations, offering as many as 125 items. He decided to cut down the long list of dishes in order to create a welcoming and less cluttered experience for customers once they stepped inside.
"Instead of being a blur of all these different things, we made it really easy," he said. "Depending on dietary restrictions or certain things that you're seeking, it's more readily available for you to find that information fast and process it."
Focusing on a seasonal menu featuring fresh vegetables and fruit has also helped keep costs down, said Olsen.
"We're not trying to freight them in from 3,500 miles away from Chile in the middle of winter," he said.
Lemonade has since grown to 22 locations throughout Los Angeles, Orange, and San Diego counties. Once the Bay Area stores are open, that number will rise to 28. The company has roughly 900 employees.
The chain generated about $50 million in revenue last year and ranked No. 45 on the Business Journal's list of Fastest Growing Private Companies after seeing revenue increase 147 percent from 2012 to 2014.
Lemonade's approach piqued the interest of global investment firm KKR & Co. of New York two years ago. The firm acquired a minority stake in the restaurant, which Lemonade used to beef up its executive team. Charles Johnson, a former regional vice president at P.F. Chang's China Bistro Inc., was hired as chief operating officer, while ex-Yogurtland Chief Executive Huntley Castner came aboard as chief financial officer.
Lemonade also used the investment to expand into additional markets, which it's about to do again.
"Our thinking around procuring institutional investment was two-fold: finish California and create one of the top-tier management teams," Olsen said. "KKR helped put us on the map and Butterfly is going to help us do so in an even bigger way."
First sip
Butterfly, which launched earlier this year, is led by Co-Chief Executives Adam Waglay, a former principal at KKR's San Francisco office, and Dustin Beck, a one-time private equity executive who also serves as chairman of the League of Legends Championship Series for West L.A.'s Riot Games.

Butterfly specializes in the food industry, including agriculture and aquaculture, food and beverage products, food retail and distribution as well as restaurants and hospitality.
"This is an impressive company that has built a very loyal following and is positioned extremely well for growth," Beck said in a statement about Butterfly's investment in Lemonade.
Company representatives declined to be interviewed.
Lemonade's Bay Area expansion involves opening six restaurants in former La Boulange locations. The first one opened last month in downtown San Francisco and another is expected to open this month in Palo Alto.
San Francisco made sense as the restaurant's next market due to the region's reputation as a foodie and nightlife hot spot, as well as its upscale demographic that fit with Lemonade's concept, said Olsen.
"They always say the operationally smart businesses grow in concentric circles," Olsen said.
For reprint and licensing requests for this article, CLICK HERE.