Spring Street Historic Office Sells to Rising Realty
Tuesday, June 14, 2016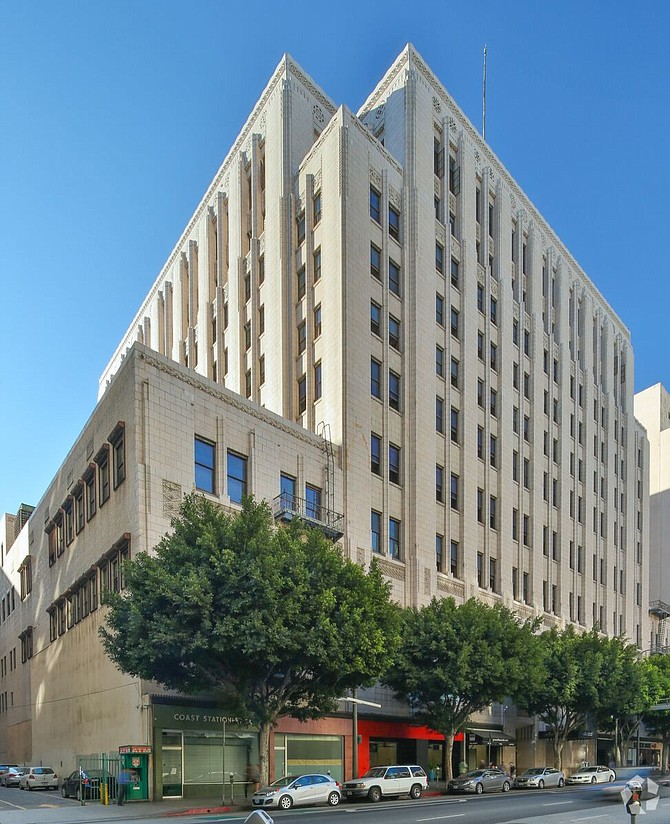 The Title Insurance Building in downtown's Historic Core just traded for at least five times the amount it sold for in 2012.

Rising Realty Partners of downtown and Lionstone Investments has bought the 320,264-square-foot office, according to sources familiar with the transaction, with plans to convert the art deco complex into innovative offices.
Sources working in the market estimate that the building's value ranges between $250 to $275 a square foot, meaning its price could hit between $80 million and $88 million.
Rising representatives declined to comment.
Rising Realty Partners also picked up the Garland Center, a nine-story office west of the 110 Freeway, last week for $210 million, adding to its downtown office portfolio that includes '30s-era One Bunker Hill.
"Rising has a demonstrated history of success in transforming beautiful historic buildings into spectacular creative offices that are well received by the market," said Fred Cordova, a Kennedy Wilson broker knowledgeable in the market who was not involved in the deal. "The Title building should provide another great opportunity to bring their unique brand of concierge creative services to the Old Bank District neighborhood in a large format delivery."
The building was marketed by Jones Lang LaSalle's Javier Rivera and Cushman & Wakefield's Mike Condon Jr. as having good bones for offices, residences, or a hotel. But the 88-year-old site's need for major renovation may have tampered the appeal of converting space for people to live. However, with 23,000-square-foot floor plans and 28 foot tall ceilings, and downtown architecture firm Gensler serving as the architect, the space could lend itself to spacious office layouts. Once home to the Title Insurance and Trust headquarters in 1928, the building features art by famed muralist Hugo Ballin, mosaic ceilings, bronze light fixtures, and marble hallways.
Capital Foresight, based in Beverly Crest, had bought the property in 2012 for $15.2 million, or about $51 a square foot, according to CoStar Group Inc. The plan had been to work with developer Izek Shomof to convert the space into 200 condos. But that relationship soured when Shomof sued Capital for allegedly edging him out of several projects. Market forces, too, may have prompted the change of direction.
"The market in downtown is sizzling, it's on fire…the number they were asking for, I was amazed," said Shomof, recalling the asking price was $95 million. Capital Foresight, which has renovated several Historic Core buildings, did not immediately respond to a request for comment.
Other Historic Core buildings have also seen values jump as revitalization sweeps through downtown. The San Fernando apartment in the Old Bank District sold last week for $37 million, or $356 a square foot, and is slated for renovations from buyer MWest Holdings. Last March, the Foreman & Clark building in the Jewelry District sold for $52.5 million, or $413 a square foot. Buyer Bonnis Properties plans a major renovation.
For reprint and licensing requests for this article, CLICK HERE.