Football Fans' Phones to Call Plays
SPORTS: Fanchise's app may point way to score supporters.
Friday, June 10, 2016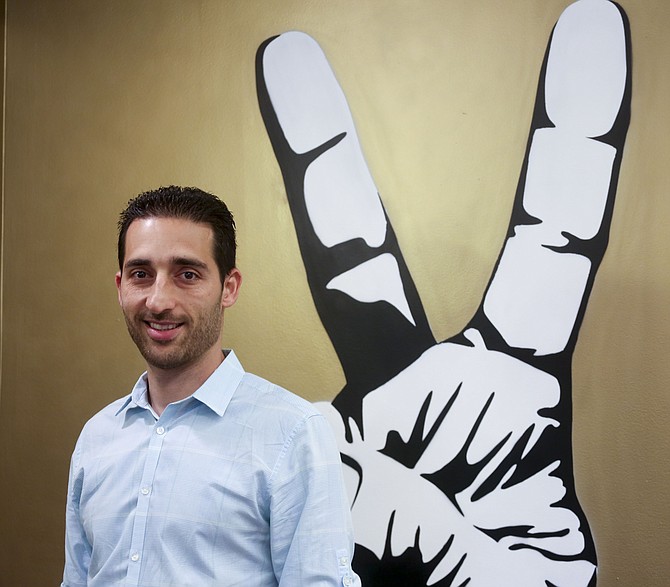 Armchair quarterbacks have long argued they could make better play calls than the professionals if only given the opportunity. Some football fans will soon be handed just that chance by a Santa Monica startup.
Fanchise is building an app – and a business – that will allow fans to own and run a professional football team, including hiring and firing of coaching staff and players, and yes, play calling. It has purchased the rights to an expansion Indoor Football League team in Salt Lake City, which will debut next season under the control of its fans.
"We call this a grand social experiment," said co-founder and Chief Executive Sohrob Farudi. "Fanchise is basically trying to fill a void in the market between e-sports, Madden gaming, fantasy, and real sports."
Farudi said giving fans more power could increase their loyalty and engagement, which would ultimately boost ticket, sponsorship, and merchandize revenue.
The startup has cast its lot with the fledgling Indoor Football League, which is similar to the Arena Football League in that its teams play on 50-yard-long turf fields in small arenas. The IFL has 10 teams in small and midsize markets, including Salt Lake City and Sioux Falls, S.D. Fanchise aims to double average IFL attendance, which is about 4,000 a game.
Fans will start play calling on the Fanchise app in real time in February, when the IFL will starts its 2017 season. They will have 12 seconds between downs to make play calls, directions that will be fed to one of the coaches and then to the quarterback on the field. Fans who engage with the app most will have weighted votes, a feature Farudi said he wanted to deter sabotage from opposing teams and internet trolls.
Trading up
Farudi, 39, got his start and seed money for Fanchise by running venture-backed Flipswap of Torrance, an electronics trade-in and recycling company that was sold to Hyla Mobile of Irving, Texas, in 2012. Terms of the deal were not disclosed.
Several of Farudi's Fanchise co-founders are former Flipswap employees, a few are local tech executives, and one is former Chicago Bears defensive back Ray Austin.
Critically, the idea for Fanchise started percolating, Farudi said, when he took a minority stake in the short-lived Arena Football team the Las Vegas Outlaws – established in 2014 and folded in 2015 – that was majority owned by Vince Neil, lead singer for Mötley Crüe.
"I learned a ton from that experience," said Farudi.
Among the lessons: "Never get involved with a rock star from the '80s."
Farudi declined to disclose Fanchise's exact seed funding total, but said it was about $200,000 from him, angel investors, and former National Football League players Ahman Green and Al Wilson.
As a further test of the enthusiasm for its model, the startup raised more than $60,000 on crowdfunding platform Indiegogo this month from about 2,200 backers.
Farudi declined to say what the company paid for the franchise.
Proving itself
As engaging as it sounds, there might be limits to how involved crowds should be in a professional sports team, said Andrew Kline, founder and managing director of sports-focused Century City investment bank Park Lane.
"I feel like this will either be revolutionary and change things forever, or these guys are going to crash and burn really bad and people will make fun of them forever," said Kline, an offensive lineman for the then-St. Louis Rams from 2000 to 2003.
Fanchise will have to prove it's more than a gimmick and can put a winning team on the field, he noted.
Farudi is optimistic despite the risks of turning over a pro sports team to a huddle of smartphone-wielding fans sitting in the nose-bleed section.
"Your everyday football fan has a greater knowledge than they ever had before," he said. "I tend to have faith in people and I am having faith in our nonexisting fan base that they want to put a winning team on the field."
The virtual fan base earlier this month voted to call the team the "Salt Lake Screaming Eagles."
Franchise building
Now that it has a name for its team, Fanchise is guiding its online fans through the process of building out the Screaming Eagles' franchise. Some business aspects of running a sports team, such as selling tickets and merchandise, will still be run by Fanchise. The rest will be decided by a fan vote via the app, including picking the general manager next month and players during tryouts this fall.
Looking ahead to the play calling, Fanchise is also building a statistical model in its app to recommend a variety of optimal plays to fans, said Farudi. "There's going to be four choices and it's not going to be (a hail Mary pass) every time."
The IFL has embraced Fanchise's social experiment. The league's 10 owners voted unanimously in November to sell the Salt Lake City expansion team to Fanchise and to allow fans to run it via an app, said Commissioner Mike Allshouse.
"There were certainly questions at the beginning, but it's the next step in the evolution here," he said, adding that fan votes on team names are already prevalent in the league. "If you are not adapting, then you are going to go out of business." Since the IFL was founded by the merger of the Intense Football League and United Indoor Football in 2008, more than 40 teams have been established; more than half have folded.
"Keeping fans engaged the first year should be easy. It's novel, there is buzz, said Michael Colangelo, assistant director of USC's Sports Business Institute. "Keeping fickle sports fans engaged for longer than that could be difficult, especially if the team doesn't have a winning record."
Fan enthusiasm might be the least of Fanchise's worries should the Salt Lake Screaming Eagles start losing.
"If in the first two or three games there are just bad play calls and it's not working, I do think there is tremendous mutiny risk," said Park Lane's Kline. "Players are likely to say, I'm not going to commit my life to having a bunch of nerds and guys who've never played tell me what play to run. That's the meathead mentality."
History lesson
A similar effort in the United Kingdom was a flop.
A group called MyFootballClub raised $1.4 million from about 27,000 people online in 2007 to buy and run a Kent-based minor league soccer team named Ebbsfleet United Football Club.
In the end, maintaining coach-fan relations was too much to ask, Ebbsfleet's former head coach Liam Daish said to the BBC in an interview in 2010.
"I have a lot on my plate," he said. "I'm not going to be sitting in front of a computer six hours a day, answering everyone's emails."
Due to declining membership funds, MyFootballClub was turned over to an all-volunteer operation after about two years. The club was purchased by a group of Kuwaiti investors in 2013.
Nonetheless, should Fanchise maintain fan enthusiasm, avoid a players' revolt, and win football games, the company has big plans.
"We'd love to see a fan-run league. Ideally, that's where we'd like to take this and ideally on our platform," said Farudi. "We want to prove that there is a model here that can transform the way that sports teams are run."
For reprint and licensing requests for this article, CLICK HERE.