Network's Olympic Effort Has Station Seeing Gold
BROADCASTING: KNBC has doubled the size of its team covering Rio games.
Friday, July 29, 2016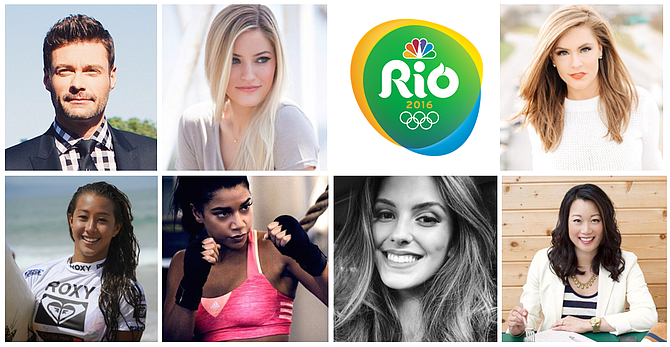 KNBC (Channel 4) is going for gold with its Olympics coverage by trying to win traditional, digital, and social media audiences and advertisers with an expanded multiplatform approach.
For the first time, the station is sending two of its morning news anchors to the games in order to cover the global event, which starts in Brazil on Friday, from a local perspective.
Angelenos who prefer an on-the-go Olympics experience can also get L.A.-oriented reports from those anchors, Daniella Guzman and Whit Johnson, streamed via the NBC4 mobile app – which includes specialized features such as exclusive coverage of local athletes. It is also partnering with social media influencers to spread the word and drive traffic.
"They will bring inspiring, local stories about Southern California athletes competing in the games," said Terri Hernandez Rosales, spokeswoman at KNBC. "Their live reports will be an integral part of the 'Today in LA' newscast each weekday morning."
Channel 4 bosses are banking on stories about local star athletes such as Santa Clarita-based Olympic champion sprinter Allyson Felix to bring the drama of the games to life for viewers.
A producer and photographer have also been sent to Rio de Janeiro along with the anchors, doubling the local affiliate's presence at any previous Olympics.
The sporting spectacle is a major cash spinner for parent company NBCUniversal, which reported its broadcast and cable networks generated $1.1 billion in revenue from the 2014 Winter Olympics in Sochi, Russia.
NBC is teaming up with high-profile social media personalities and with Telemundo Deportes to produce additional streaming coverage – 100 more hours than in London for the 2012 games.
Last week, the network held a first-ever opening ceremony for its Olympics social media coverage, hosted by Ryan Seacrest and attended by past Olympians and online content creators at the Jonathan Club in Santa Monica.
But fears about health and safety in Brazil – including the Zika virus and terror attack threats – have already led to a growing stream of negative chatter online.
"The stream of Olympics conversation online – whether good or bad – is all about volume and intensity," said Daniel Durbin, director of the Institute of Sports, Media, & Society at USC. "It drives curiosity-seekers to see the climax of the story unfold on television."
Indeed, even in the social media age, 217 million Americans tuned in across all NBCUniversal networks in 2012 for the London Olympics, making it the most-watched event in U.S. television history, according to the network.
KNBC would not disclose the expected revenue for the Los Angeles market specifically, but this year's national advertising revenue for its parent NBCUniversal has already surpassed that of London, with an anticipated total of $4.9 billion for the 2016 Rio Olympics across all platforms, according to research firm Burrell Associates Inc. of Williamsburg, Va. In Los Angeles, that is expected to mean $286 million in ad spending, according to Burrell, of which 67 percent is projected to come from television ad sales.
For reprint and licensing requests for this article, CLICK HERE.