Good Times
Norman Lear, 94, is still at it, producing a new version of an old hit, hosting shows, and worrying about Trump
Friday, July 29, 2016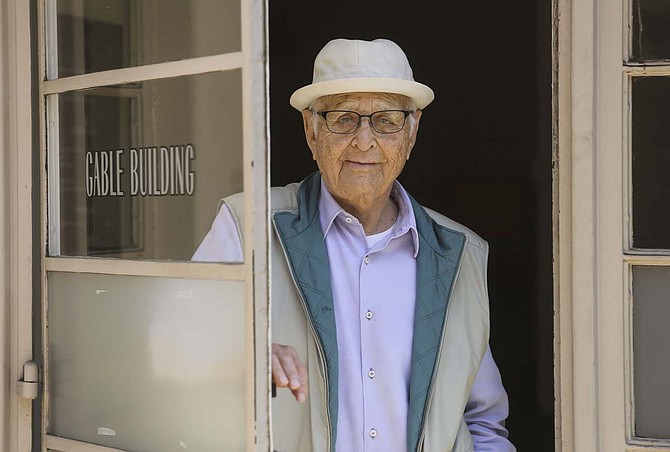 Legendary Los Angeles television creator, writer, and producer Norman Lear doesn't let the past – or the future – weigh him down. Best known for socially conscious and critically acclaimed television shows "All in the Family," "Maude," and "The Jeffersons," the 94-year-old industry titan has a slew of new projects, including a reimagined Latina version of his 1970s hit sitcom, "One Day at a Time," co-produced by his Act III Productions Inc. with Sony Pictures Television for Netflix Inc., and a new documentary series called "America Divided" premiering on the cable network Epix in the fall. Being so hands-on keeps him hopping from his Beverly Hills office to the set at Sony in Culver City several days a week. He's also the subject of a documentary about his storied career, "Norman Lear: Just Another Version of You," which was screened at the Democratic National Convention last week.
STATS
NAME: Norman Lear
AGE: 94
HOMETOWN: New Haven, Conn.
COMPANY: Act III Communications
TITLE: Chairman
You recast "One Day at a Time" as a Latino story because you felt the community was underrepresented on TV. How's the new version going?
This version centers on three generations of a Cuban-American family. We have a wonderful cast. It's going very well. We just taped episode nine of 13 at the Sony Pictures lot. The series premieres on Netflix in January.
How do you think "All in the Family" would be received today?
The men and women in the trenches (of television studio development) tell me the show wouldn't be made, but I think it would be widely accepted by audiences.
Certainly after what we saw at the Republican National Convention, it seems like we're in an "anything goes" environment.
You've been vocal about Donald Trump. What are you most concerned about if he were to be elected?
Having a president who's out of his fucking mind.
The issues in this year's election cycle are a part of the "America Divided" docuseries. What was the motivation behind it?
It's the work of a group called Radical Media in New York. It's a journalistic story with various hosts. Shonda Rhimes is a host, America Ferrera is a host, and (hip-hop artist) Common is a host. And I'm hosting an episode about landlords and rental policies in New York City and the amount of people without homes.
You started this genre of combining political and social issues with comedy on TV. Who is doing this well today?
Prev Next
For reprint and licensing requests for this article, CLICK HERE.