Giving Credit
LENDING: Chinese search giant links with ZestFinance algorithm.
Friday, July 22, 2016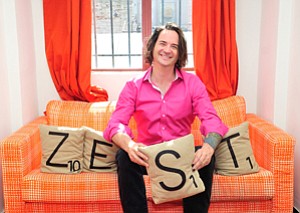 Hollywood alternative lender ZestFinance appears to have hit its stride as bigger industry rivals struggle to cope with slackening investor demand for their loans.
The algorithm-driven online lender and underwriting service last week announced a deal with Chinese search engine giant Baidu Inc. in which it will use data from the Beijing internet firm's users to determine their creditworthiness and underwrite loans for them, a first in the consumer lending industry. Though it's primarily a search engine, Baidu entered the financial services industry several years ago. The company has also made an investment in ZestFinance, though the amount remains undisclosed.
ZestFinance Chief Executive Douglas Merrill said he sees an opportunity to sell underwriting services to a country of nearly 1.4 billion people that have little to no credit history.
"The Chinese credit market is a mess," said Merrill, noting that 75 percent of Chinese consumers have no credit score. "There is this massive green space because the credit bureaus are so poor and have such poor credit coverage."
Launched solely as an online lender in 2008, ZestFinance uses its algorithms to glean borrowers' creditworthiness based on factors as subtle as the way potential clients fill out online forms – even incorporating such seemingly granular data as which words they capitalize.
Though it's still a lender, most of the company's revenue now comes from licensing its underwriting services, charging fees to other businesses that use its algorithmic software. Its deal in China takes things even further by adding data previously never incorporated into the underwriting process.
"This model runs entirely on Baidu search data and other Baidu data," said Merrill, declining to be more specific about how exactly Baidu will use the company's services. "It's their data, so we don't own it or control it."
Monumental challenge
Demand for consumer credit in China is growing rapidly and outpacing old-fashioned, typically state-owned credit rating institutions, said Baizhu Chen, a professor at USC's Marshall School of Business.
"Coming up with credit scores and measuring creditworthiness is an extremely challenging task in China," he said, noting that many state institutions do a poor job of sharing credit information with each other and third parties. "The information is very fragmented, it's not organized, and it has not been fully utilized."
That's created an opening for ZestFinance to partner with Baidu and use novel techniques to determine creditworthiness.
Ultimately, going to China may offer ZestFinance a chance to escape the highly competitive online loan underwriting market in the states, said David Choi, director of the Fred Kiesner Center for Entrepreneurship at Loyola Marymount University.
For reprint and licensing requests for this article, CLICK HERE.
Prev Next