Game Gives Firm Leg Up On Wellness
Citadel incorporates Pokémon Go craze into walking club program.
Friday, July 22, 2016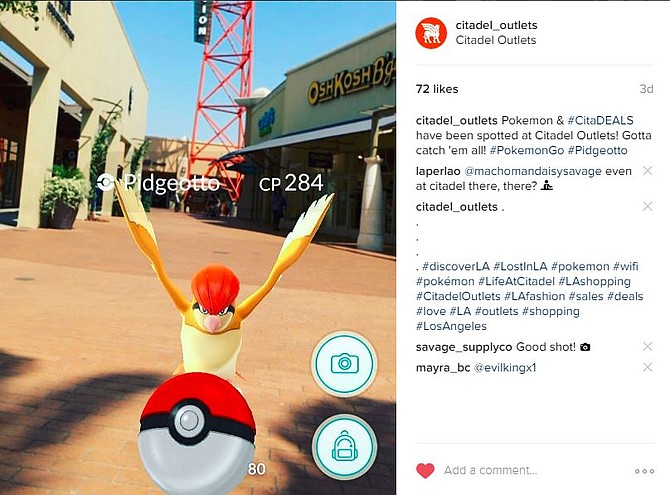 Pokémon Go's cute virtual monsters have invaded stores and restaurants across Los Angeles – but now they're taking aim at corporate businesses, too.
Glendale consultancy Citadel Environmental Services Inc. has revamped part of its employee wellness program after the company's principal and his son noticed how popular the game had become in such a short amount of time.
Though many of the app's fans are kids and teens, Matthew Witkin, a summer intern at Citadel and son of principal Loren Witkin, 49, knew it had appeal among adults as well. So he came up with the idea to incorporate the game into the company's walking club, in which employees take about an hour out of their day twice a week to walk around the neighborhood and keep active.
"We had the idea that it may work for generations beyond what was initially anticipated," said Matthew Witkin, 19, about the game.
Seven of eight employees at the Glendale office participated in the inaugural walk last week, catching Pokémon during a milelong excursion around Bette Davis Park.
"At least in the short term, it caught on like wildfire," the senior Witkin said. "And if it's working for us, maybe there are other companies that can give it a shot."
While the company's walking club initiative is here to stay, Loren Witkin said Pokémon Go might be phased out as the fervor dies down.
"Even if we're not catching Pokémon on all our walks," he said, "it got everyone out the door, everyone moving, and it gave us a shared experience."
But until then, the father and son duo plan to help the firm's employees move up the game's leader board.
"We're not Pokémon masters yet," Matthew Witkin said. "But we'll make masters out of everyone in time."
– Jonathan Ponciano
For reprint and licensing requests for this article, CLICK HERE.