Trucking Firms Suspect Amnesty Won't Deliver
SHIPPING: Employers in drive classification fight give state program a pass.
Friday, July 15, 2016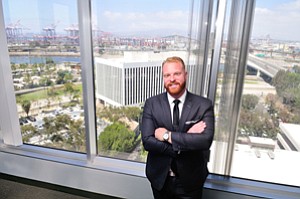 Several trucking companies at the local ports, ordered to pay millions of dollars in judgments to drivers misclassified as independent contractors, are nevertheless resisting efforts to enroll them in a state amnesty program designed to help them avoid such lawsuits.
Fearing even higher costs if they acquiesce to the amnesty, not one company has enrolled in the Motor Carrier Employer Amnesty Program since it was introduced in May.
"No one is interested in the program," said Weston LaBar, president of the Long Beach-based Harbor Trucking Association. "A couple of thousand dollars in fines is not something the companies are concerned about. It is the back wages that they are worrying about."
The program offers trucking companies serving the ports the opportunity to pay drivers as employees going forward as a way to avoid liability for previous misclassification. As part of the amnesty, however, they must compensate drivers for past sick and vacation days, and lunch breaks that were unpaid when they were contractors. What's more, they would need to reimburse drivers for deductions made for fuel, parking, towing, or repairs.
Paying penalty
Those costs, said LaBar, are potentially greater than the legal exposure trucking companies might face if they maintain the status quo.
"The trucking companies would rather go through the court process and pay wages and continue working under the same business model, which helps them and their employees to make money," he said.
Truck drivers have filed 802 wage claims with the California Industrial Relations Department since 2011, alleging their employers misclassified them as independent contractors and denied them benefits.
Trucking companies have been hit with more than $35 million in judgments over the last five years because of wage claims.
One of those hit is Pacific 9 Transportation, a Carson company that was ordered to pay 38 truckers more $7 million in back wages after the state labor commissioner said the company should have treated its drivers as full-time employees. Earlier this year, Compton's Total Transportation Services Inc. lost a battle over the status of its drivers.
The amnesty program was launched as an attempt to give trucking companies an option to resolve the misclassification claims without going to court.
Barbara Maynard, a Teamsters spokeswoman, said the program offers trucking companies an option to save money on legal fees.
"The amnesty program is the companies' best chance to convert to a legitimate business model and follow the law," she said. "There is no easy way out for trucking companies and it is going to be expensive no matter what."
Maynard said the misclassification issues have to be resolved by two parties, the companies and ports.
"There is a contract that says that in order to do business at the ports of Los Angeles and Long Beach, trucking companies need to obey state and federal laws," she said. "These companies don't follow the law and the ports allow them to come be on their property and do business."
But the program fails to address trucking company needs, according to LaBar. "It's a big financial burden."
State officials declined to comment on why trucking companies opt not to sign the amnesty program, which is overseen by the state's Department of Labor Standards Enforcement and the Employment Development Department.
Representatives of the ports of Los Angeles and Long Beach declined to comment.
For reprint and licensing requests for this article, CLICK HERE.