SPECIAL REPORT: Rental Rates Rise as Office Vacancies Dip
Friday, July 15, 2016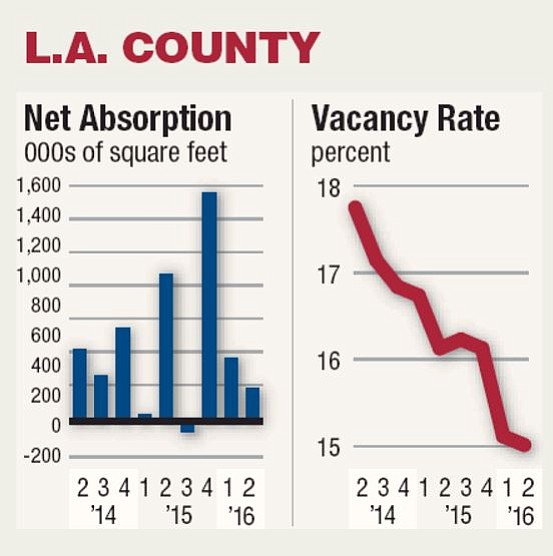 Office vacancy rates in Los Angeles County tightened slightly in the second quarter, with rental rates reaching record peaks.
The second-quarter vacancy rate was 15 percent, down from 15.1 percent in the first quarter and 16.1 percent a year ago, according to data from Jones Lang LaSalle. Combined with an influx of new office construction and redevelopments, the low vacancy rate helped contribute to a substantial increase in asking rents, which averaged $3.42 a square foot in Class A buildings, up from $3.29 in the first quarter and $3.13 a year ago.
"On the macro level, the second quarter continued to see a lot of velocity in the office market, specifically with the technology and entertainment sectors really driving the activity right now," said Michael Arnold, executive vice president at Newmark Grubb Knight Frank in West Los Angeles.
There are 2.1 million square feet of office space under construction in the county, down from last quarter's 2.3 million square feet. More than 220,000 square feet of inventory was taken off the market in the period, nearly half the 432,000 square feet take out of circulation the previous quarter.
Strength was seen in the South Bay, where the vacancy rate fell to 18.4 percent from 19.6 percent last quarter and 21.7 percent a year ago. Asking rents throughout the submarket rose to $2.53 a square foot from $2.44 in the previous period.
Boston-based Intercontinental Real Estate announced in May that it acquired El Segundo office campus Apollo at Rosecrans, a 550,000-square-foot space that's reportedly fully occupied. Mike McKeever, a senior vice president at JLL's downtown L.A. office, said the complex's sale price, estimated at more than $300 million, nearly doubled average historical sale prices in the South Bay city.
"As long as employment stays on track and the market stays out of a recession, you'll see El Segundo fill up and the trickling effect lead south – just like what happened on the Westside," McKeever said.
The Westside still reigns as the county's most in-demand office market, with per-square asking rents hitting $4.76 in the second quarter compared with $4.62 last quarter and $4.20 a year ago.
The media and entertainment industry accounted for 54 percent of all Westside leasing activity this quarter, McKeever said.
"It's an industry that generally drives the growth for most of Los Angeles – especially in the Westside, the South Bay, and Hollywood," he said.
Hollywood high
Hollywood, however, saw the biggest spike in vacancies, rising nearly eight points to 28.7 percent even as net absorption topped 70,000 square feet. Henry Gjestrum, a senior analyst at JLL, said Hollywood's high vacancy rate is a reflection of the neighborhood's increasingly active office market – with leases signed but space not yet occupied.
The neighborhood's total office space inventory also went up significantly – hitting 2.7 million square feet from a previous 2.4 million, with 624,000 square feet under construction.
"There's definitely more to come in Hollywood," Gjestrum said. The ongoing conversation surrounding Hollywood's promising future in the office market might be why asking rents continued to increase quarter to quarter, averaging $4.31 a square foot in the second quarter compared with $4.26 in the first.
Low vacancies in the Tri-Cities of Burbank, Glendale, and Pasadena paint a more direct image of the expanding office environment in Los Angeles. The submarket's vacancy rate was 12.3 percent, down three points from a year ago.
Hasbro Studios announced in April that it signed a deal to nearly double its office space in Burbank. The company, which previously occupied 45,000 square feet in the city, picked up an additional 80,000 square feet at Media Studios North, a space that was vacated by Yahoo Inc. when the technology company decided to make Playa Vista its Southern California base.
Industrial demand
Record-low vacancy rates continued during the second quarter on the industrial front. The region's industrial vacancy rate fell to 0.9 percent from 1.1 percent in the first quarter, according to JLL.
Industrial vacancy rates dropped significantly in the San Gabriel Valley and Mid-Cities. For both regions, vacancy rates fell to 0.6 percent from 0.8 percent – a 25 percent drop quarter to quarter.
In the South Bay vacancy rates averaged 0.6 percent as well in the second quarter, down from 0.7 percent previously. Exquisite Apparel preleased 114,000 square feet in Gardena and FedEx preleased more than 200,000 square feet in Carson, according to CBRE Group Inc.
Average asking rents were 72 cents a square foot across the county, up from last quarter's 70 cents and well above last year's 65-cent second-quarter figure.
For reprint and licensing requests for this article, CLICK HERE.