Net Gains
Festival events flesh out beach volleyball series
Friday, July 8, 2016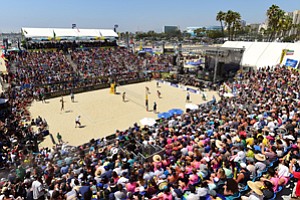 Beach volleyball fans will be watching the Rio Olympics when Kerri Walsh Jennings goes for a fourth straight gold medal. But they will have a chance to see her in person a few days later at next month's Asics World Series of Beach Volleyball in Long Beach. The tournament plans to attract the top athletes, including Olympic medal favorites, with the highest prize money at any event in the United States.
While the athletes are the biggest attraction, the event has grown because of its popularity with a wide demographic as a weekend beach festival. In a twist, it has changed its musical component from pop to electronic dance music, aiming to attract a younger audience.
"This is where our culture and society is going with live events and things that are experiential," said Leonard Armato, chief executive of El Segundo's Management Plus Enterprises, which operates the event. "We have the beach, art, music, food, and you can drink on the beach in Long Beach. It's quite a festival for people who love the beach culture."
For the pro athletes, winning gives them a piece of the $800,000 in prize money at the tournament. The Olympics offers them a chance at a medal and endorsement deals, but the athletes are not compensated for appearing. Some countries do offer nominal prizes to their winning athletes; the U.S. Olympic Committee offers cash prizes of $25,000 for gold, $15,000 for silver, and $10,000 for bronze.
The money offered at the Long Beach event helps entice athletes such as Walsh Jennings to compete just days after closing ceremonies for the Rio De Janeiro Olympics. In addition, Armato works as a business manager for athletes and counts Walsh Jennings as a client.
The Long Beach event, to be held Aug. 23 to 28, is looking to draw 128 participants – 64 women and 64 men – and will be broadcast on NBC. Last year, NBC's broadcast drew 3.25 million viewers domestically and 25 million around the world. That audience has helped sell sponsorships to companies such as Asics, JetBlue Airways Corp., Geico, Mikasa Corp., and Dick's Sporting Goods. Santa Monica's TrueCar Inc. signed a multiyear deal as the event's stadium naming rights partner last year.
Armato said revenue for the series last year increased by 30 percent from 2014, and the event moved into the black, though he declined to disclose specific numbers.
Head in sand
Prev Next
For reprint and licensing requests for this article, CLICK HERE.