Net Gains
Festival events flesh out beach volleyball series
Friday, July 8, 2016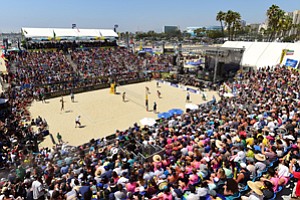 Beach volleyball fans will be watching the Rio Olympics when Kerri Walsh Jennings goes for a fourth straight gold medal. But they will have a chance to see her in person a few days later at next month's Asics World Series of Beach Volleyball in Long Beach. The tournament plans to attract the top athletes, including Olympic medal favorites, with the highest prize money at any event in the United States.
While the athletes are the biggest attraction, the event has grown because of its popularity with a wide demographic as a weekend beach festival. In a twist, it has changed its musical component from pop to electronic dance music, aiming to attract a younger audience.
"This is where our culture and society is going with live events and things that are experiential," said Leonard Armato, chief executive of El Segundo's Management Plus Enterprises, which operates the event. "We have the beach, art, music, food, and you can drink on the beach in Long Beach. It's quite a festival for people who love the beach culture."
For the pro athletes, winning gives them a piece of the $800,000 in prize money at the tournament. The Olympics offers them a chance at a medal and endorsement deals, but the athletes are not compensated for appearing. Some countries do offer nominal prizes to their winning athletes; the U.S. Olympic Committee offers cash prizes of $25,000 for gold, $15,000 for silver, and $10,000 for bronze.
The money offered at the Long Beach event helps entice athletes such as Walsh Jennings to compete just days after closing ceremonies for the Rio De Janeiro Olympics. In addition, Armato works as a business manager for athletes and counts Walsh Jennings as a client.
The Long Beach event, to be held Aug. 23 to 28, is looking to draw 128 participants – 64 women and 64 men – and will be broadcast on NBC. Last year, NBC's broadcast drew 3.25 million viewers domestically and 25 million around the world. That audience has helped sell sponsorships to companies such as Asics, JetBlue Airways Corp., Geico, Mikasa Corp., and Dick's Sporting Goods. Santa Monica's TrueCar Inc. signed a multiyear deal as the event's stadium naming rights partner last year.
Armato said revenue for the series last year increased by 30 percent from 2014, and the event moved into the black, though he declined to disclose specific numbers.
Head in sand
Before starting the AVP Tour, Armato worked as a sports agent and represented players such as Kareem Abdul-Jabbar, Hakeem Olajuwon, Ahmad Rashad, Oscar De La Hoya, and Shaquille O'Neal. From 2010 to 2012, he was chief marketing officer of footwear and apparel maker Skechers Inc., where he oversaw the company's creative agencies and orchestrated two Super Bowl campaigns. He also served as president of Skechers Fitness, launching the company's performance division.
He also has a long history with pro beach volleyball. He helped found and then served as commissioner and chief executive for the AVP Pro Beach Volleyball Tour for seven years until 2009. That experience led him to partner with FIVB, the International Volleyball Federation, and USA Volleyball to create this officially sanctioned event in 2013.
"I conceptualized this event from things that I saw trending in pop culture. Beach volleyball at the Olympic Games is a huge hit. The wave of the future is themed festivals, and we are using sports as the engine."
Other sponsors, such as Fiat, are more interested in the lifestyle and music portion. The car company signed on again this year as the concert series sponsor. Singer Adam Lambert headlined the event last year, but there's a new musical genre lined up for this year's event.
Armato partnered with Tmwrk, a Silver Lake management company that manages 33 DJs and musicians. The company also produces live events, including the Mad Decent Block Party.
"If you asked me, I wouldn't have thought that I would be working on a volleyball tournament. Anytime you can work with the world's best at anything, you look at it," said Paddy Scace, manager and event producer for Tmwrk.
Electronic dance music DJ Thomas Jack will be headlining the event on Aug. 27. Other performers will include Jillionaire, Filthy Gorgeous, Party Favor, and Team Ezy.
More than music
The event is part of a crowded pro beach volleyball circuit, especially in an Olympics year. Many athletes compete in the nationwide eight-stop AVP Tour, which will hold its Manhattan Beach Open on July 14-17. International Volleyball Federation events are held worldwide; the Long Beach event is one of four grand slams for the sport. The others were held in Rio (March); Moscow (May); and Olsztyn, Poland (June). The federation has fewer events this year because of the Summer Olympics.
In addition to the music events, Armato is looking to differentiate the Long Beach competition by including a celebrity volleyball tournament. Last year's celebrity event was hosted by Josh Hutcherson, star of the "Hunger Games" movies.
Entrance to the festival is free. Premium seats cost $50 on Friday, $60 on Saturday, and $65 on Sunday. New this year will be the Sky Deck VIP. Passes for covered seating at the top of the stadium will include all-you-can-eat food and drink. Those tickets cost $225 a day with a three-day pass going for $600.
Competitive beach volleyball has grown from its grassroots beginnings up and down the coast and centered in Manhattan Beach. It was added as an official Olympic sport in 1996. This year, it was added as an official varsity sport for women by the NCAA, which held its first NCAA Beach Volleyball Championship in May. USC was the inaugural champion while UCLA placed third.
Other local schools have invested in the sport including Cal State Northridge, which opened a sand volleyball facility on campus last year. It was the 40th university to field a team, which was the threshold for getting it approved for a college national championship.
"It was critical to our athletics program from the standpoint of being on the vanguard of an emerging sport like beach volleyball," said Brandon Martin, director of athletics for Cal State Northridge. "It's become a lot more competitive in Southern California. The sport provides more opportunities for female athletes."
For reprint and licensing requests for this article, CLICK HERE.