Calling for Change
FreedomPop, textPlus see low-cost, free services as ways to connect with cellphone customers.
Friday, July 8, 2016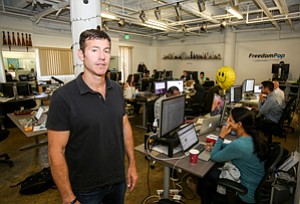 A couple of telecom companies in Los Angeles are building their businesses on a surprising idea: charging little to nothing.
Consider FreedomPop.
The West L.A. cellphone service provider operates much like a no-frills airline that charges little for flights but tacks on fees for baggage, extra leg room, and other perks. The company offers free voice, texting, and data cellphone service up to a point, then charges for additional cellphone usage or ancillary services, such as a second phone number or anonymous web browsing.
"We get revenue from data," said FreedomPop Chief Executive Stephan Stokols. "Our margin comes from the additional value-added services we sell on top of data."
FreedomPop's business model is the latest version of freemium – giving away free basic services while charging for premium features – and some investors are intrigued it. The firm has raised about $109 million from investors such as Intel Capital, Mangrove Capital Partners, and Partech Ventures since its founding in 2011 and it has 1.3 million subscribers.
It's not alone.
Marina del Rey's textPlus has raised $50 million from Kleiner Perkins Caufield Buyers, Raine Ventures, and Upfront Ventures, among others, since its founding in 2009 and has had more than 100 million users register on its free cellphone app. The company declined to disclose its number of active users.
The app gives customers the ability to make phone calls over Wi-Fi or using cellphone data for about 2 cents a minute. Calls to other textPlus app users are free. Notably, textPlus earns 75 percent of its revenue from in-app advertising.
While charging little to nothing for voice and texting services, companies such as FreedomPop and textPlus want to challenge the traditional wireless telecommunications business model.
"I think every person that has a (Verizon Wireless) phone is available to this market," said Scott Lahman, chief executive of textPlus. "This is a huge global market."
And yet, to take a bite out of the traditional telecom business model these upstarts will have to start turning a profit – something they haven't done yet. Moreover, they are going to have to outcompete deep-pocketed telecom giants Verizon, AT&T Inc., Sprint Corp., and T-Mobile International.
"I think there is definitely opportunity to sustain different types of carrier plans," said Will Carter, chief technology officer of Ad Hoc Labs of Los Feliz, which makes anonymous phone number app Burner. "But that being said, the big four (telecommunications companies) have a lot of marketing dollars and so it will be interesting to see what kind of foothold the super-low-cost carriers will be able to get."
Prev Next
For reprint and licensing requests for this article, CLICK HERE.