Calling for Change
FreedomPop, textPlus see low-cost, free services as ways to connect with cellphone customers.
Friday, July 8, 2016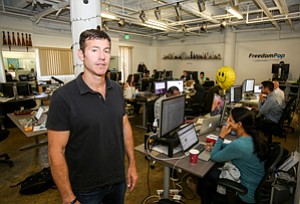 A couple of telecom companies in Los Angeles are building their businesses on a surprising idea: charging little to nothing.
Consider FreedomPop.
The West L.A. cellphone service provider operates much like a no-frills airline that charges little for flights but tacks on fees for baggage, extra leg room, and other perks. The company offers free voice, texting, and data cellphone service up to a point, then charges for additional cellphone usage or ancillary services, such as a second phone number or anonymous web browsing.
"We get revenue from data," said FreedomPop Chief Executive Stephan Stokols. "Our margin comes from the additional value-added services we sell on top of data."
FreedomPop's business model is the latest version of freemium – giving away free basic services while charging for premium features – and some investors are intrigued it. The firm has raised about $109 million from investors such as Intel Capital, Mangrove Capital Partners, and Partech Ventures since its founding in 2011 and it has 1.3 million subscribers.
It's not alone.
Marina del Rey's textPlus has raised $50 million from Kleiner Perkins Caufield Buyers, Raine Ventures, and Upfront Ventures, among others, since its founding in 2009 and has had more than 100 million users register on its free cellphone app. The company declined to disclose its number of active users.
The app gives customers the ability to make phone calls over Wi-Fi or using cellphone data for about 2 cents a minute. Calls to other textPlus app users are free. Notably, textPlus earns 75 percent of its revenue from in-app advertising.
While charging little to nothing for voice and texting services, companies such as FreedomPop and textPlus want to challenge the traditional wireless telecommunications business model.
"I think every person that has a (Verizon Wireless) phone is available to this market," said Scott Lahman, chief executive of textPlus. "This is a huge global market."
And yet, to take a bite out of the traditional telecom business model these upstarts will have to start turning a profit – something they haven't done yet. Moreover, they are going to have to outcompete deep-pocketed telecom giants Verizon, AT&T Inc., Sprint Corp., and T-Mobile International.
"I think there is definitely opportunity to sustain different types of carrier plans," said Will Carter, chief technology officer of Ad Hoc Labs of Los Feliz, which makes anonymous phone number app Burner. "But that being said, the big four (telecommunications companies) have a lot of marketing dollars and so it will be interesting to see what kind of foothold the super-low-cost carriers will be able to get."
Over the top
FreedomPop and textPlus operate as so-called over-the-top cellphone service providers. They don't have cellular networks of their own, so they find clever ways to piggy-back on other companies' cellular infrastructure.
For FreedomPop, that means buying bandwidth wholesale from various networks, such as Sprint, its largest vendor. The company connects its customers to those networks by supplying them with a proprietary SIM card to insert into their cellphones or by selling them a refurbished cellphone, which is already equipped with its SIM card. The customer gets their own phone number, 500 MB of data, 200 minutes of talk time and 500 texts for free each month. The company also sells more robust cellphone plans and other services à la carte.
FreedomPop earns much of its money by using a sophisticated platform that observes user cellphone habits and intuits what kind of services they could be upsold, such as a second phone number, international calling credits, or extra data.
"We can convert almost half our users into these very high-margin services," said Stokols, who also was formerly the head of strategy and business development at British telco BT Group. "Our ability to convert almost half our users into these other services allow us subsidize our services."
If FreedomPop is able to lure in customers at a low cost with the promise of free services, it might have a leg up on traditional telcos, which often spend hundreds of dollars in marketing to acquire a single user, said Dave Hagan, chief executive of Westwood's Boingo Wireless, a provider of public Wi-Fi service.
"If you can make freemium work, that's awesome because that lowers your subscriber-acquisition cost dramatically," he said. "And then it's a matter of being able to mine that data and cross sell."
Last year, FreedomPop was in talks to be acquired by Sprint, which liked the company's technology, but the company ultimately decided to pursue additional venture funding and independent growth, Stokols said. The firm has expanded to the United Kingdom, will launch in Spain this month, and has licensed its technology to Malaysian telecommunications company Axiata Group for launch in Southeast Asia.
By minute
For its part, textPlus, co-founded by Lahman and Zach Norman, operates as an over-the-top cellphone service provider through its app, which allows users to make phone calls over Wi-Fi or using cellular data. Users can call each other for free and are charged about 2 cents a minute for calls to traditional phones.
"It's really a software phone. You download it and we give you a free number and you're able to text and call," said Lahman. "About 80 percent of our users don't have another carrier's contract. For the vast majority of them, about 85 percent of users are over Wi-Fi."
About 75 percent of textPlus' revenue comes from advertising, such as digital banner ads that run within its app. Additionally, users can watch video advertisements to earn more calling credits. The company also recently launched a SIM card cellphone service program that charges $9.95 a month.
Though FreedomPop and textPlus have a lot of appeal to low-income consumers, both companies insist their draw is broader. Alternative users include international business travelers, people with a need for a second phone, and value-conscious consumers, they say.
While freemium and ad-supported business models have taken off within the online media, video-game, and software industries, it is still not clear how viable the concept is at scale within the telecommunications industry.
FreedomPop and textPlus haven't turned a profit yet – though they each insist they are poised to enter the black before the end of this year. Both also contend they are striking at the edge of an untapped goldmine.
Analysts and industry veterans aren't so sure.
In particular, traditional cellphone service providers are buttressed against the assault of low-cost competitors by consumers' insatiable demand for data, said Terry Kramer, a professor at UCLA's Anderson School of Business and former board member of Verizon.
"People's intrinsic demand for data has gone up a lot. Half a gig of data (the amount FreedomPop offers for free) is a very small amount of data compared to what most people need," he said. "I don't see it being a broad base (market) because of how much data is being provided."
Ultimately, ad-supported and freemium models are likely to just nibble at the edges of the big telecom businesses, said Amy Yong, an analyst in the New York office of Macquarie Group.
"It probably, for now, won't cannibalize the traditional monthly bill, two-year contract, or commitment," she said. "I think it's a small but emerging threat."
For reprint and licensing requests for this article, CLICK HERE.