Hanging in There
L.A. denim makers still look to button up future in jeans despite rise of athletic wear.
Monday, January 25, 2016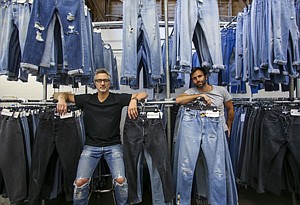 Blue jeans – a classic symbol of all things Americana – are losing their luster across the country as female shoppers continue to opt for stretchy yoga pants – the hallmark of the so-called athleisure trend.
Even major fashion players such as Gap Inc. and Adriano Goldschmeid are investing heavily in activewear, causing many insiders to question whether denim is dead.
Yet a new crop of L.A. brands, such as AMO, Great, Re/Done and Eve Denim, has bucked the prognosis and found success after coming to market with new silhouettes and stiffer fabrics.
Sean Barron, co-founder of Re/Done, said his company has been able to fill a void among millennial consumers looking for a new take on a classic style by reworking vintage Levi's as opposed to manufacturing denim itself.
"The girl is saying, 'I got that stretchy-legging jean that fits me already,'" Barron said. "'And if you can't offer something uniquely different and if you can't speak to me directly as a millennial customer who has other needs than just a pair of jeans, I'm not that interested.'"
Barron, who has worked in the fashion industry for 20 years helping to start women's apparel lines such as Joie, said many denim makers have failed because they care more about moving inventory than anticipating shifts in consumer demand.
But Re/Done and other L.A. denim companies are stepping away from the herd mentality and tapping into a rising trend of vintage-style jeans (think Levi's classic 501s) – and it seems to be paying off. A quick browse of Re/Done's website shows that more than half of its distressed, high-waisted jeans costing around $300 a pair have a waitlist.
Marshal Cohen, chief industry analyst for New York research firm NPD Group Inc., agreed with Barron that millennials have provided the cure for at least some of the denim industry's ills.
"While the industry is not yet in a state of recovery, brands are focusing their energy on the younger customer base, where jean sales are growing," Cohen said, noting that millennials represented the largest segment of jeans sales last year and while small, it has helped drive incremental growth.
According to NPD, overall dollar sales of jeans declined 5 percent between June 2014 and May of last year, but sales increased 2 percent among millennials.
Telling stories
Adelaide Bourbon, founder of Eve, launched her line of no-stretch denim three months ago with immediate praise from Vogue magazine.
Bourbon, who previously worked at fashion label Equipment and sister company Current/Elliott, said she started the line because she stopped seeing the value in jeans purchased from other premium denim labels.
"There really wasn't this explanation of where all these dollars are going," Bourbon said. "It's the same fabric. It's the same composition and after four or five washes they all look the same – terrible."
Eve looks to revive the old-school approach of creating more rigid and durable denim with prices ranging from $125 for high-waisted corduroy shorts to $395 for raw denim overalls.
"I am steering clear from that awful spandex legging aesthetic that you really can't escape," she said.
That's also something Barron and his co-founder, Jamie Mazur, wanted to step away from when they launched Re/Done in July 2014. On its first day in business, the company said all 200 pairs of its jeans sold out and the company amassed a waitlist of 1,200 people in the first two hours. It now produces about 5,000 pairs a month with many styles having a waitlist.
"Brands weren't telling any stories," Barron said. "They were just putting clothes out there. When they were taking their eyes off the customer, we were thinking (about) what girls wanted – to have every jean be different."
Re/Done sources vintage Levi's from around the globe and reconstructs them at its warehouse in downtown Los Angeles into a modern cut and fit, which means no two jeans are ever alike.
That uniqueness has given younger consumers more incentive to shell out big bucks for its distressed denim and shorts, which have celebrity fans such as model Bella Hadid and actress January Jones.
Tricia Carey, director of business development at New York's Lenzing Fibers, said the shift is really about creating demand.
"Ultimately, the end goal is demand creation and getting consumers to buy," Carey said in a statement. "There's a shift in the shopping behavior. They want to support a new local line or buy technology or do good for the Earth. They are buying a narrative, so we just have to tell it."
Mass appeal
Peter Kim launched L.A.'s Hudson Jeans back in 2002, which he described as an amazing time to launch a premium denim label.
Back then, there were only a handful of L.A. players such as Citizens of Humanity, Seven for All Mankind and Paige Denim, so quick growth was guaranteed, he said.
But the premium denim market has matured and he's skeptical that newcomers will be able to bring the industry back into its heyday.
"Anyone new coming into this – I always look at them and say, You've got to be crazy to come into this space right now," said Kim, Hudson's founder and chief executive. "They're not going to make a better product because how much more could you possibly do with jeans? We're all on it."
Kim pointed out that many of the established denim manufacturers have weathered economic storms and been around long enough to create the evolving fashion trends from distressed jeans to military and western styles.
"And if we miss it, we're such great operators we can catch up," he said.
Caroline Calvin and Joie Rucker, co-founders of downtown L.A. apparel line Calvin Rucker, said their company has been able to stay relevant through the years by controlling distribution.
"We've kept our distribution really limited," Rucker said. "We only do high-end specialty stores right now. We have kept ourselves special in doing that rather than trying to blow up."
Labels such as Re/Done and Eve are aware of the power players but feel they're ushering in a new era of premium denim.
"Every girl is wearing the same jean and thinking, I'm not any different. I'm not an individual," Barron said. "And it's not fun anymore."
Erika King, denim buyer at specialty retailer American Rag Cie in Hancock Park, said the store's popular sellers are new lines that offer heavier denim with unfinished hems such as L.A. labels AMO and Great.
Denim products cover about 5,500 square feet of the store and King said overall denim sales have been strong with many customers preferring "not so much the jegging gummy fabric but thicker denim."
Calvin said the denim industry may have its ups and downs, but it's not going anywhere soon despite the athleisure boom.
"There is definitely a natural cycle of denim of when it's relevant and it's hot or not in the apparel industry and in the consumer's wardrobe," Calvin said. "What we have found is that it's always in the woman's wardrobe and it's always part of her daily look."
For reprint and licensing requests for this article, CLICK HERE.