Front, Center
Downtown L.A. booster Carol Schatz sees area's strides as opportunity to step back.
Monday, January 25, 2016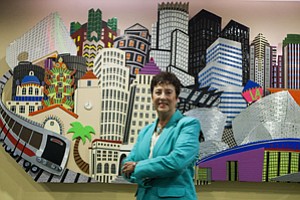 Carol Schatz, longtime chief executive of the downtown L.A. business group Central City Association, will have to wait a bit longer before she can take that vacation to the land down under. That's because Schatz, 68, has agreed to stay on as chief executive through the end of this year, six months longer than she originally planned when she announced the transition earlier this month. And for at least a year beyond that, Schatz, who is often credited with shepherding downtown's revival, will still head the Downtown Center Business Improvement District. She also hopes to remain involved in promoting the areas' renaissance for the city's bid for the 2024 Summer Olympic Games. Schatz discussed these and other issues in an interview with the Business Journal.
Question: What did you personally learn from all your time at the Central City Association?
Answer: You don't do politics in the second-largest city in the country without it being blood sport. I learned that I was a lot tougher than I thought I was. You have to shake things up. I see myself as a different person than the person who came to the CCA in 1990. Sometimes I have to get in people's faces; other times I have to say no forcefully. Sometimes I've had to deal with people who are extremely angry and I had to learn how to get through that and maintain the relationship with them. It was never my intention to be the most popular person; it was my intention to make a real difference and that required shaking things up.
Why did you choose this moment to announce your intention to step down as chief executive?
It was a slow, deliberate decision that I started to consider as my 25th anniversary with the CCA approached last year. For some time now, I've been running both the CCA and the Downtown Center BID – two full-time jobs. I came to the conclusion that demands were becoming unreasonable for one person; I just didn't want to continue working 70 hours a week and weekends and vacations, too. I realized I needed to focus on the things I love and am most passionate about.
So what are those things?
I want to be in that position where I'm still politically connected to the city, but more focused on the promotion of downtown. I will always love policy and mixing it up in the political realm. As corny as it sounds, I really enjoy going to the ribbon-cuttings and programs where we are able to tout our successes. These events remind you of the enormous work and the enormous payoff of that work.
Prev Next
For reprint and licensing requests for this article, CLICK HERE.