Cloudy Future
SMOKING: Fate of e-cigarette business up in air as federal, state regulations could drive up costs for vaping vendors.
Originally published January 11, 2016 at midnight, updated January 11, 2016 at 4:32 p.m.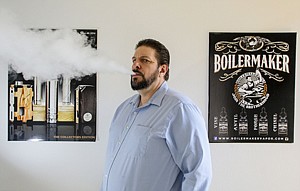 Even as they ride a wave of popularity, local electronic cigarette stores and manufacturers are waging a battle for their very survival against looming federal and state regulations that could snuff out their business.
Federal regulations coming as soon as this spring could force e-cigarette and vaping liquid manufacturers to spend millions of dollars to get permission to sell their products. And later this year, California voters might get the chance to vote on a tobacco products measure that would place the first-ever levy – and a huge one at that – on vaping liquid bottles.
Taken together, these developments pose the greatest threat in the eight-year history of e-cigarettes in this country. The impact in the L.A. area could be especially severe since the region is home to what might be the largest concentration of electronic cigarette and vaping liquid manufacturers in the nation. If one or both of those threats materialize as feared, the cost of vaping liquid would likely jump by orders of magnitude, driving away customers.
"I'm fighting to preserve my businesses in the face of this threat," said Doug Hughes, who co-owns both Lucky Deuces Vapor Co., an e-cigarette or "vape" store in Redondo Beach, and Boilermaker Vapor, a vaping liquid distribution business in neighboring Torrance. He said the businesses together took in about $1.2 million in revenue last year.
Rapid growth
Hughes is one of the players in an industry that has taken off during the past eight years since electronic cigarettes made it to these shores from Asia. E-cigarettes are battery-powered devices that turn vaping liquid containing nicotine and various flavorings into vapor. Vaping advocates say the amount of nicotine can be reduced over time, and they tout the devices as a way to wean people off of smoking. Critics, including major health groups, dispute this, saying the flavorings lure teenagers into a lifetime of nicotine addiction.
Smoke Free Alternatives Trade Association – a national advocacy group for the e-cig industry in Washington, D.C. – estimates there are some 1,200 manufacturers, 10,000 vape stores and hundreds of distributors across the nation.
Hughes, who is co-president of the Southern California chapter of the association, said most of those businesses have opened in the last three years and credited Southern California with being the epicenter of the vaping fluid manufacturing industry, with several hundred in the region. And those businesses are squarely in the cross-hairs of federal regulators.
FDA crackdown?
The Food and Drug Administration is considering regulations that would classify e-cigarettes and the vaping liquid they use as tobacco products. As such, makers of e-cigarettes and vaping liquids would have to submit what's called a "premarket tobacco application" and might also have to submit peer-reviewed documentation showing that their products pose less harm than traditional cigarettes. While the applications are pending, the manufacturers or distributors could not market their products.
To date, only one company voluntarily has gone through those steps, and that company spent several million dollars to do so, according to Cynthia Cabrera, president of the e-cig trade association.
Furthermore, in an early draft of the regulations made public in 2014, each different formulation of vaping fluid would have to get a premarket tobacco application. A single manufacturer or distributor of vaping fluid could have dozens of different formulations, each with a slightly different combination of propylene glycol, vegetable glycerin, nicotine and flavorings. The manufacturer or distributor would have to get approval for each one, at a cost of several hundred thousand dollars apiece.
The FDA has submitted its regulations to the Office of Management and Budget, which is reviewing them for economic impact and can suggest changes. The final regulations are set to be published this spring in the Federal Register, with no further opportunity for public comment before they take effect.
Supporters of regulation say all this is necessary because they believe e-cigarettes are unregulated tobacco products containing the essential ingredient nicotine. In addition, they claim electronic cigarette and vaping fluid manufacturers use the flavorings to lure teenagers into using their products.
"We are very concerned about e-cig use among teens," said Erika Sward, assistant vice president for national advocacy with the American Lung Association in Washington, D.C. "(E-cig and vaping fluid makers) have enjoyed a free pass for a number of years because of a federal lawsuit, but it's now time to protect public health."
But Hughes and other local players in the vaping liquid industry said they cannot afford such expenses.
"This is an industry with a lot of small mom-and-pop-sized players; the average vape store takes in less than $400,000 a year and manufacturers maybe a million dollars or so," he said. "There's no way we can afford to spend millions of dollars to get permission from the FDA to sell our products. Ironically, the only parties that can do that are the big tobacco companies, which sort of defeats the purpose of this regulation."
Another local vaping fluid manufacturer said his business, too, would be forced to shutter if the final federal regulations resemble the draft version.
Josh Krane, co-founder of Craft Vapery with offices in downtown Los Angeles, said his Torrance manufacturing operation produces 168 different formulations of vaping fluid. He fears he would have to get FDA approval for each one.
"It would effectively take out much, if not all, of my manufacturing business," he said. "I might be able to get by on as few as a dozen formulations, but it would be a much reduced business."
E-cig tax?
Krane is also concerned about developments in Sacramento, where a coalition including the American Lung Association, American Cancer Society and American Heart Association has filed an initiative for the November ballot to raise California's cigarette tax by $2 a pack to $2.87. The initiative also includes wording for the state to "place an equivalent tax" on all other nicotine products, including e-cigarettes.
The money raised through the tax would go to health care and smoking prevention programs, along with medical research on tobacco-related diseases.
"We chose to include e-cigs containing nicotine because these starter kits with nicotine threaten to undermine years of progress in protecting teens from the dangers of smoking tobacco products," said Mike Roth, spokesman for the Save Lives California coalition that has put forward the measure.
While the final determination on the e-cigarette taxing formula would be made by the state Board of Equalization only if the measure were to pass, preliminary figures circulating around Sacramento and glommed on to by the e-cigarette industry say the rate would be $2 for every 1.5 milliliters of vaping liquid. Since most bottles come in either 15 milliliter or 30-milliliter sizes, that would put the tax at either $20 or $40 a bottle.
"That would take a 15-milliliter bottle that now retails for about $12 and nearly triple that cost," said Kris Manabat, general manager of Vapor DNA, which has two vape stores in Torrance and sells vaping fluid online. "Prices that high would completely destroy our brick-and-mortar business and even our online presence would have to be reduced."
For reprint and licensing requests for this article, CLICK HERE.