Cloudy Future
SMOKING: Fate of e-cigarette business up in air as federal, state regulations could drive up costs for vaping vendors.
Originally published January 11, 2016 at midnight, updated January 11, 2016 at 4:32 p.m.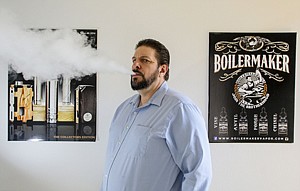 Even as they ride a wave of popularity, local electronic cigarette stores and manufacturers are waging a battle for their very survival against looming federal and state regulations that could snuff out their business.
Federal regulations coming as soon as this spring could force e-cigarette and vaping liquid manufacturers to spend millions of dollars to get permission to sell their products. And later this year, California voters might get the chance to vote on a tobacco products measure that would place the first-ever levy – and a huge one at that – on vaping liquid bottles.
Taken together, these developments pose the greatest threat in the eight-year history of e-cigarettes in this country. The impact in the L.A. area could be especially severe since the region is home to what might be the largest concentration of electronic cigarette and vaping liquid manufacturers in the nation. If one or both of those threats materialize as feared, the cost of vaping liquid would likely jump by orders of magnitude, driving away customers.
"I'm fighting to preserve my businesses in the face of this threat," said Doug Hughes, who co-owns both Lucky Deuces Vapor Co., an e-cigarette or "vape" store in Redondo Beach, and Boilermaker Vapor, a vaping liquid distribution business in neighboring Torrance. He said the businesses together took in about $1.2 million in revenue last year.
Rapid growth
Hughes is one of the players in an industry that has taken off during the past eight years since electronic cigarettes made it to these shores from Asia. E-cigarettes are battery-powered devices that turn vaping liquid containing nicotine and various flavorings into vapor. Vaping advocates say the amount of nicotine can be reduced over time, and they tout the devices as a way to wean people off of smoking. Critics, including major health groups, dispute this, saying the flavorings lure teenagers into a lifetime of nicotine addiction.
Smoke Free Alternatives Trade Association – a national advocacy group for the e-cig industry in Washington, D.C. – estimates there are some 1,200 manufacturers, 10,000 vape stores and hundreds of distributors across the nation.
Hughes, who is co-president of the Southern California chapter of the association, said most of those businesses have opened in the last three years and credited Southern California with being the epicenter of the vaping fluid manufacturing industry, with several hundred in the region. And those businesses are squarely in the cross-hairs of federal regulators.
Prev Next
For reprint and licensing requests for this article, CLICK HERE.