Real Estate Site Won't Sweeten Flipper Offerings
ONLINE: ShittyListings.com puts focus on bottom rung of residential fixer-uppers.
Monday, January 4, 2016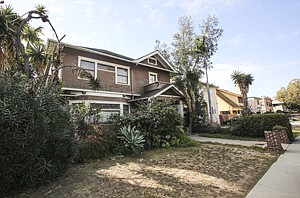 What's in a name?
Open Listings Chief Executive Judd Schoenholtz knew that a memorable title could help his new website stand out from its competitors. When he and his team were thinking about how to tell the world that the offshoot operated a little differently from their original site, they decided to get right to the point. And ShittyListings.com was born.
"We just came up with it and thought it was awesome," said Schoenholtz. "The reaction when we told people was so memorable that we felt compelled to keep it."
The name fits because the site finds bottom-of-the-barrel residential properties: the type of fixer-uppers that require more than a hammer and a bucketful of nails. While these might not sound appealing to the average buyer, house flippers see them as diamonds in the rough.
Both OpenListings.com and ShittyListings, which launched in March and April, respectively, search through real estate databases for the best deals and then facilitate home buying online, making it faster and cheaper to flip properties, Schoenholtz said.
More than 136,000 single-family homes were flipped nationwide in 2014, accounting for 5.4 percent of all single-family sales that year, according to a report by RealtyTrac of Irvine.
ShittyListings is part of a larger effort by parent Open Listings to take on big rivals, such as Seattle's Redfin and Zillow, through more automated features and smaller commission fees. Unlike those sites, ShittyListings allows homebuyers to use its platform to complete escrow, and Schoenholtz said it will eventually facilitate everything through to the final close.
"We are focused on bringing the entire transaction process online," he said.
But bringing even incremental change to the crowded house-flipping market will be a challenge, said experienced flippers.
"There really aren't good deals on the MLS (multilisting service – a database used by agents from which real estate websites cull information) for the most part," said broker Moses Kagan, owner of Adaptive Realty near downtown Los Angeles.
Kagan also noted that ShittyListings doesn't offer any information unavailable elsewhere.
Faster, cheaper
Still, Schoenholtz said ShittyListings' automated offerings and lower commission fees give it a leg up.
Born out of Mountain View tech accelerator Y Combinator last year, Open Listings raised $1 million in seed funding in October. The company officially operates as a licensed real estate brokerage, so while home shoppers interface mostly with the website to search for properties, schedule tours and submit offers, Open Listings' seven-person staff handles all the paperwork on the backend as a Realtor would.
As Redfin sometimes does, Open Listings refunds to consumers half of the typical 2.5 percent commission that real estate agents typically receive.
Open Listings has about 10,000 registered users across its two sites and more than 700 offers have been generated on its platforms since launch, said Schoenholtz. The websites feature properties in Los Angeles, San Diego and the Bay Area. Open Listings sells single- and multifamily homes, apartments, condos and land.
Still, given the size of Redfin and Zillow, it might take more than a reduced fee and automation for Open Listings to nudge its way into the market.
That's where ShittyListings comes in.
"We kept talking to smart people," said Schoenholtz. "They kept urging us to find repeat buyers: investors, fixers, people looking for distressed properties."
After a frenzied weekend of coding in April, ShittyListings was born as a tool to help flippers.
"There wasn't a useful or consistent way to shop," said Schoenholtz.
The median list price of a ShittyListings property in Los Angeles County is $465,000, compared with $589,000 for all county homes on OpenListings.
ShittyListings uses algorithms and filters to look for words and phrases such as "bring a hammer," "fixer" or "bring your contractor" across multiple MLS databases.
For example, the website lists a five-bedroom, 3,500-square-foot Craftsman in the up-and-coming West Adams neighborhood for $550,000. Within that home's description are the phrases: "Ready to start preservationist's project?" and "TLC Needed!"
The software also looks to see if a property is bank owned, in foreclosure or priced below the median price of surrounding properties – anything that would qualify it as a fixer-upper.
Room for more?
Veteran fixers said they aren't so sure ShittyListings' tools will make a difference. For starters, some professional flippers already use custom software to find below-market price properties. In addition, the house-flipping market is already too crowded with newcomers.
"You've got to do a little bit of everything to find a deal in this market," said home flipper John Medina, owner of MPC Inc. of San Pedro. "But the MLS, everybody is fishing from that pond.… When you put something out there, you might have 20 to 30 people making offers."
In an effort to find properties before competitors, most successful flippers knock on doors, post "Cash for Houses" signs around neighborhoods, send mailers, advertise online and work a network of real estate agents who are willing to quickly sell properties off-market in all-cash deals, said veteran flippers.
However, ShittyListings could be useful for amateurs and upstarts who lack resources to find off-market properties and are willing to take a risk on a lower-margin property, some flippers said.
"For some people, they are happy to make $10,000 or $20,000 on a flip," said Jennifer Shenbaum of Redondo Beach's Shenbaum Group Inc. "For me, that can go away pretty quickly, especially if there is something that needs to be fixed that you had no idea about."
Ultimately, industry veterans said ShittyListings might make the already crowded house-flipping market even more so.
"House flipping is a very low-barrier-to-entry business," said Adaptive Realty's Kagan.
For reprint and licensing requests for this article, CLICK HERE.