Real Estate Site Won't Sweeten Flipper Offerings
ONLINE: ShittyListings.com puts focus on bottom rung of residential fixer-uppers.
Monday, January 4, 2016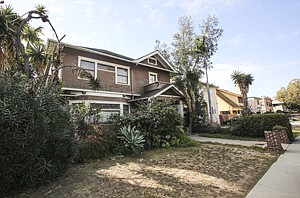 What's in a name?
Open Listings Chief Executive Judd Schoenholtz knew that a memorable title could help his new website stand out from its competitors. When he and his team were thinking about how to tell the world that the offshoot operated a little differently from their original site, they decided to get right to the point. And ShittyListings.com was born.
"We just came up with it and thought it was awesome," said Schoenholtz. "The reaction when we told people was so memorable that we felt compelled to keep it."
The name fits because the site finds bottom-of-the-barrel residential properties: the type of fixer-uppers that require more than a hammer and a bucketful of nails. While these might not sound appealing to the average buyer, house flippers see them as diamonds in the rough.
Both OpenListings.com and ShittyListings, which launched in March and April, respectively, search through real estate databases for the best deals and then facilitate home buying online, making it faster and cheaper to flip properties, Schoenholtz said.
More than 136,000 single-family homes were flipped nationwide in 2014, accounting for 5.4 percent of all single-family sales that year, according to a report by RealtyTrac of Irvine.
ShittyListings is part of a larger effort by parent Open Listings to take on big rivals, such as Seattle's Redfin and Zillow, through more automated features and smaller commission fees. Unlike those sites, ShittyListings allows homebuyers to use its platform to complete escrow, and Schoenholtz said it will eventually facilitate everything through to the final close.
"We are focused on bringing the entire transaction process online," he said.
But bringing even incremental change to the crowded house-flipping market will be a challenge, said experienced flippers.
"There really aren't good deals on the MLS (multilisting service – a database used by agents from which real estate websites cull information) for the most part," said broker Moses Kagan, owner of Adaptive Realty near downtown Los Angeles.
Kagan also noted that ShittyListings doesn't offer any information unavailable elsewhere.
Faster, cheaper
Still, Schoenholtz said ShittyListings' automated offerings and lower commission fees give it a leg up.
Born out of Mountain View tech accelerator Y Combinator last year, Open Listings raised $1 million in seed funding in October. The company officially operates as a licensed real estate brokerage, so while home shoppers interface mostly with the website to search for properties, schedule tours and submit offers, Open Listings' seven-person staff handles all the paperwork on the backend as a Realtor would.
Prev Next
For reprint and licensing requests for this article, CLICK HERE.