Hotel Checks In to Visa Program
REAL ESTATE: Developer taps foreign coin for Waldorf Astoria.
Monday, February 29, 2016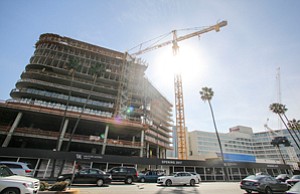 The ultraluxurious Waldorf Astoria Beverly Hills hotel is taking shape as scores of workers hammer away at the construction site at Wilshire and Santa Monica boulevards. But much of the work to complete the 170-room complex is taking place overseas.
That's because hotelier Beny Alagem has partnered with Century City's California Real Estate Regional Center with a goal of raising $150 million in financing from foreign investors through the federal government's EB-5 program.
EB-5 creates a path for foreigners to obtain residency in the United States by allowing them to invest at least $500,000 each in projects that create a minimum of 10 U.S. jobs for every investment.
"We are fortunate to be able to qualify for this attractive financing due to the fact that we are a major job creator during both construction and operations," Marie Garvey, a spokeswoman for Alagem, said in a written statement to the Business Journal. 
The program's popularity soared in the last economic downturn, when lenders kept a tighter grip on money and developers scrambled to find alternative ways to finance projects. Even though access to traditional loans has improved in more recent years, EB-5 remains popular because it typically offers lower interest rates for borrowers. In addition, there are still foreigners willing to put up money in exchange for green cards for them and their families.  
The Waldorf Astoria will cost about $200 million to build. The $150 million in mezzanine financing sought from 300 foreign investors participating in the EB-5 program would replace existing bridge capital provided by large institutional investors, according to Steve Shpilsky, co-founder of California Real Estate. He was in China last week promoting the investment opportunity and training dozens of agents there who will be tasked with pitching the project to potential investors on behalf of his company.
As of last week, Shpilsky said that he had secured $17 million for the Waldorf Astoria from 34 foreign investors. With an additional $133 million still to raise, Shpilsky also has trips to Dubai and Russia planned for coming weeks. Ultimately, he hopes to have the entire $150 million secured in an escrow account by the end of September.
Posh plans
Construction of the hotel is on pace for completion within the first six months of next year, he said. 
The 12-story hotel, which will sit next to the world-famous Beverly Hilton, also owned by Israeli American entrepreneur Alagem, will add another option for L.A.'s wealthy visitors. 
Waldorf Astoria, which has about two dozen locations around the world, is the most elite of Hilton Worldwide's hotel brands – and the new Beverly Hills outpost is expected to be no different. 
Each of the 170 rooms, 42 of which will be suites, will include state-of-the-art technology, furnished entry foyers, floor-to-ceiling windows as well as private landscaped balconies designed to afford spectacular views of Los Angeles. A rooftop pool and private cabanas will be available to guests, plus every floor will boast its own lush garden. Booking a room at the hotel is widely expected to command hundreds, if not thousands, of dollars a night but prices have not yet been announced.
The hotel will be part of a larger project planned for the site. Ultimately, two residential towers with about 110 luxury condos combined will be erected alongside the hotel. But construction of those structures is not slated to begin until the hotel is complete. 
The overall project, including the hotel and condo towers, is expected to cost about $500 million. 
Better life
Billed as an "instant landmark," the new Beverly Hills hotel is a project any real estate enthusiast would love to be a part of. But for California Real Estate's Shpilsky, the opportunity means even more.
Shpilsky, 38, was born in Kiev, Ukraine, at a time when the country was in great turmoil. He and his family were among thousands of Soviet Jews to flee the country in the late 1970s.
"We left with what we could fit in a suitcase," he said.
Shpilsky and his family arrived in Cleveland before moving to Los Angeles in 1983.
He went on to graduate from Beverly Hills High School and later from USC, an opportunity that would not have existed had his family stayed in Ukraine, he said.
Now, as a managing member of California Real Estate, he is hoping to provide similar opportunities to others seeking a better life in America through the EB-5 program.
"There's a lot of what this country has done for me and my family that's just amazing," he said. "It's the American dream, and it's like I get to be the poster child for that dream now. I know why they want to come here."
Several local developments have benefited from EB-5 money, such as the bars and restaurant inside Hollywood's W Hotel and the combined Marriott Courtyard and Residence Inn hotel across from L.A. Live in downtown Los Angeles. More recently, a mixed-use development in Inglewood that will surround the Los Angeles Rams' proposed stadium used $188 million from EB-5 investors to pay for preliminary construction work.
Ticking clock
While Shpilsky hopes to have the entire $150 million in EB-5 funding secured in seven months, the arbitrary deadline is not due to pressure from the Waldorf Astoria's developers. Instead, the Sept. 30 deadline was established because the EB-5 program is set to expire that day, unless Congress extends it.
Lawmakers aren't expected to ax the program, mostly because it has a solid track record for pumping hundreds of millions of foreign dollars into the U.S. economy. Instead, Shpilsky said lawmakers are more likely to amend the program, which was created in 1990.
"I expect the minimum investment required will increase, probably to at least $800,000," he said. "But no one knows for sure. There's so much uncertainty."
So for now, he is focused on making sure he meets his $150 million goal long before Congress has a chance to address EB-5.
"We have boots on the ground in China and we have boots on the ground in different parts of the world," Shpilsky said. "It's a grind but we know we're going to get it done."
World-renowned interior designer Pierre-Yves Rochon Inc. of Paris and Chicago has been selected to design the luxury hospitality environment that will surround the new hotel.
Plus, the designer's parent company, Perkins + Will, worked alongside San Francisco's Gensler to design the Waldorf Astoria's exterior.
For reprint and licensing requests for this article, CLICK HERE.