Nevada Treasurer Inquiring About Faraday's Finances
Tuesday, February 16, 2016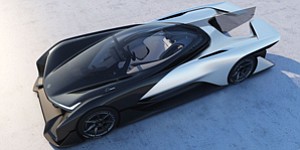 "If I were to sum it up: It's the emperor's new clothes," said Swartz. "If you look at the financials, (Jia) isn't making any money. He certainly isn't making any money to fund a billion-dollar car facility."
However, Leshi reported net income of about $56 million on revenue of about $1.05 billion in 2014, according to financial filings. The company had $392 million in long-term debt and $550 million in cash and cash equivalents in 2014. Financials after the third quarter of last year were not available. When Leshi's stock stopped trading more than two months ago, the company reported a market cap of about $16.8 billion.
"My independent read of Leshi itself doesn't lead me to believe they have financial problems," said Aarin Yu, managing partner of Heritage Financial Partners in Culver City, who reviewed Leshi's third quarter financial report for the Business Journal. "They do have a reasonably high level of debt. I think they are able to service it fine, but whether they are able to take on a huge amount of loans the answer is probably yes, but at a much higher rate."
The financial health of the Faraday Future's backers is beside the point, said Nevada Economic Development Director Steve Hill. Hill helped put together Nevada's $217 million tax incentives and infrastructure bond package for Faraday's factory.
"Our office and frankly (Swartz's) office aren't financial analysts. We are not auto -industry analysts," he said. "There is a range of outcomes that are possible with Faraday or frankly any other company that we bring to Nevada to help them grow."
Taxpayers should be wholly protected from any fallout, so long as Faraday could put up roughly $70 million needed to securitize the state's general obligation bonds, said Hill. The state of Nevada and Faraday Future are currently in discussions about the terms of those bonds and the results of those talks would be made public, he said. The general obligation bonds will likely be issued in September or October, said Hill. He did not say if there is a deadline for the state to receive the $70 million or whether that deadline has passed.
A spokeswoman for the office Nevada Gov. Brian Sandoval did not have a comment on Faraday Future's financial health or the state's incentives package.
But at least some others are concerned.
"If you get this thing partially started and it fails, what would you do with a partially started infrastructure?" said State Assemblyman Iran Hansen, who voted against the incentives package. "What do you do with a half-finished rail road project? There is nothing that will force them to complete the project."
Hansen said that he would like the project to succeed, but is skeptical given the circumstances surrounding the project. He also said he doesn't think Faraday Future compares to Tesla Motors Inc. of San Carlos, which the state of Nevada gave a $1.3 billion incentives package to build a battery factory outside Reno in 2014.
"There a huge difference between designing an automobile and making an automobile. At least with Tesla we had a 10-year track record," he said.
Technology reporter Garrett Reim can be reached at greim@labusinessjournal.com. Follow him on Twitter @garrettreim for the latest in L.A. tech news.
Prev Next
For reprint and licensing requests for this article, CLICK HERE.