Shore Leave Hits Silicon Beach
REAL ESTATE: Santa Monica's vacancies rise as firms relocate.
Monday, February 15, 2016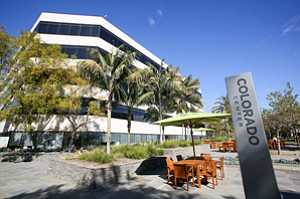 Santa Monica is the heart of sizzling Silicon Beach, and the oceanfront community has some of the area's most desirable real estate.
Yet a wave of recent departures has emptied out office buildings, contributing to a vacancy rate of 16 percent at the end of the last quarter. That's almost 3 points higher than the Westside's overall office vacancy rate and even a bit higher than L.A.'s average of 15.5 percent.
"It's the highest in recent history," said Carl Muhlstein, a managing director in the downtown L.A. office of Chicago real estate giant Jones Lang LaSalle Inc.
Brokers are taken aback at seeing Santa Monica so empty considering the slew of businesses that are attracted to the area.
Much of the rise in vacancies stems from heightened competition from some neighboring communities – such as Playa Vista, Culver City and Beverly Hills – that have become increasingly attractive to media and tech companies.
Take Yahoo Inc. for example. The Sunnyvale Internet company agreed late last year to move out of its longtime home at Santa Monica's Colorado Center – which, until 2012, was called the Yahoo Center – and relocate to the Collective at Playa Vista.
There's now about 455,000 square feet of space available at the center, according to real estate information firm CoStar Group Inc. But only a portion of that stems from Yahoo's departure.
Even so, Muhlstein remains confident that other companies will snatch up a lot of Santa Monica's available office space in coming weeks and months.
"Nobody is panicked," he said. "If you took out the Colorado Center from the equation, the equilibrium is pretty strong. … It's just a timing issue."
In fact, Muhlstein said he has several deals in the works – though he wouldn't give specific details because negotiations are ongoing – and he expects the city's vacancy rate could drop back into the single digits by the end of the second quarter.
New opportunity
But while tenants have been taking off, the sheer volume of available office space has opened the door to several firms that have been looking to expand – or relocate – in Santa Monica, said Petra Durnin, director of research for Southern California at downtown L.A.'s CBRE Group Inc.
"There are people who couldn't enter the market before and, absolutely, they could take these bigger blocks now," Durnin said. "There weren't these big blocks available in Santa Monica for quite some time."
Santa Monica video-streaming company Hulu, for example, expanded its presence in the Colorado Center last year when it leased 60,000 square feet, said David Toomey, a principal at tenant brokerage firm Cresa in West Los Angeles. Hulu, he added, is negotiating a deal for 30,000 more square feet.
Plus, energy drink giant Red Bull has already claimed the space Jessica Alba's online retailer Honest Co. is leaving at 2700 Pennsylvania Ave., Toomey said. Honest, which sells eco-friendly and nontoxic household products, last year announced the plan to move its headquarters to Playa Vista.
Santa Monica has lots of options for tenants, but now has lots of completion, too.
"There's good activity and good interest," he said. "But the other thing to keep in mind is that a tenant that's 25,000 square feet or larger, they're also going to look at Playa Vista, Culver City and they may also look at Beverly Hills."
Increasing competition
Toomey's firm is also representing digital media company AwesomenessTV, online movie ticket seller Fandango, marketing services firm Connexity and Game Show Network, among other companies looking to expand in Santa Monica, he said.
But none of the clients – unlike in years past – is looking exclusively in Santa Monica, Toomey added.
"There was a time when a Santa Monica tenant wouldn't even consider moving to other submarkets," he said. "But where we are today is there's a lot of space available and tenants have choices."
Despite increased supply, Toomey said most landlords have either left their asking prices alone – or increased them.
In Santa Monica's media district, which isn't as close to the beach as the city's downtown and Third Street Promenade, landlords are asking for about $5 a square foot a month for office space, he said. That's among the highest in Los Angeles and approaching Beverly Hills' rate, but still lower than the promenade area, where rents can approach $8.
Whether rates will decrease this year or next remains a murky question.
"If you are that 50,000-square-foot tenant, you have at least 15 alternatives, and so the question becomes: Are there landlords out there who will look at the competition?" Toomey said. "Will they lower their rate or increase their concession package to make that deal? Right now, most of the landlords in that submarket, they're all pricing themselves very close to one another."
Unless landlords start lowering their rates, Toomey said, he won't be convinced that businesses will flock to Santa Monica and soak up all the space.
More options
Meantime, construction is underway at Santa Monica Gateway, which will add nearly 200,000 square feet at Colorado Avenue and Stewart Street. The project is slated for completion early next year.
Plus, the former Paper Mate pen manufacturing site at 1681 26th St. is being renovated and, once completed, will offer roughly 200,000 square feet.
JLL's Muhlstein anticipates both projects will be fully leased by the time they open. Indeed, the broker said he's already working on one deal at Santa Monica Gateway, though he declined to comment further.
Durnin of CBRE also shared Muhlstein's optimism as she noted that Santa Monica, because of its relatively small size, tends to see its vacancy rate move a bit more dramatically than other parts of Los Angeles.
"You only need one or two tenants to move out to move the needle," Durnin said. "It's still really hot and deals are still getting done."
For reprint and licensing requests for this article, CLICK HERE.