Cracking Shell Game
FOOD: Will Iranian farmers field challenge to Wonderful's pistachio market share?
Monday, February 15, 2016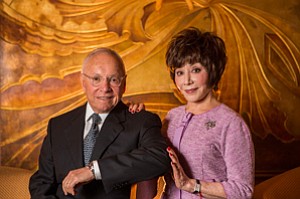 Now that international sanctions against Iran have come to an end, California's largest pistachio grower and processor, Wonderful Co. of West Los Angeles, might have its hands full as that country's farmers prepare to sell their crops globally.
Iran, the second-largest pistachio producer in the world by volume – the United States is No. 1 – wants the world to believe that no one can compete with its product.
"As far as quality, taste and varieties, there (is) no comparison between Iranian pistachios and U.S. pistachios," said Fariborz Jahansoozan, head of legal affairs and protocol at the Pakistani Embassy in Washington, D.C., who represents Iranian interests in the United States. "No other country can compete with Iranian pistachios because Iran's climate is conducive to grow different varieties of pistachios."
While Iran also has faced issues in recent years with fungus on their pistachios and high U.S. anti-dumping tariffs, Jahansoozan said sanitary problems have been dealt with and trade barriers won't stop demand for Iranian pistachios.
But Wonderful will not be easily moved. The company is the world's largest pistachio business, processing about 50 percent of California's pistachio crop last year. Wonderful owns about 30,000 acres of pistachio cropland in the Central Valley, and it has spent heavily branding its product Wonderful Pistachios by paying celebrities such as "The Late Show" host Stephen Colbert, South Korean pop singer Psy and boxer Manny Pacquiao to appear in its commercials.
Wonderful is a vertically integrated agricultural business that sells a variety of other products including Wonderful Almonds, Halos mandarins and Pom Wonderful pomegranate juice. The private company, formerly named Roll Global, has helped earn its co-founders, Stewart and Lynda Resnick, a personal fortune of $4.8 billion, placing them at No. 11 on the Business Journal's 2015 list of Wealthiest Angelenos.
Wonderful is unambiguously confident in its pistachio business.
"Wonderful Pistachios' brand, farming innovations and commitment to quality are unmatched in the global marketplace," Andy Anzaldo, vice president of grower relations for Wonderful Pistachios, said in a statement. "We do not currently anticipate that the Iranian embargo being lifted will change our position as category leader."
Yet, Wonderful Co.'s pistachio dominance could be tested if Iranian pistachios land in U.S. grocery stores.
"Wonderful Co. and their brand is a clear market leader, but I think a question is going to be the degree of loyalty customers will have to that brand," said Rich Sexton, professor of agricultural and resource economics at UC Davis. "In general, pistachio prices are pretty sensitive to volumes on the market. If there is a significant influx from Iran, the effect on the price could be substantial."
Cash crop
Long known as a product of Iran, Turkey and Syria, pistachios have become a booming business in California in the past four decades.
Pistachio prices have steadily risen from $1.60 a pound in 1979, the year of the Iranian Revolution, to an estimated $3.60 a pound in 2014, said Bob Klein, manager of the California Pistachio Research Board in Fresno.
Pistachios have been one of Wonderful's highest yielding crops, generating an average net return of about $3,500 an acre versus roughly $1,400 an acre for almonds and about $880 for walnuts in 2014, said Stewart Resnick, Wonderful's chief executive, to the Western Farm Press last year.
Those prices have made Wonderful particularly bullish on the tree nut. It has invested tens of millions of dollars into pistachio processing plants and branding in recent years, said Resnick. The company is aiming to boost its pistachio processing by 31 percent by 2020.
While Wonderful's business is vertically integrated, as well as heavily branded and mechanized, Iranian pistachio growing is based on tradition, said industry experts.
"Over there, it is still very much the way it was for the last 100 years or 1,000 years," said Adam Orandi, chief executive of Terra Bella's Aro Pistachios Inc. "You have families that have a five-acre plot. They hand pick or knock off pistachios onto a tarp. They dry the pistachios in the sun."
The Persian variety also come with a unique taste.
"They have higher oil content," said Tom Coleman, chief executive of Coleman Farming Co. in Fresno. "It's like the difference between a French roast and a dark roast coffee. It's a stronger flavor."
Iranian pistachios have become popular in China, where they sell for the equivalent of less than $1 a pound, said Coleman, adding that he doesn't think the quality is as good as those in the United States.
"They tend to be smaller, darker, more blemished on the shell," he said. "When they ship them to China, they bleach them, which is detrimental to taste."
Cracking nut
Should even a small amount of Iranian pistachios enter the U.S. market, prices could go down.
"If they took the top 1 percent of nuts and sent them here, that would be enough to have an impact on U.S. producers," said Dan Pearson, a senior fellow of trade policy studies at the Cato Institute, a think tank in Washington, D.C.

That could cause problems for growers such as Wonderful, which get nuts from tree plantations, said Jon Phillips, director of the Center for Food Marketing and Agribusiness Solutions at Cal Poly Pomona.
"It is much harder to adjust production with permanent crops than it is with annual crops, such as corn, strawberries, etc.," he said. "If you cut down your pistachio tree and plant some other kind of tree, it will typically take four years to get half a crop and five years to get a full crop."
Indeed, it may be way too soon for Wonderful to think about uprooting its pistachio investments.
Because Iran is more humid than California, pistachios from there have been particularly blighted by the cancer-causing fungus aflatoxin in recent years, which could keep the product off of U.S. shelves going forward. Last month, the European Union rejected 17 shipments of Iranian pistachios for excessive levels of aflatoxin. By comparison, the European Union rejected just two U.S. shipments of pistachios in January for that fungus.
Iranian representative Jahansoozan acknowledged aflatoxin is a challenge to Iranian growers, though he said it's a manageable one.
"Yes, some exported pistachios have (been) recalled due to this problem," he said. "However, the problem was quickly eradicated and the shipments were sent back."
Iranian farmers could also soon have access to technology that would help them combat aflatoxin in their crops, said several experts.
However, other barriers make Iranian access to the U.S. market difficult, including a reported 300 percent anti-dumping tariff the U.S government has imposed on the country's pistachios. Anti-dumping tariffs are implemented when the Commerce Department believes a producer is selling its product at below market value.
An anti-dumping tariff kept out Iranian pistachios in the 1990s when the Clinton administration briefly removed political sanctions from the country, said Klein of the California Pistachio Research Board.
Despite the nuclear agreement between the United States and Iran, removing the anti-dumping tariff would be difficult, said Pearson of the Cato Institute, who formerly served as commissioner and chairman of the U.S. International Trade Commission. That's largely because the commission is slow to change its mind on former dumping violators.
That should give Wonderful some breathing room, he added.
"I wouldn't lose any sleep over it in the near term if I were them," said Pearson. "But in the long term it might be more of an issue."
For reprint and licensing requests for this article, CLICK HERE.