Hollywood Revival
Taft Building at Hollywood and Vine turns corner as renovations pull in new tenants.
Monday, February 8, 2016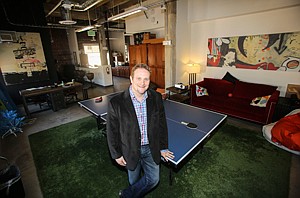 It's not the first Hollywood icon to undergo an expensive facelift. But few have emerged from a makeover quite as re-energized as the historic Taft Building.
The 12-story office building, opened in 1924, long symbolized the old glory days of the entertainment business and even housed the offices of early Hollywood luminaries Will Rogers and Charlie Chaplin.
But now, thanks to a $15 million makeover and a surge of new media tenants, Hollywood's original high-rise has become more than a symbol of the past.
The tenants now working in the building at 1680 N. Vine St. illustrate the tech-savvy culture the entertainment industry has grown to embrace in more recent years.
Ever since New York developer DLJ Real Estate Capital Partners completed renovations early last year, new entertainment tenants – such as Sycamore Pictures, Represent Holdings, Legion and Global Merchandising – have moved in, taking chunks of the 129,000 square feet of leasable space.
They have been joined by a rush of tech companies, helping to defy the thought that such businesses have to set up shop along Silicon Beach.
"When I heard the company had moved to Hollywood, I thought, 'Really? You've got to be kidding me,'" said Thomas Swalla, who joined education-focused tech startup StudyMode as chief executive in April. "It's a lot different than going to work on the beach. There, you feel like you're on vacation. But here, you actually feel like you're getting something done."
Restoring pride
The occupancy rate had dwindled to about 40 percent during DLJ's renovation work, which reinforced the Taft's seismic strength and restored some of the historic architecture that had been hidden for years, said DLJ Vice President Timan Khoubian.

Before construction began, the building was usually about 70 percent full, Khoubian said, but it was somewhat of a revolving door for small production companies that leased between 750 and 1,000 square feet at a time for short-term projects.
"It was very tired. I mean, it was basically a place for second-tier tenants," Khoubian said. "You weren't going to get an A-Class tenant to want to house there."
Tenants would pay only about $2 a square foot a month, said Industry Partners broker Carle Pierose, the building's leasing agent. Now, a square foot rents for more than $4 on average.
The new tenants that have begun moving into the building since renovations were completed are taking much larger chunks of space – and agreeing to stay longer.
Represent Holdings, an entertainment marketing and branding firm that took about two-thirds of the fourth floor in October, was mostly attracted to the blank canvas the Taft offered.
Dan Rosenberg, the firm's chief operating officer, said he wanted to stay in the Hollywood area to remain close to the heart of L.A.'s entertainment industry and the Taft was one of the few places he found that could easily be transformed into a sleek creative environment.
"There definitely weren't hundreds of options," Rosenberg said, adding that the history behind the building was an added bonus. "It's just a cool area to be in."
Building buzz
The buzz surrounding the historic building is perhaps approaching the level it was at when it first opened in 1924.
Back then, the Taft was the place to be, according to Michael Selsman, a veteran Hollywood publicist who once represented Marilyn Monroe.
"Several classic Hollywood stars, Charlie Chaplin among them, just starting to feel their power at the box office, had offices there, housing their business managers and accountants," Selsman said. "It was, for its time, glamourous and the locus of the establishment."
But by the time Selsman himself moved to Los Angeles in 1960, so much of the industry had moved to Beverly Hills and the Taft's former glory had begun to fade.
"A few agents, some reputable, and casting offices were all that were left and I visited the lower caste from time to time," he said. "Rents were cheap and paint was peeling."
Finishing touches
DLJ bought the building from New York's Meringoff Properties Inc. for $28 million in late 2011, according to real estate information firm CoStar Group Inc.
The high-rise had traded hands several times before Meringoff bought it in 2003 for an undisclosed price. During the 1980s, one of the many previous owners had lowered ceilings and covered the interior walls – which were considered upgrades at the time, Khoubian said.
But during that process, many of the building's gems became hidden. DLJ decided to restore those old features – such as exposed brick walls and decorative marble hallways – which have become increasingly popular in today's marketplace as companies are looking for more open space.
The Taft's restoration was just one element of DLJ's grand vision to restore the world-famous Hollywood and Vine intersection. The developer has already completed the first phase of its Eastown luxury apartment complex on Hollywood Boulevard, which includes 535 units.
The second phase of that project, at the southeast corner of Hollywood and Argyle Street, just broke ground last month, Khoubian said, and the 507-unit phase is expected to be complete in 2018.
Meantime, DLJ is putting a few more finishing touches on the Taft.
About 7,500 square feet is available in the building's basement, where DLJ plans to open a speakeasy. The developer is actively negotiating with several potential nightlife operators, Khoubian said, adding that he hopes to have a deal finalized later this year.
On top of that, Pierose of Industry Partners, the building's leasing agent, still has about a quarter of the building to fill, including an entire 9,500-square-foot floor. But that's not expected to last long.
"It's very rare that you can go to Hollywood and find something that size," Pierose said.
For reprint and licensing requests for this article, CLICK HERE.