Stepping Out
FOOTWEAR: Shoes of Prey puts design decisions in hands of consumers while taming added costs of custom-made products.
Monday, February 1, 2016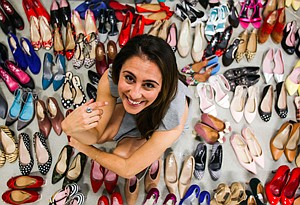 Buying clothing off the rack can be tough – sometimes the fit is off or maybe the color is terrible.
Jodie Fox faced a similar problem with her footwear, which led her to co-found Shoes of Prey in Santa Monica.
The online company, which recently moved its headquarters from Australia to Santa Monica, lets shoppers design their own footwear and customize everything including heel height, material, color and embellishments.
It's joined a handful of other companies, such as Staub, Acustom Apparel and Left Shoe Co., that give Angelenos more control over the design of their garments and shoes.
Fox said the company moved because of growing consumer demand in the United States. Increased investment helped.
"We closed a round in late 2015," Fox said. "So to date, we've raised about $25 million and the vast majority of that has come out of the U.S."
Shoes of Prey received its largest boost of capital two months ago – $15 million in Series B funding – to expand its production capability.
Customization is a side of fashion that's tough to break into because it's hard to keep manufacturing costs low for a series of single items. Many L.A. companies have set out on that path only to quickly stumble, such as now-defunct downtown L.A. denim maker Den.m bar and online shoe company Milk and Honey.
Frances Harder, president of L.A.'s Fashion Business Inc., a nonprofit serving fashion firms, said there is a swing toward customization in the apparel industry – including footwear – but turning a profit isn't easy.
"Custom clothing – that's very expensive," Harder said. "And most couturiers that we know in L.A. are not too financially well off. If you're doing customization, think about how you would cost that. If you're worth $50 an hour and it takes you 20 hours, you're already looking at quite an expense (for the customer)."
First step
Jodie Fox said she started custom-making shoes only for herself.
"I was looking for shoes and I just didn't love the things I would find," she said. "I found someone I could commission shoe designs with (and) my girlfriends were, like, 'Oh, my God, where are these shoes coming from?' So, I started making shoes for them as well. I wouldn't have thought to turn it into a business."

But she was convinced to make a business of it by her now ex-husband, Michael Fox, who is the company's chief executive, as well as former Google Inc. software engineer Mike Knapp. They found a manufacturer willing to make custom shoes and launched in 2009.
They said the company broke even after two months and hit the million-dollar revenue mark by 2011. Jodie Fox declined to disclose current revenue.
Shoes of Prey now has a staff of 200, with 26 working out of its Santa Monica office. Fox credits the company's success to its ability to let customers have almost complete control over the final product.
"Customization was kind of only in the realm of the NikeiDs of the world," she said of the Nike Inc. service. "And even then it was just choosing the colors of your shoe, not having an input into the entire design. So, we're kind of leading that charge."
Customers are able to pick from 12 shoe shapes, ranging from ballet flats to wedges. While viewing a 3-D image of their chosen shape, shoppers can pick from more than 170 fabrics in various shades and textures as well as add features such as ribbons and tassels. Prices start at $129. Customers receive their shoe in four weeks.
Two years ago the company snagged a partnership with Seattle department store chain Nordstrom, which now has an equity stake in Shoes of Prey, to create a shop-in-shop experience at five Nordstrom locations, including at Fashion Island in Newport Beach.
Fox said it was a whole new challenge to create an offline experience, but one that's paid off so far.
"When you're online and you look at a customer's journey, you can architect every single bit of that," she said. "When you're offline, you can architect it but then you have to train your sales staff really well (and) you have to anticipate so many needs."
Scaling up
But meeting customer demand is not easy when a company must build one item at a time – and it can be difficult to find a manufacturer willing to do it. Most prefer producing in bulk as it's more efficient and profitable.
But Shoes of Prey found a way around that by building its own manufacturing facility in China in September 2014.
"There's just no one in the world that knows how to make one pair of shoes at a time," Fox said. "Manufacturers aren't interested in making one at time of anything because they don't know how to do it efficiently. So growing the business to the point where we could build our own factory and create our own supply was really exciting because that solved the problem immediately."
Most manufacturers are set up to make one item repetitively. Since her captive factory is organized to make products one at a time, it's not disruptive to do so. That helps drive down costs.
Fox said she thinks the high manufacturing cost is the reason her two biggest competitors – Milk and Honey and Upper Street London – might have closed down.
Jamal Motlagh, co-founder and chief executive of Acustom Apparel in New York, said finding a way to make its custom men's garments also posed a big problem. The label recently opened a West Hollywood shop, sharing a Melrose Avenue space with custom footwear maker Left Shoe Co. of Helsinki.
"For our casual pants like denim and chinos, it was almost impossible to find an existing manufacturer that could do what we wanted," Motlagh said. "Most of them wanted to charge a sample fee, which is usually the retail cost of the product you're trying to sell."
Acustom, such as Shoes of Prey, decided to set up a small factory within an existing denim plant in China to make its casual pants. The company pays a flat monthly rent, so its costs are the same whether it fulfills 20 orders or 200.
Fashion Business's Harder said customization requires organization and technology, such as 3-D body scanners, to help meet demand and reduce production costs.
In fact, technology is another big reason custom apparel and shoemakers can keep costs down. By transmitting digital images from a body scan directly into manufacturing machines, it bypasses the need for tailors and pattern makers and such.
Body scanners have already been used by many manufactures and major brands, including Acustom, to customize products.
Motlagh added that as technology improves, custom clothing will increasingly become the norm. What's more, custom-made apparel and shoes avoid the costs that result from production overruns.
"Traditional retailers are having a tough time," he said. "Other than our samples, everything is made based on an order and we take cash up front – unlike a traditional fashion brand that has to make all their product well in advance of knowing demand and hope they sell it or discount it if they don't. We don't have those same economics."
For reprint and licensing requests for this article, CLICK HERE.