Stepping Out
FOOTWEAR: Shoes of Prey puts design decisions in hands of consumers while taming added costs of custom-made products.
Monday, February 1, 2016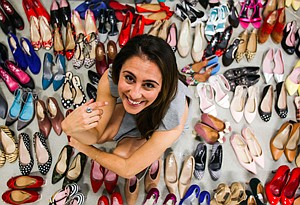 Buying clothing off the rack can be tough – sometimes the fit is off or maybe the color is terrible.
Jodie Fox faced a similar problem with her footwear, which led her to co-found Shoes of Prey in Santa Monica.
The online company, which recently moved its headquarters from Australia to Santa Monica, lets shoppers design their own footwear and customize everything including heel height, material, color and embellishments.
It's joined a handful of other companies, such as Staub, Acustom Apparel and Left Shoe Co., that give Angelenos more control over the design of their garments and shoes.
Fox said the company moved because of growing consumer demand in the United States. Increased investment helped.
"We closed a round in late 2015," Fox said. "So to date, we've raised about $25 million and the vast majority of that has come out of the U.S."
Shoes of Prey received its largest boost of capital two months ago – $15 million in Series B funding – to expand its production capability.
Customization is a side of fashion that's tough to break into because it's hard to keep manufacturing costs low for a series of single items. Many L.A. companies have set out on that path only to quickly stumble, such as now-defunct downtown L.A. denim maker Den.m bar and online shoe company Milk and Honey.
Frances Harder, president of L.A.'s Fashion Business Inc., a nonprofit serving fashion firms, said there is a swing toward customization in the apparel industry – including footwear – but turning a profit isn't easy.
"Custom clothing – that's very expensive," Harder said. "And most couturiers that we know in L.A. are not too financially well off. If you're doing customization, think about how you would cost that. If you're worth $50 an hour and it takes you 20 hours, you're already looking at quite an expense (for the customer)."
First step
Jodie Fox said she started custom-making shoes only for herself.
"I was looking for shoes and I just didn't love the things I would find," she said. "I found someone I could commission shoe designs with (and) my girlfriends were, like, 'Oh, my God, where are these shoes coming from?' So, I started making shoes for them as well. I wouldn't have thought to turn it into a business."

But she was convinced to make a business of it by her now ex-husband, Michael Fox, who is the company's chief executive, as well as former Google Inc. software engineer Mike Knapp. They found a manufacturer willing to make custom shoes and launched in 2009.
Prev Next
For reprint and licensing requests for this article, CLICK HERE.